Can I Erect My Metal Building Myself?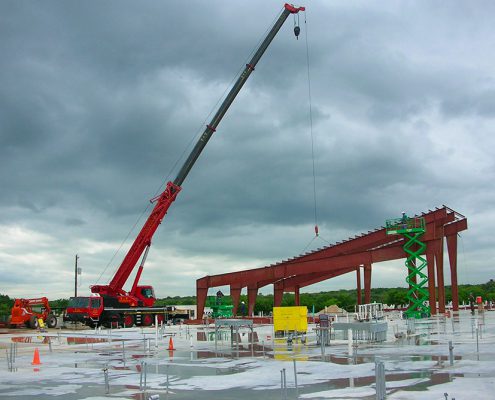 Sunward Steel Buildings offers several metal building kits that can be the perfect solution for the DIY contractor. Our pre-engineered steel buildings come pre-punched, pre-cut, pre-welded, and labeled for easy to understand erection.
Literally thousands of our customers have erected their own buildings, though we realize it is not for everyone. A pre-engineered metal building kit eliminates the hassle of cutting, measuring, and determining which pieces go together. Even though ready-made kits with parts numbered for easy identification allow for the builder to erect the building themselves, it still can be a physically challenging process.
Building owners will need additional equipment to help lift heavy parts (especially on larger buildings) so the project requires a bit of upfront planning and preparation. Make a trip to your local hardware store or equipment rental facility to secure the tools needed to get started.
Before erecting your building, it's important not to forget about OSHA. Builders must follow OSHA regulations for metal buildings to ensure safety. A simple search through OSHA's online resources will help guide you through the process.
Once you've secured all of the necessary tools and equipment, ensure all of the parts and pieces are present before you begin. This can typically be done by reviewing the materials packet that is provided with the pre-engineered building kit. Sunward Steel buildings always include a simple to follow step-by-step manual that starts with a materials checklist.
Once you're all set up for construction, study the building plans and erection guide thoroughly! Unlike a simple furniture assembly, making a mistake during the construction process of your building can be time-consuming to remedy.
You might be thinking, "Am I qualified to erect my metal building?" Although each kit comes with everything you need to make assembly quick and easy, it's recommended that the builder has some prior construction experience, or that you include or employ an individual that is experienced with the trade and all the safety practices that go along with it. If you have questions before starting the process, most instruction guides contain a helpline along with email contact information to reach a professional.
At Sunward Steel, we strive to make the building process as painless as possible for all of our customers. Our team of building specialists is here to help you every step of the way.
Considering purchasing a pre-engineered metal building for commercial or industrial use in your area? Get a Steel Building Price Quote Today.