Steel Aviation Buildings in Somerton, Arizona
Sunward Steel Buildings, Inc., was the proud manufacturer and supplier of these (2) pre-engineered steel aviation buildings in Somerton, Arizona, in July of 2020.
Now used for aircraft storage and business operations at the Somerton Airport, a private airfield used for commercial and military flights as well as general aviation needs, the (2) steel hangar buildings share a common wall and provide plenty of space to store airplanes and helicopters. Durable, economical, and easy to raise, the metal hangars arrived at the airport site partially assembled and have attractive, Saddle Tan exteriors with complementing Rustic Red accent trim.
Once raised, the steel aviation buildings keep planes and helicopters out of the desert sun and intense Arizona heat, helping preserve their value while lengthening their lifespans.
Economical, Long-Lasting Aircraft Storage Solutions
Low-maintenance and easy-to-construct, steel aircraft hangars create safe spaces for aviation enthusiasts to house their valuable aircraft when not in use. Easy to customize when it comes to size, hangar door size, exterior aesthetics, roof type, and insulation, among other areas, durable, fire-resistant metal aviation buildings are also simple to engineer in line with the specific building and engineering codes in place in a given area.
This particular pair of buildings allow for additional aircraft storage at Somerton Airport, expanding the airport's capabilities while protecting planes and helicopters stored onsite.
Located in southwestern Arizona, the city of Somerton is part of Yuma County. The community lies about 11 miles outside Yuma and about a 12-mile drive from San Luis.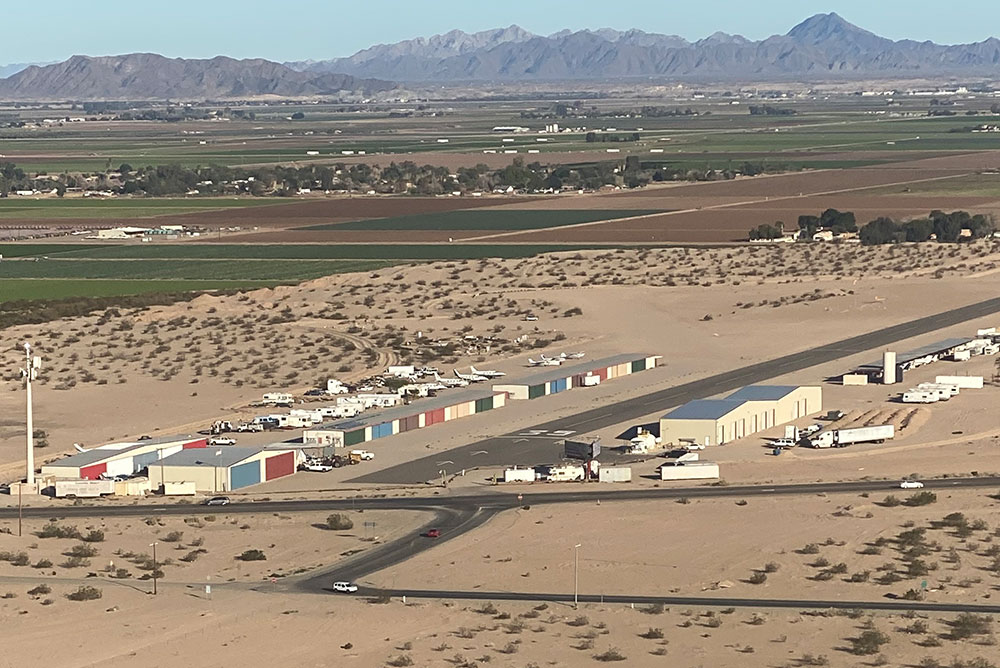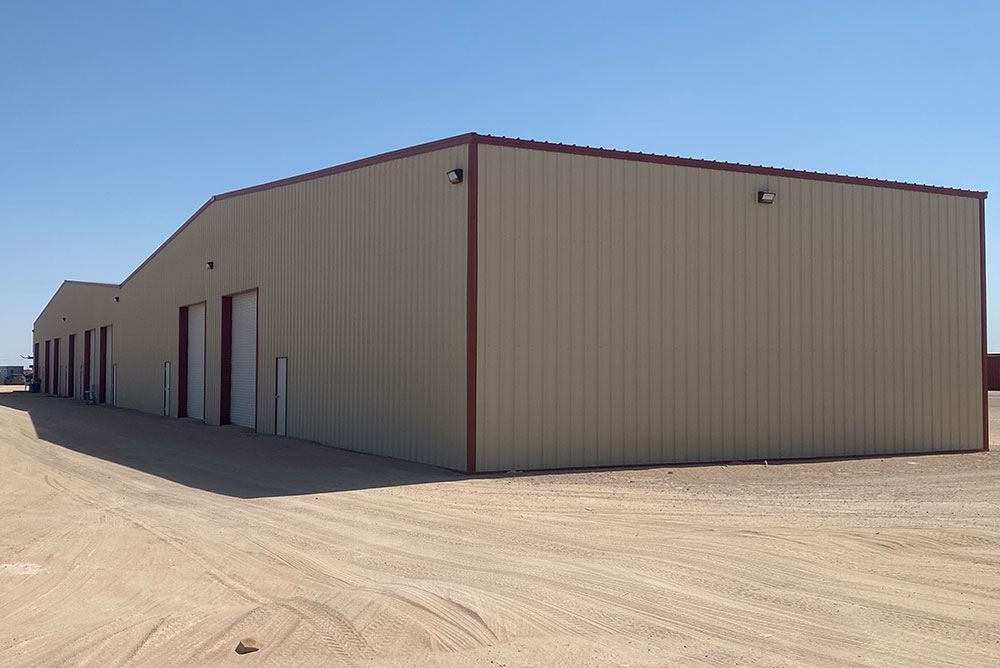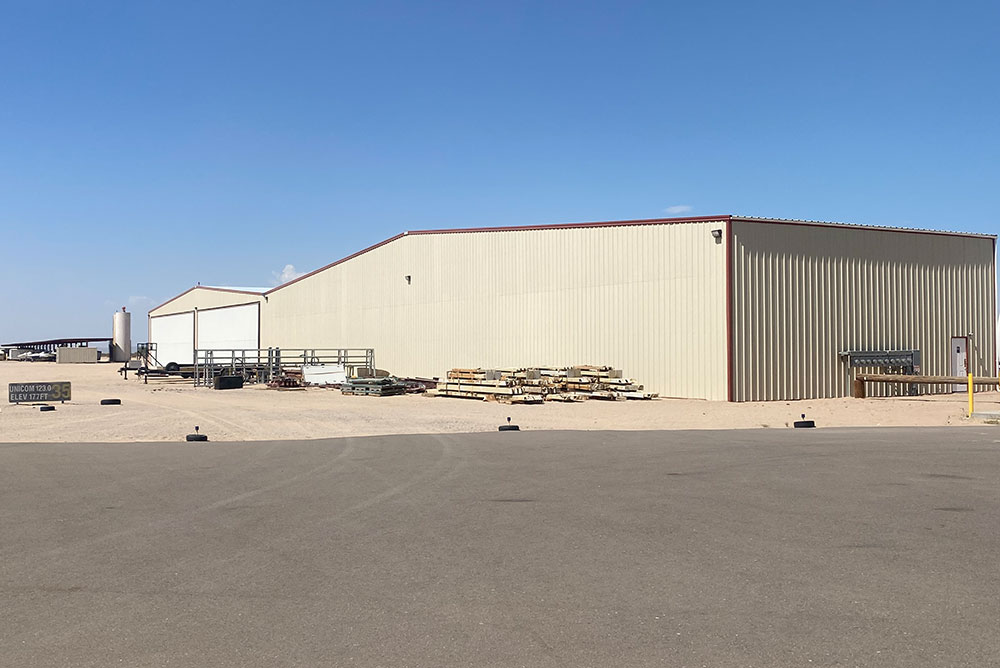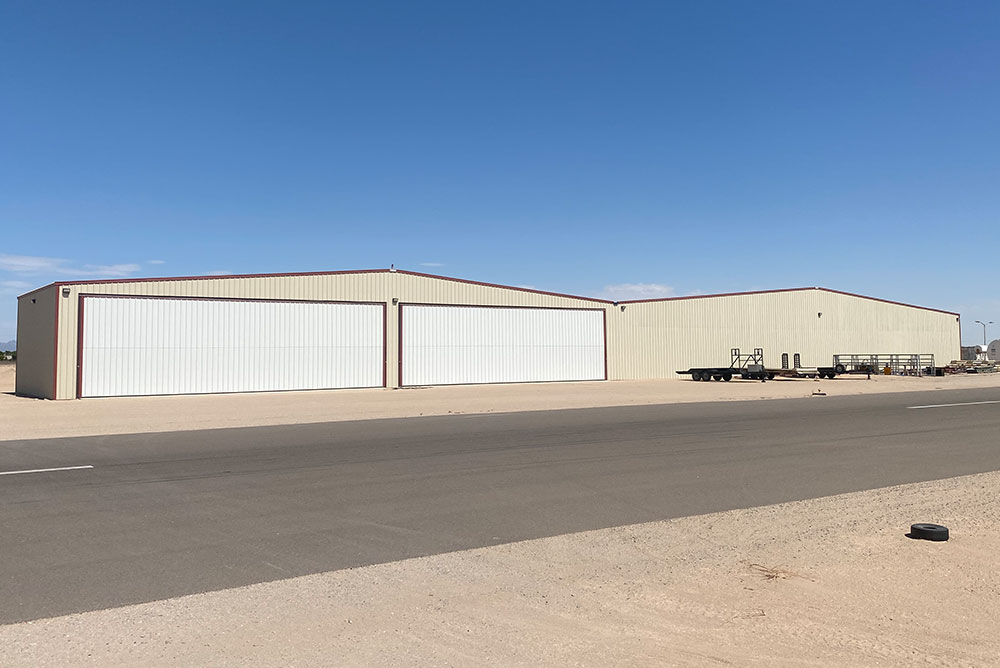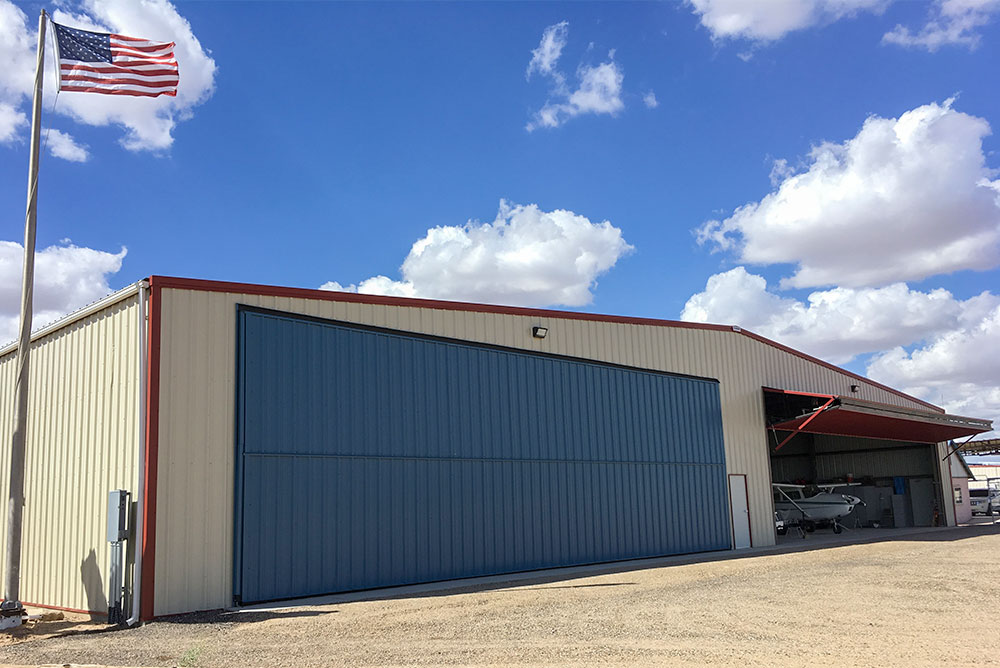 Building Specifications
The first metal hangar at the airport, Hangar A, is 165'x45'x20', while Hangar B is 130'x45'x20'. Both steel aviation buildings have broad clear spans and high overhead clearance, resulting in plenty of room to store aircraft in various sizes.
Distributed between the (2) airport buildings are (21) framed door openings. There are (8) 3070 walk door openings housing (8) 3070 commercial walk doors and (8) 14'x14' overhead door openings. Building A also has (3) 49'x12' openings that will house bi-fold doors and (2) 59'x16' openings for hi-fold doors, ensuring easy inside access for aircraft.
Additional features and customizations include a valley gutter, which creates a drainage valley at the point where the rooflines of the (2) buildings come together, and a 115-mph wind load, which keeps the steel hangars compliant with the building and engineering codes in place in Somerton.
Featured Sunward Steel Aircraft Hangar Buildings