Direct Shipping To Minnesota
Sunward Steel Buildings operates two commercial steel building manufacturing facilities in North Dakota. With an easy, direct route via Hwy 94, our delivery trucks transport steel buildings all over Minnesota in a timely manner. Sunward's manufacturing plant and sister company, Wedgcor Manufacturing, has supplied many buildings to Minnesota and surrounding states for over 40 years.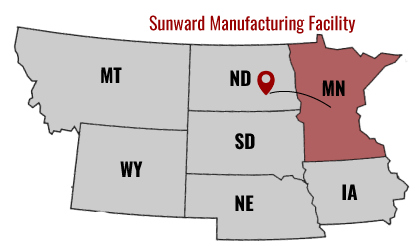 Sourcing Top-Quality Steel Building Kits Across Minnesota
In need of more storage, retail or garage space? Looking for an affordable way to erect a gym, church, carport or commercial property? Sunward Steel has a nearly 50-year history supplying pre-engineered steel building kits across Minnesota, the nation and the globe, providing more than 75,000 buildings to satisfied customers worldwide.
Minnesota's building codes are in place to assure accessibility and enhance the safety of its citizens, and you need to be sure that your building complies with them. We can supply you with a rugged, reliable steel building that complies with all building codes in place in your area, regardless of whether you need a:
Garage or carport
Warehouse
Manufacturing facility
Storage shed
Church
Gym or equestrian arena
…or virtually any other type of private and commercial structure. The features your Minnesota metal building needs are far different than those required of buildings in many other parts of the country, and we understand the unique considerations involved in fabricating a building for use on Minnesota land.
Advantages of Steel Construction
Steel buildings aren't always warehouses and skyscrapers – nowadays, steel is a highly versatile building material that serves an ever-growing number of purposes and industries, and with good reason. Compared to typical, wood construction, steel is:
More affordable. In terms of labor costs, putting up a pre-engineered steel building will save you a pretty penny over wood construction. Steel building kits come ready-to-erect, so instead of financing what may well be weeks or even months of labor, you can have your building erected and ready for use in a few days or less. You also don't have to worry about rotting, damage caused by termites and related maintenance needs when building with steel, which results in sizable, long-term savings.
More durable. Steel buildings have the best strength-to-weight ratio of any modern-day building material. Ask yourself – if you're caught in inclement weather and have the option of running for a wood building, or a steel one, which one would you choose? Steel also won't rot away or decay like wood can, saving you considerable expense down the line.
More sustainable. Your steel building is comprised of recyclable materials, meaning you can recycle its components at the end of its lifespan.
Get in touch today to learn more about the many benefits of steel buildings.
Featured Sunward Steel Buildings in
Minnesota
Cities in
Minnesota

That We Have Supplied Steel Building Kits For