How Much Does a 100×100 Steel Building Cost?
Embarking on the journey of erecting a 100×100 steel building with Sunward Steel Buildings is an exciting venture. With five decades of excellence under our belts, we've refined the process of designing and constructing steel buildings into an experience that's as seamless as it is satisfying.
Your Metal Building, Our Blueprint
Whether you're plotting the layout for a spacious warehouse, envisioning a state-of-the-art auto repair shop, or dreaming up a majestic equestrian arena, our customization tool turns your vision into a workable blueprint. It's designed to be intuitive, user-friendly, and an embodiment of our expert knowledge distilled into a simple, guided process.
Material Selection Made Easy
We provide a curated selection of top-quality materials and allow you to choose with ease. The tool offers insights into each option, clarifying your choices without overwhelming you with jargon or unnecessary complexities.
Navigating Regulations with Ease
Sunward Steel Buildings makes compliance straightforward. Our tool intuitively incorporates local building codes into your design process, ensuring your project meets all necessary standards without the hassle of extensive research on your part.
Sustainable Steel Building Customization Choices at a Click
Opting for sustainability doesn't have to be complicated. Our customization tool allows for eco-friendly choices to be seamlessly integrated into your design, offering solutions that are as good for the planet as they are for your project.
Transparent Estimations
You won't find any guesswork here. The tool is developed to provide clear estimations based on your personalized design choices, so you can make informed decisions with confidence.
Accessible Expertise
Behind this streamlined digital experience is a dedicated team from Sunward Steel Buildings, ready to offer assistance, advice, or a second opinion. With our extensive background and resources, we ensure that support is always within reach.
---
Step into the World of Custom Steel Buildings with Ease
Take the first confident step towards your new steel building with Sunward Steel Buildings. Use our customization tool to explore possibilities, play with options, and watch as your ideas take shape before your eyes. The journey from concept to reality has never been more direct, and we're with you at every step.
Before you can determine the exact cost of a steel building, it's important to understand what you will be using the building for. Typically, a building this large is used as industrial warehouse, an auto repair shop or as an equestrian building.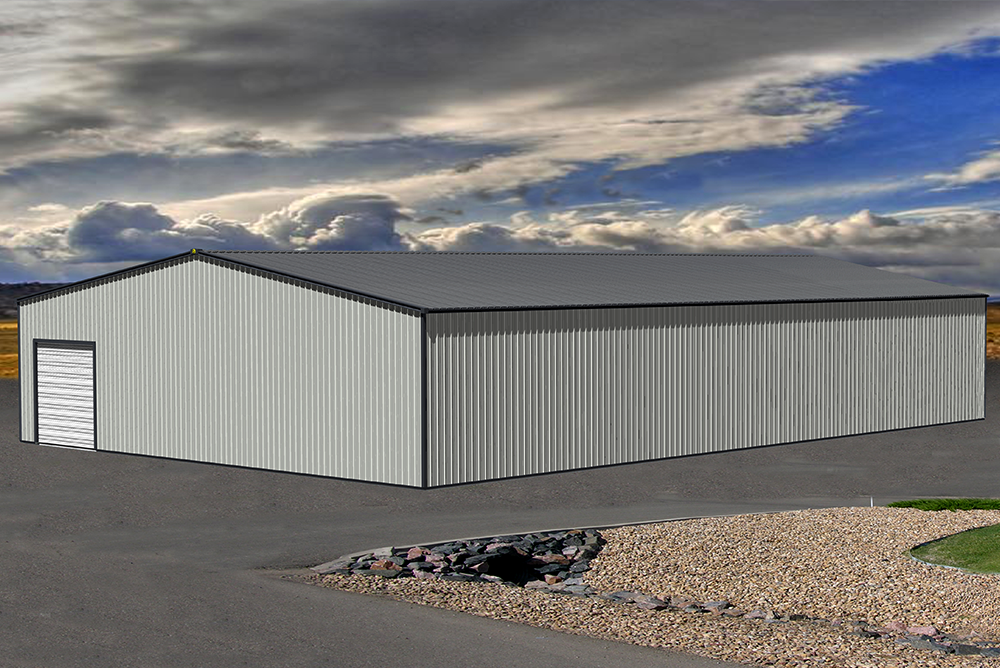 What Is Included With My Building Purchase?
STANDARD INCLUSIONS
Engineered Certified Plans & Drawings
Primary & Secondary Framing
Roof & Wall Sheeting with Siphon Groove
Complete Trim & Closure Package
Long Life Fasteners
Mastic Sealant
Ridge Cap
Pre-Marked Parts
In House Manufacturing In One Of Our 3 Local US Factories
Delivery to Site
See a Complete List of Our Building Features and Warranties
CUSTOMIZABLE OPTIONS
Insulation Packages
Insulated Metal Panels
Thermal Blocks
Doors
Windows
Vents
Fans
Skylights
Solar Panels
Wainscot
Cupolas
Gutters & Downspouts
Exterior Finishes
COLOR OPTIONS
Ash Gray
Burnished Slate
Light Stone
Saddle Tan
Hunter Green
Koko Brown
Charcoal
Hawaiian Blue
Polar White
Rustic Red
Black
Galvalume Plus Also Available
* Note – Actual colors may vary based on screen and monitor resolution / settings.  Color charts and / or metal color chips are available and should be reviewed before choosing final building colors.
FAQs
Should I Insulate My Building?
What Is The Best Roof Pitch For My Building?
How Can I Customize My Building?
What Is The Average Cost Of a Steel Building?