Steel Barndominium in Pittsburg, Kansas
Manufactured by Sunward Steel Buildings for a client in Pittsburg, Kansas, in September 2021, this striking steel building combines living quarters with an attached shop and garage. 
Considered a "barndominium" because it combines residential space with another type of functional space, the building features an open kitchen, a spacious living room and a traditional, barn-style aesthetic characterized by a monitor roof, an Ash Gray exterior and a Rustic Red roof and trim. Spacious and bright inside, the barndominium has windows throughout that let in plenty of natural sunlight, and the attached garage and shop area has a wide clear span that creates plenty of open space for work or vehicle storage. 
Attractive and multifunctional, this building shows just how beautiful and artistic steel construction can be without sacrificing strength, durability or functionality.  
Economical, multipurpose metal residences 
Energy-efficient and easy to maintain, steel homes continue to gain popularity due to their affordable, sustainable nature. They are also becoming increasingly popular as more Americans begin working from home and requiring appropriate places to do so. This particular steel barndominium provides a place for the homeowner to live, work, and store or service vehicles while offering the same aesthetic appeal as a traditional wood home. 
Situated in southeastern Kansas, Pittsburg is part of Crawford County. The community lies about 123 miles south of Kansas City, Kansas, and about 90 miles west of Springfield, Missouri.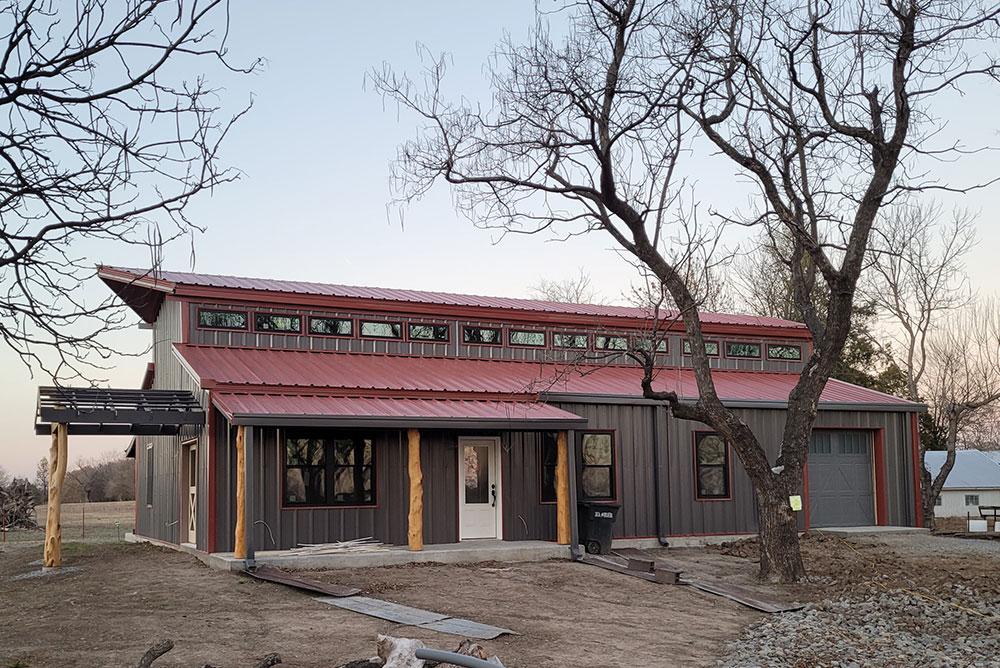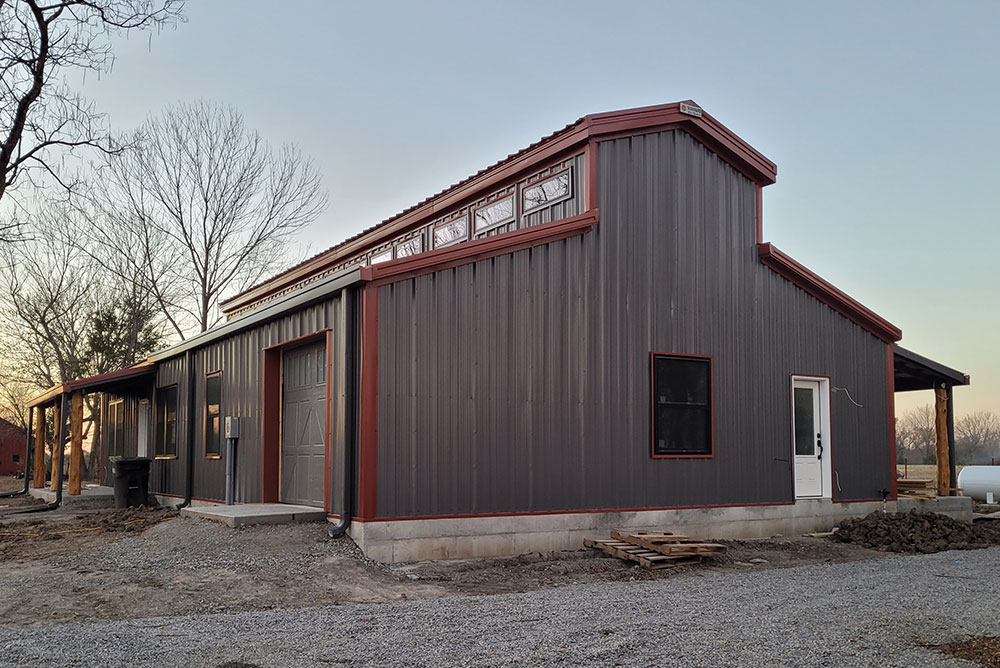 Building Specifications
Standing 35'x58'10' with an attached 16'x38' shop and garage, the metal home has a hardy, monitor-style roof with a 4:12 pitch offering reliable protection from above. There are (6) doors located throughout the building that allow residents or vehicles in and out, which include (3) 4'4"x7'2" walk doors and (1) 6'4"x7'2" walk door. Also included are (1) 8'x8' overhead door opening and (1) 8.3334'x7.16667' walk door opening that provide access into the building's shop and garage area. 
The building's exterior has 6" of accent trim that enhance its curb appeal, and gutters along the roof line help prevent rain or snow from collecting on the roof and causing condensation. Engineered to meet or exceed all relevant building codes in place in the area, the steel barndominium also has 15-psf roof snow load and a 15-psf roof snow load. 
Featured Sunward Steel Barndominium Buildings