IT Server Storage Building in Burgess, Virginia
Sunward Steel Buildings, Inc., manufactured and provided this pre-engineered metal building for a customer in Burgess, Virginia, in July of 1999.
Nowadays, the steel building functions as an IT space for Tiffany Yachts, a family-owned builder of high-end, fully customized yachts with a more than 70-year history in the region. The building Sunward provided houses the business's router, computers, and associated infrastructure and offers unmatched strength and durability, delivering a reliable, long-lasting commercial space company owners can rely on for generations to come. In addition to crafting and selling yachts to customers up and down the East Coast and beyond, Tiffany Yachts offers routine maintenance, refit, and related services to clients with a broad range of aquatic needs.
Superior Craftsmanship Since 1945 
Currently, Tiffany Yachts maintains a workforce of between 15 and 20 skilled craftsmen who painstakingly design and build boats from start to finish. Employees craft all components of Tiffany Yachts in-house, improving quality control, and many of them have worked with the company for 20 years or longer.
This particular building is the only structure that remains from Tiffany Yacht's pre-fire days, and it stood its ground while everything else on the property was a complete loss. In the time since the rest of the property underwent reconstruction, this particular prefabricated metal building offers a reminder of the company's storied and rich history in the region.
An unincorporated community, Burgess falls within far-east Virginia's Northumberland County. The community sits roughly 100 miles north of Virginia Beach and about 66 miles north of Newport News.
Considering purchasing a pre-engineered commercial metal building for retail, industrial, or other use in Virginia or another part of the country? Click here for a price quote.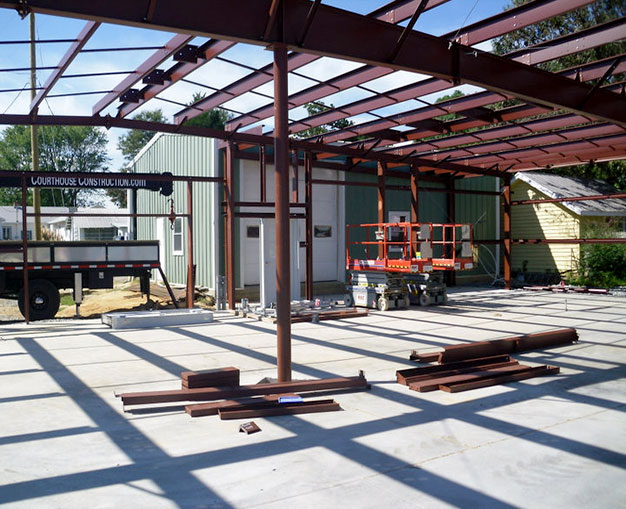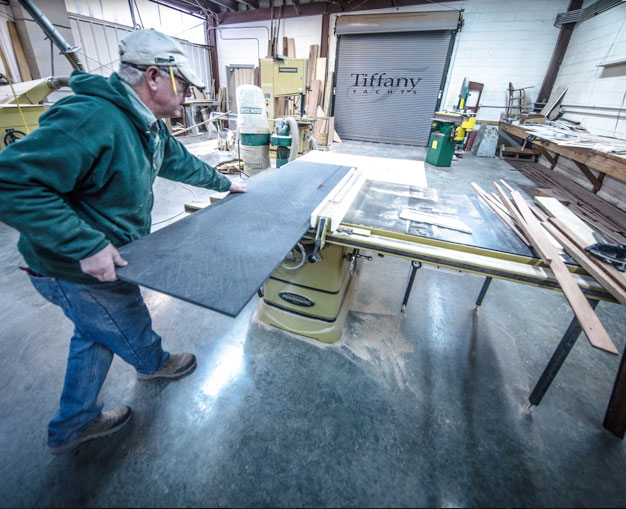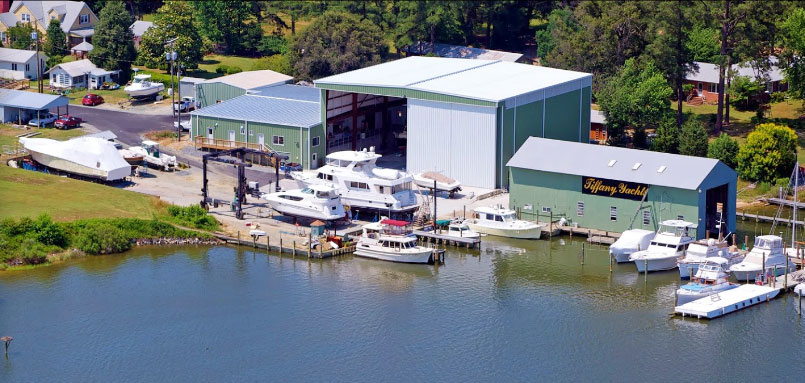 Building Specifications
Rugged, sustainable and built to last the long haul, this building features top-of-the-line steel construction and a finished size of 30'x40'x14'. Colony Green in color, it boasts an attractive, eye-catching exterior, while a hardy Galvalume roof with a 2:12 pitch sits overhead, guarding against corrosion and moisture-related damage.
Additional steel building features include (1) 3070 opening enclosing (1) 3070 walk door and a 90-mph wind speed rating, the latter of which was an addition made with respect for local building code requirements and climate trends. Damage and fire-resistant, the building gives Tiffany Yachts business associates a safe, reliable space to conduct important business and IT operations.
Featured Sunward Steel Boat Storage Buildings
See Some of Our Latest Projects