Metal Machine Shop in Grand Island, Nebraska
Sunward Steel Buildings, Inc., fabricated and supplied this pre-engineered metal building in Grand Island, Nebraska, in February 2021.
Now serving as the headquarters of a thriving, Grand Island-based machine shop business, the Hawaiian Blue building with Polar White trim offers unparalleled strength and durability, making it ideal for industrial use. The company that owns the building performs custom metal work and CNC fabrication and repairs throughout central Nebraska, and this metal industrial building houses supplies, vehicles and other assets needed for day-to-day operations.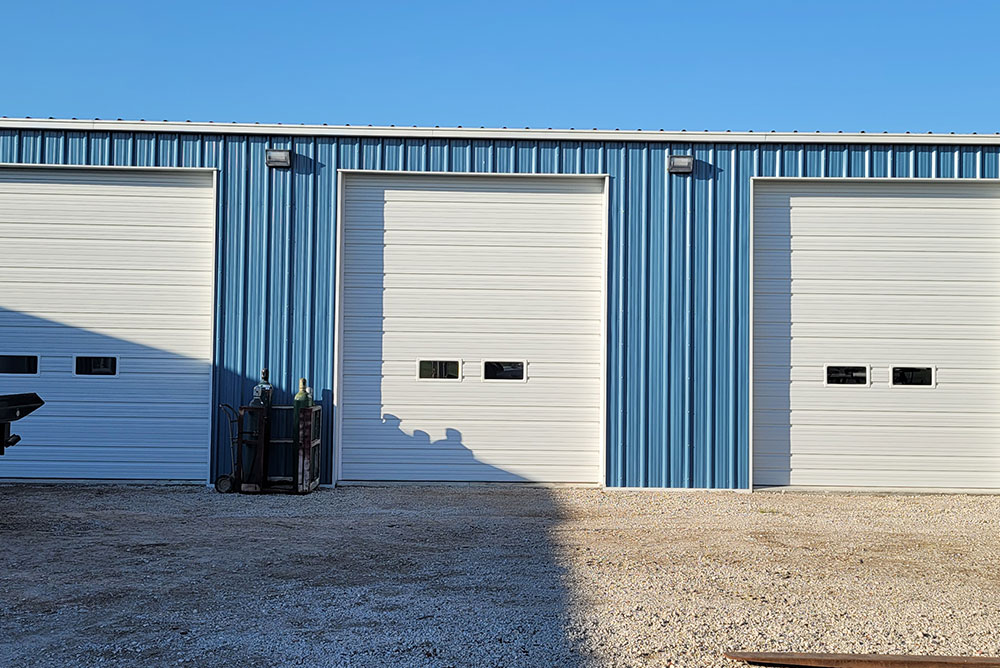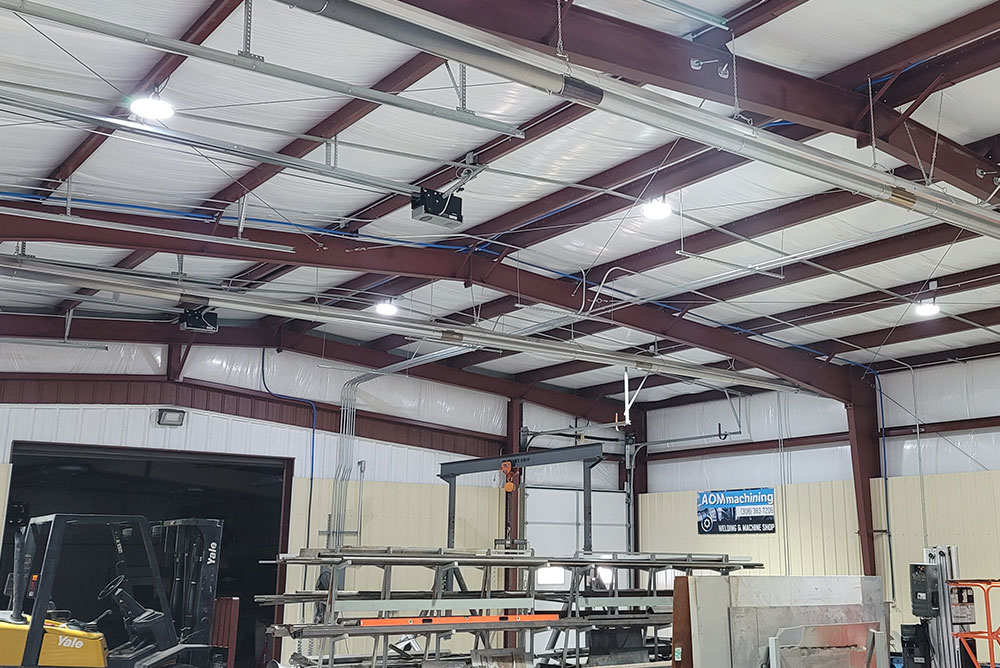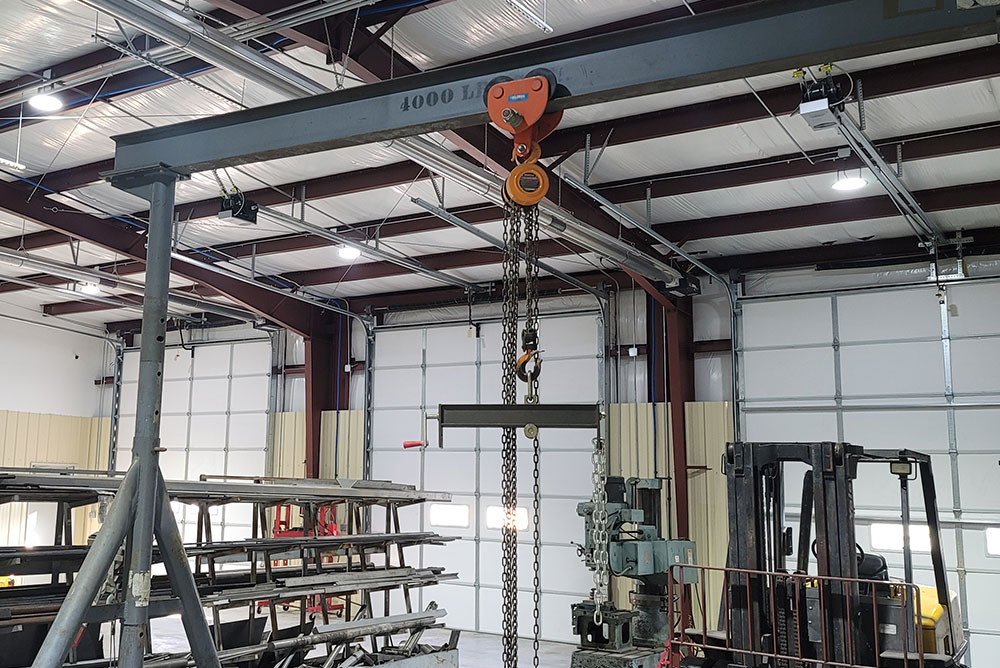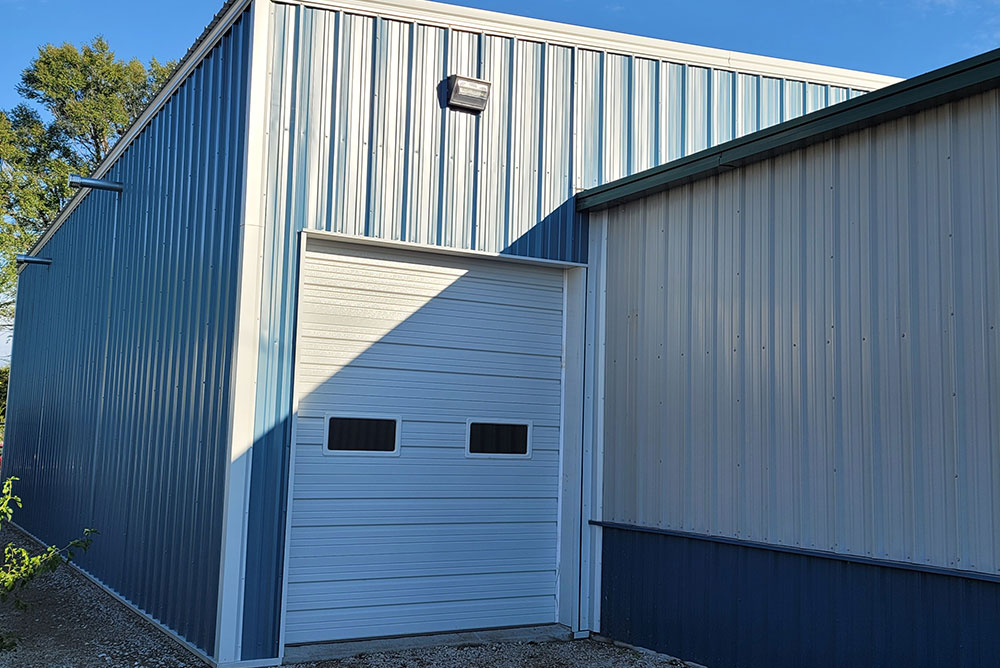 Building Specifications
Industrial Building Details & Customizations 
Attractive and versatile, this insulated steel industrial building is 50'x56'x16' and has high ceilings and an open, column-free interior that maximizes storage and work space. Comprised of hardy, ultra-durable steel parts, the steel building has customizations throughout, and a hardwearing, corrosion-resistant gable roof with a slight 1:12 pitch sits overhead. 
The roof has 4" snow gutters lining it, which helps control condensation and keep the commercial building watertight by diverting rain and snow away. It also has (5) framed door openings in various sizes that allow workers, company vehicles and equipment in and out. The building has (1) 3070 opening holding (1) 3070 walk door, (1) 14'x14' overhead door opening, (2) 12'x14' overhead door openings and (1) 8'x10' overhead door opening. 
An insulation package keeps the business's energy bills low throughout the year while keeping the interior comfortable for employees. The roof has 6" of fiberglass insulation installed in it, while the walls contain 4" of fiberglass insulation. Heavy-duty WMP-VRR facing adorns the interior-facing side of the insulation blankets, improving the appearance of the building while acting as a barrier against damage and condensation. 
Engineered to meet or exceed the building code requirements in Grand Island, the metal industrial building also has a 30-psf roof snow load and a 120-mph wind speed rating. 
Durable, Economical Metal Industrial Buildings
Often the first choice of automotive, industrial, warehouse or commercial business owners, pre-engineered steel buildings are a durable, economical alternative to wood construction. Available with wide clear spans and high ceilings, these buildings can easily accommodate car lifts, cranes and other infrastructure and can feature break rooms, mezzanines and many other elements. 
Located in south-central Nebraska, Grand Island is part of Hall County. The community sits about 95 miles west of Lincoln and 150 miles outside Omaha. 
Featured Sunward Steel Garage & Shop Buildings