Direct Shipping To Wyoming
Sunward Steel Buildings owns two steel building manufacturing plants in North Dakota. These two fully functioning manufacturing plants are essential for the supply and demand of our customers. Our delivery trucks transport steel buildings to Wyoming on a regular basis. We have proudly supplied steel buildings to the Wyoming and surrounding areas for over 40 years.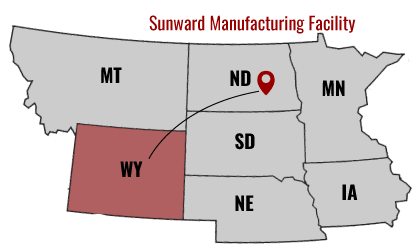 Pre-Engineered Metal Buildings Fit For Life In Wyoming
Need a building you can count on to stand strong in the face of heavy snow, strong winds and whatever else Mother Nature sends your way? In terms of affordability, sustainability and overall durability, it's tough to top solid steel, and when it comes to quality products and equally impressive customer service, it's hard to beat Sunward Steel.
A longtime innovator in America's pre-engineered steel building industry, Sunward Steel has supplied premium-quality steel building kits to customers across Wyoming and throughout the world for more than 45 years. With more than 75,000 steel building kits supplied across the globe, you can count on us to deliver a consistently superior product that you can rely on for years and even generations to come.
Why Steel?
Nowadays, steel is a top choice among builders and business owners who seek affordable building solutions that require minimal upkeep. When you purchase a prefabricated metal building kit, everything arrives to your build site already cut and ready to raise, which cuts way down on construction time, resulting in substantial savings.
Steel is also much easier and cheaper to maintain over its lifetime than a wood building of the same age. When you factor in damage caused to wood because of moisture, pests, fires and the like, the long-term maintenance expenses associated with wood construction are considerable. Steel is also highly adaptable and sustainable, so you can likely repurpose or recycle your building once it reaches the end of its lifespan.
Wyoming Steel Building Types
Sunward Steel serves as both building manufacturer and retailer, which allows us to save you money by cutting out the middle man. Steel building kits we commonly source in Wyoming and across the United States include:
Garages
Horse barns and equestrian arenas
Airplane hangars
Storage
Warehouse/manufacturing buildings
Commercial structures
From offices and mini storage complexes to gymnasiums and more, Sunward Steel provides metal buildings that serve a wide variety of needs.
Need help ensuring compliance with local building codes, or could you use a hand finding someone to raise your building once it arrives at your Wyoming build site? We have access to a broad network of contractors and building erectors who can help get your building up and running, if need be.
Featured Sunward Steel Buildings in
Wyoming
Cities in
Wyoming

That We Have Supplied Steel Building Kits For