Prefabricated Steel Industrial Buildings in Delmar, Delaware
Sunward Steel Buildings, Inc., manufactured and supplied this pair of prefabricated metal industrial buildings for a customer in Delmar, Delaware, in 1999.
Sunward supplied the first and larger of the two buildings, which serves as the main structure on the property, in January of 1999 and provided the second, smaller of the (2) buildings, which now undergoes use as a maintenance shed, in April of that same year. The original buyers have since sold the property, and the (2) pre-engineered steel buildings now house Delmar's branch of the API Technologies Corp., which uses in-house machining and inert atmosphere laser-sealing to fabricate military and space filters, multiplexers, switched filter banks and similar products.
Economical, Sustainable Metal Manufacturing Buildings 
Often preferred due to their unmatched structural integrity and easy customization, pre-engineered metal manufacturing and industrial buildings give today's business owners affordable, easy-to-maintain places to work, produce, and store equipment that they can configure in accordance with their needs. Available with high clearance, crane capabilities, insulation and ventilation packages and much more, steel buildings can serve a wide variety of industrial or commercial purposes while maintaining their strength, functionality and aesthetic appeal through the years.
Part of the Salisbury, Maryland – Delaware Metropolitan Area, the town of Delmar is a part of Sussex County, in southwestern Delaware. The area sits about 54 miles south of Dover, Delaware's capital, and roughly 8 miles north of Salisbury, Maryland.
Considering purchasing a pre-engineered metal building for industrial, commercial, manufacturing or other use in Delaware or another part of the United States? Click here for a price quote.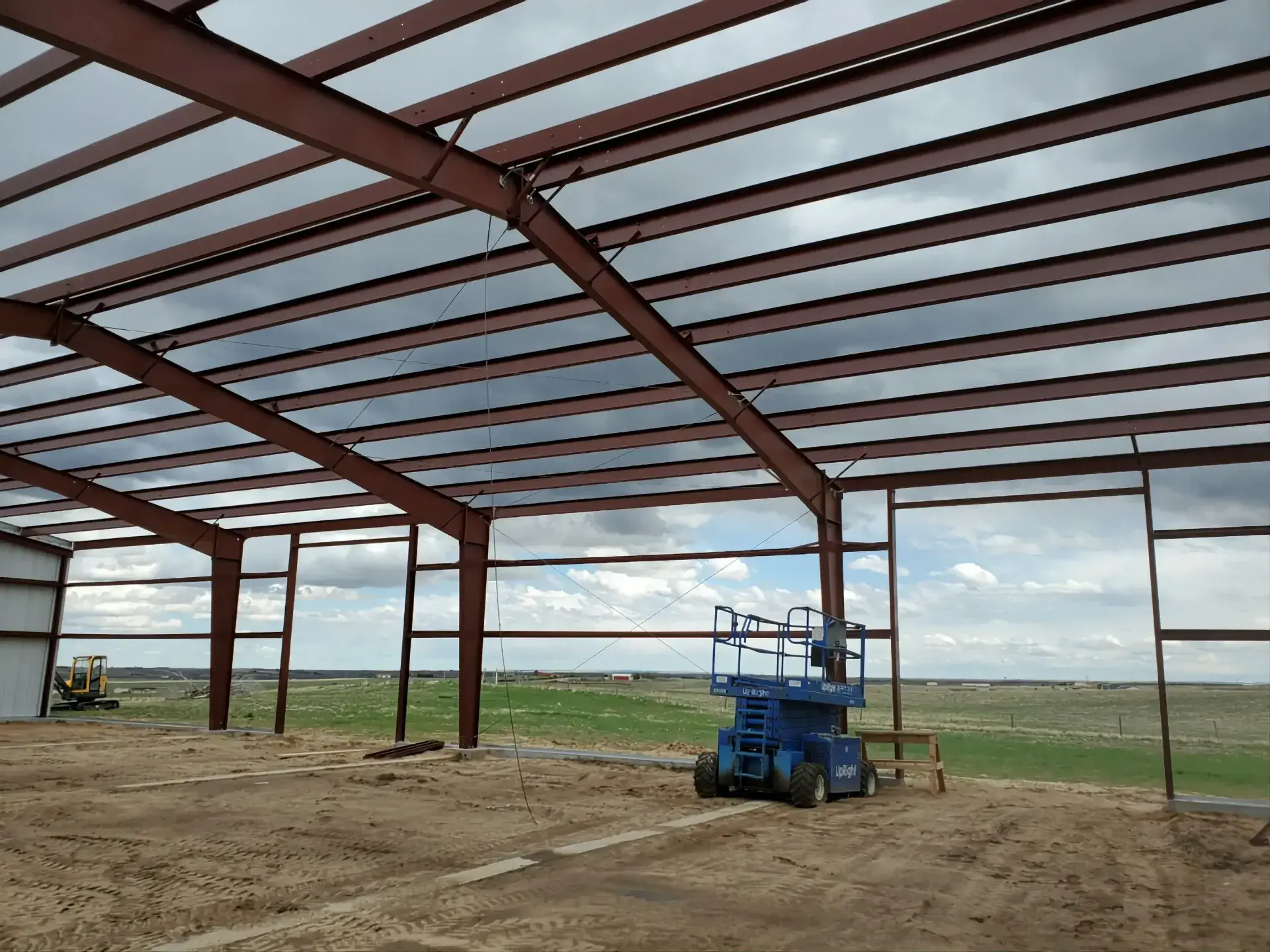 Building Specifications
Providing the supreme strength and durability Delaware's distinct seasonal climate changes demand, the (2) buildings together create a sturdy, reliable space to work and produce that keeps valuable business assets and equipment protected from the elements.
The main steel building onsite stands 100'x100'x14' in size and features a broad clear span that maximizes interior floor space. Stone Beige in color, the building boasts a rugged Galvalume roof with complementing Slate-colored trim and a 1:12 pitch overhead, and it also features several customizations intended to help prevent snow or rainwater from collecting on the roof or near the foundation. Such accommodations include a 400 linear-foot eave gutter and 250 linear feet of downspouts.
The second steel building, meanwhile, houses equipment used in property and parking lot maintenance, and once raised, it boasts a finished size of 21'x24'x10'. It, too, features a Stone Beige exterior and a Galvalume roof with a 1:12 pitch and Slate-colored trim, and it also comes equipped with eave gutters and 20 linear feet of downspouts to further prevent moisture-related damage. Both prefabricated metal buildings also feature 90-mph wind speed ratings in adherence to local building code requirements.
Featured Sunward Steel Production Buildings