Steel Stable And Riding Arena in Carnation, Washington
Sunward Steel Buildings, Inc. was the fabricator and provider of this pre-engineered metal building in Carnation, Washington, in October of 1999.
Currently, it serves as a steel equestrian center for Traumhof, a private, five-star equestrian facility that offers boarding opportunities to equestrian enthusiasts from the surrounding region in exchange for onsite labor. Rugged, low maintenance and built to last, the steel horse arena and stable offers supreme protection for boarded horses while giving their owners a safe, dry space to ride and recreate any time of year.
A Favorite Escape for Equestrian Enthusiasts
In addition to providing a safe place to house horses during the Pacific Northwest's wet, chilly winters, the steel horse barn and arena hosts numerous clinics and special events throughout the year. Additionally, boarders and staff members treat every horse boarding there with the utmost care, providing them with warm water in the winter, exceptional veterinary services, oversized stalls and regular feedings and exercise.
Increasingly, horse lovers looking for long-term spaces to store, ride or groom horses are opting for pre-engineered steel barns and arenas, which offer affordable, lower-maintenance alternatives to traditional wooden ones. In addition to being easier and cheaper to erect, metal equestrian buildings are not nearly as susceptible to damage caused by pests, fire, moisture and other possible construction hazards, giving owners peace of mind that their animals will stay dry, comfortable, and above all, safe.
A small, lightly populated city in Washington's King County, Carnation sits along the east bank of the Snoqualmie River. The community sits roughly 20 miles east of Seattle and about 20 miles outside Bellevue.
Considering purchasing a prefabricated steel building for equestrian or other use in Washington state or another part of the country? Click here for a price quote.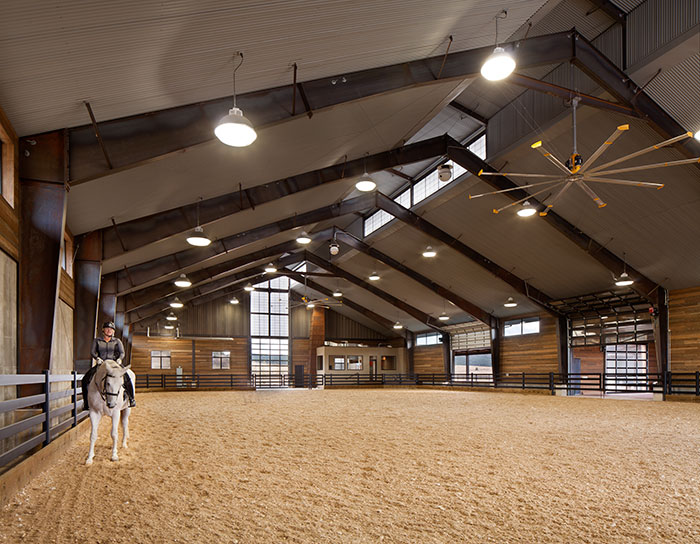 Building Specifications
Spacious and custom-designed to accommodate boarding and dressage needs, the metal horse barn and arena stands 140'x140'x16' in size and currently houses eight horses, each of which enjoys its own 12'x15' horse stall. Comprised of rugged, exceedingly durable steel components, the building boasts an attractive Dark Green exterior, while a matching Dark Green roof with White trim and a 2:12 pitch provides protection for horses and riders from above.
The steel equestrian facility features an open, clear-span design with ample head room to accommodate riders, and it also offers plenty of space for tack and other storage. An 85-mph wind speed rating serves as another key feature; an inclusion made in compliance with local building code requirements.
Featured Sunward Steel Equestrian Buildings