2-Building Steel Mini Storage Complex in Sugar City, Idaho
Sunward Steel Buildings, Inc., supplied this pair of prefabricated metal buildings for a customer in Sugar City, Idaho, in June of 2020. 
Now undergoing use as a self-storage facility, the buildings offer unmatched structural integrity and help protect goods stored inside from extreme temperatures, fire, the elements and other hazards. Between them, they contain (70) rentable storage units and maintain high occupancy rates, producing a steady stream of revenue for the business owner. 
Mini Storage Facility Specifications
Both steel mini storage buildings feature high-end steel construction, with the first building, Building A, standing 32'x150'x11.5' and the second structure, Building B, standing 32'x200'x11.5'. Both structures have painted exteriors, and each has a durable, corrosion-resistant Galvalume gable roof with a 0.5:12 pitch offering protection from above. 
Each building's roof has DripX condensation control pre-applied to it, which helps reduce moisture and condensation. There is also a 12" overhang along the buildings' front and back sidewalls.  
Inside Building A are (15) 10'x12' storage units and (15) 10'x20' units, and each has one of (30) 9'x10' framed openings. Building B is home to (20) 10'x12' units and (20) 10'x20' storage units, and each of those features one of (40) 9'x10' framed openings. 
Each storage unit has its own point of entry, and distributed between the (2) steel self-storage buildings are (70) 9'x10' Royal Blue mini storage doors with stainless-steel latches. The metal mini storage buildings also feature 35-psf snow loads and 115-mph wind speed ratings in consideration of the climate characteristics of the Sugar City area. 
Mini Storage Industry Strength
The self-storage industry continues to grow across the nation, with consumers increasingly seeking out spaces to house RVs, boats, toys or their personal belongings when they need to move or downsize. Most self-storage facilities across the nation maintain occupancy rates that hover around 90%, meaning the majority of their units have renters most of the time. 
This particular self-storage center serves consumers from across eastern Idaho and the Rexburg, Idaho, micropolitan area. Located in Idaho's Madison County, Sugar City sits about 6 miles from Rexburg and about 32 miles northeast of Idaho Falls.
Considering purchasing a pre-engineered metal building kit for use in Idaho or another part of the country? Explore all your options for prefabricated steel buildings in Idaho or click here for a price quote.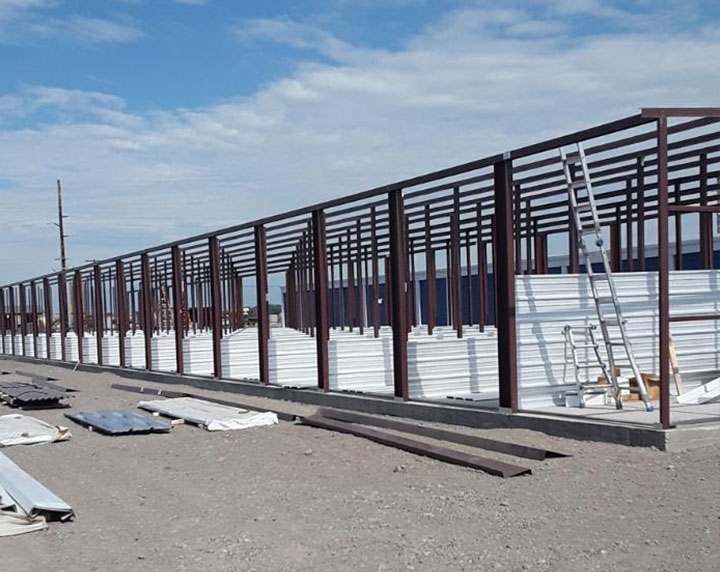 Featured Sunward Steel Mini Storage Buildings