How much does a 40×60 steel building cost?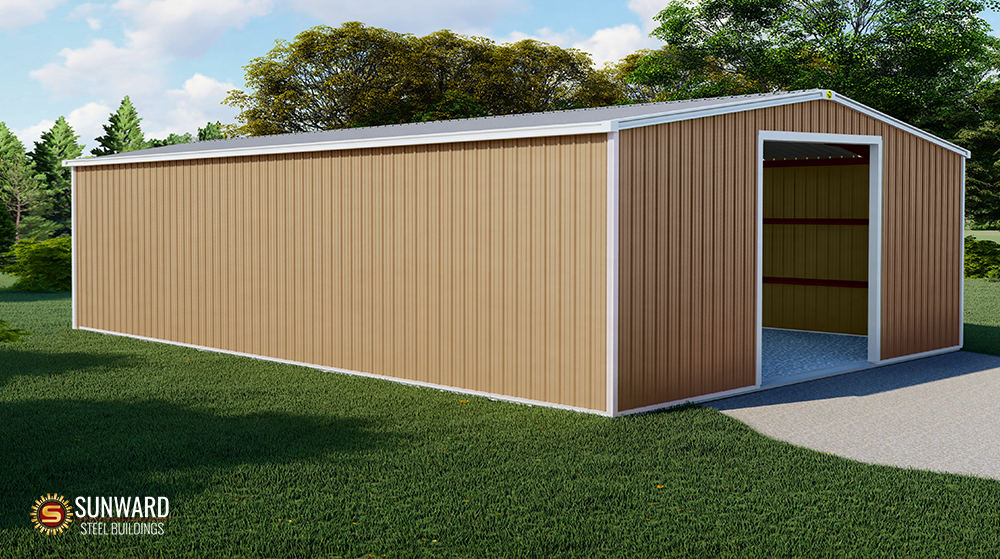 A 40×60 steel building is a popular size for a small business or private owner. The 2,400 square ft of space is ideal for a shop building, large detached garage, equipment storage, and can also be used as a retail store. Sunward Steel offers several different building types and accessory options for 40×60 steel building kits. There are many different options to consider when choosing a 40×60 steel building that's right for you. Start by determining your specific need for the space, as the options and requirements may vary from a shop or barn to a storage unit or a garage.
Depending on the specific design, a 40×60 metal building cost can range anywhere between $26,500 to $30,500* based on the current price of steel. Keep in mind when working with a steel building supplier, such as Sunward Steel, cost is generally given in a price per square foot rate. So you are looking at metal building price ranges that are between $10.95 and $12.70 per sq ft*.
Cost Considerations
It's important to consider the components that will be needed for your set up. Will you need garage doors? If so, how many? Do you need high clearance for a large RV or aircraft? Will other types of exits be needed in the building?
Next, it's important to consider geography. Where will the building be located? If your state experiences high winds or heavy snow, the structure might require heavier supports and thicker materials.
Exterior Finishing
The purpose of the building will also dictate the exterior design. A traditional wall finish may be sufficient for a garage or storage unit. However, if your building serves as a shopping center or retail storefront, owners may want to add trim, siding, stucco or other components to improve curb appeal and attract more customers.
These are a few of the most important factors to take into account when pricing a 40×60 steel building. Considering purchasing a pre-engineered metal building for commercial or industrial use in your area? Get a Steel Building Price Quote.
*Average pricing is based on current price of steel, which is subject to change at any time.
What Is Included With My Building Purchase?
STANDARD INCLUSIONS
Engineered Certified Plans & Drawings
Primary & Secondary Framing
Roof & Wall Sheeting with Siphon Groove
Complete Trim & Closure Package
Long Life Fasteners
Mastic Sealant
Ridge Cap
Pre-Marked Parts
In House Manufacturing In One Of Our 3 Local US Factories
Delivery to Site
See a Complete List of Our Building Features and Warranties
CUSTOMIZABLE OPTIONS
Insulation Packages
Insulated Metal Panels
Thermal Blocks
Doors
Windows
Vents
Fans
Skylights
Solar Panels
Wainscot
Cupolas
Gutters & Downspouts
Exterior Finishes
COLOR OPTIONS
Ash Gray
Burnished Slate
Light Stone
Saddle Tan
Hunter Green
Koko Brown
Charcoal
Hawaiian Blue
Polar White
Rustic Red
Black
Galvalume Plus Also Available
* Note – Actual colors may vary based on screen and monitor resolution / settings.  Color charts and / or metal color chips are available and should be reviewed before choosing final building colors.
FAQs
Should I Insulate My Building?
What Is The Best Roof Pitch For My Building?
How Can I Customize My Building?
What Is The Average Cost Of a Steel Building?