Equipment Storage Building in Kalispell, Montana
Sunward Steel Buildings, Inc., was the proud provider of this prefabricated steel building in Kalispell, Montana, in October 2020.
Now serving double-duty as a shop and equipment storage building, the structure features premium-quality steel construction, resulting in optimal strength, durability, and protection for assets and company trucks housed inside. Raised by the building owner's business, 3 Hammers Construction, the insulated, energy-efficient metal building took shape in a matter of weeks and plays a pivotal role in day-to-day business operations.
Sustainable, Customizable Steel Buildings
Ideal for storage, manufacturing, commercial and other use, pre-engineered metal buildings are a hardwearing, low-maintenance alternative to wood structures. Easier and faster to raise than traditional wood construction, prefabricated steel buildings are also customizable in most regards, giving buyers near-countless options in terms of size, appearance, doors and windows, insulation, and other areas.
Located in northwestern Montana, the city of Kalispell is part of Flathead County. It lies about 121 miles north of Missoula and about 226 miles from Great Falls.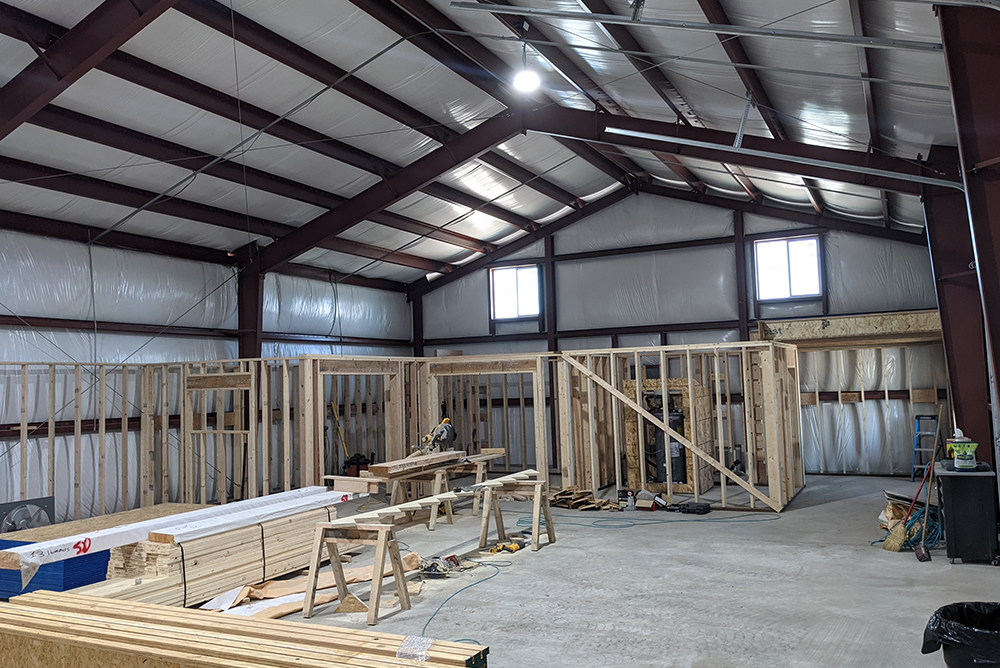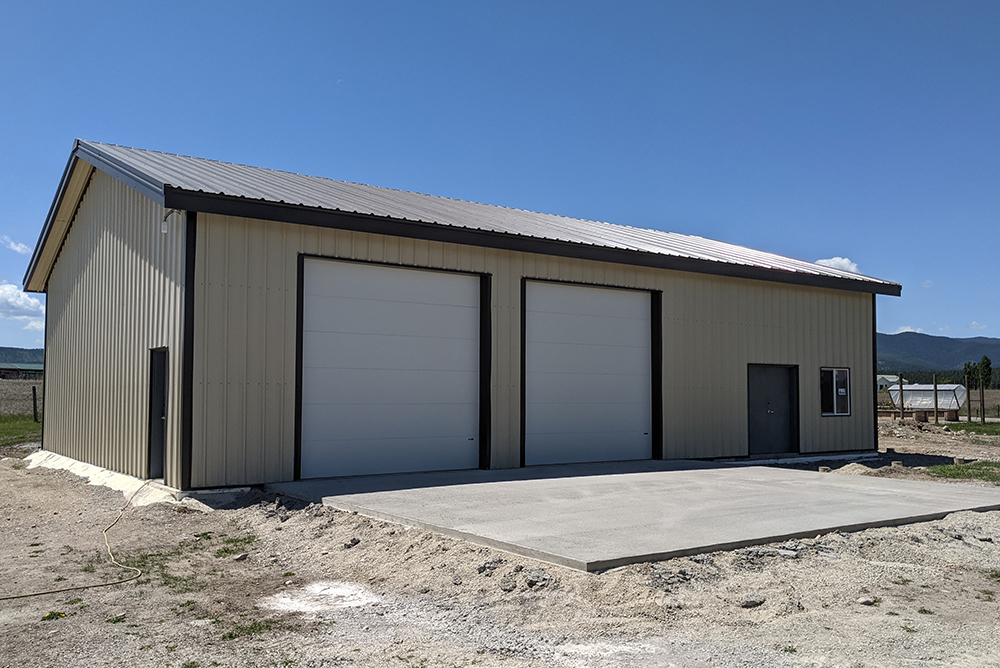 Building Specifications
Spacious, sturdy and damage-resistant, the shop and storage building is 40'x60'x15' in size once raised. Light Stone in color with Burnished Slate trim, the metal building has a broad clear span and high overhead clearance, leaving plenty of space for housing large company trucks and equipment.
The roof of the building has a 4:12 pitch, and installed inside it are 6" of WMP-VRR-faced fiberglass insulation. The walls of the steel building also contain 6" of WMP-VRR-faced insulation, with the facing serving as a protective cover over the insulation blankets.
With the insulation package in place, the building is well-suited for year-round use in Montana. The insulation package also reduces the building's lifelong energy expenses.
Distributed throughout the metal shop and storage building are (8) framed door and window openings in a variety of sizes. There are (2) 3'4"x7'2" framed door openings, (1) 6'4"x7'2" framed door opening, (2) 12'x12' overhead door openings and (3) 4'x4' window openings.
Engineered to enhance durability with respect for the environment and comply with all building and engineering codes in place across Kalispell, the steel building also features a 115-mph wind speed rating and a 42.9-psf roof snow load.
Featured Sunward Steel Garage & Shop Buildings