Prefabricated Steel Arch Building in Vernon, Texas
Sunward Steel Buildings, Inc., fabricated and supplied this preconstructed steel building for a customer in Vernon, Texas, in August of 1997.
These days, it serves as a garage and shop for Bradford Automotive and Transmission, a Vernon-based automotive repair center. Robust, low maintenance and long-lasting, the building initially took shape more than 22 years ago, and it boasts the same aesthetic appeal as it did then while continuing to serve as a functional, economical place to work and service vehicles.
Affordable, Versatile Steel Structures for Automotive Enthusiasts 
Have a valuable classic car or toy collection, and want to preserve and protect it? Looking to launch an automotive sales or repair business without breaking the bank? When today's automotive enthusiasts and business owners need spaces to store assets or conduct company operations, they increasingly rely on prefabricated arch steel buildings, which merge the rugged functionality of steel with the design possibilities of more traditional construction methods.
Sunward Steel can design and engineer its rugged, long-lasting shops, garages and other automotive buildings to accommodate any number of different needs, from separate bays and extra ventilation to insulation, windows, skylights, roll-up doors and similar features. This particular metal automotive building has maintained its strength and functionality through the years, serving as a prime example of the exceedingly durable nature of steel buildings.
Located in north-central Texas, the city of Vernon falls within the borders of Wilbarger County. The community sits about 190 miles northwest of Dallas and roughly 50 miles from Wichita Falls.
Considering purchasing a prefabricated steel building for use as a garage, body shop, commercial operation or something in Texas or another part of the country? Click here for a price quote.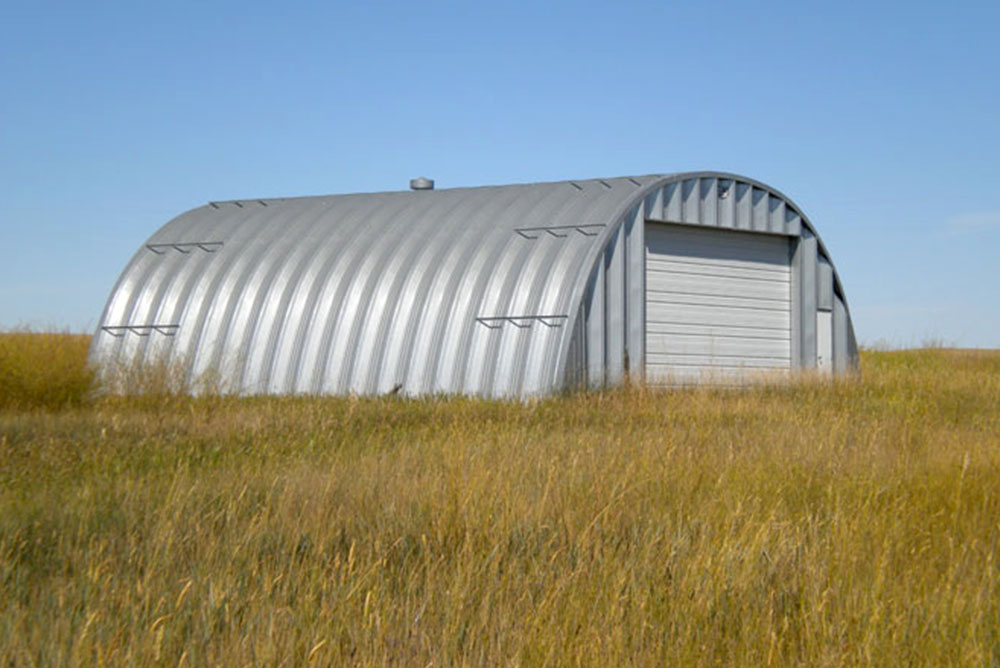 Building Specifications
Comprised of the strongest, highest-quality steel available in the American market, this metal shop and garage features 712 feet of 29-gauge hi-rib wall panels and an arch-style design, meaning it has no interior trusses or posts, freeing up more room for employees to park or work on automobiles. Following a simple, affordable erection process, the metal arch building stands 40'x98' in size, while its arched Galvalume roof offers ample protection from above, protecting cars and trucks against corrosion and the elements.
Both the front and rear ends of the arch building are open and have flashing, which prevents water from trickling in and causing mold or moisture-related damage. The arch building also boasts a 110-mph wind speed rating; a customization made in consideration of the climate patterns common across Vernon as well as the building code requirements in effect across the region.
Featured Sunward Steel Quonset Hut and Arch Buildings