Prefabricated Steel Recreational Building in Greeley, Pennsylvania
Sunward Steel Buildings, Inc., fabricated and supplied this pre-engineered steel recreational building for a customer in Greeley, Pennsylvania, in October of 2010.
The open-walled athletic building currently functions as a gymnasium on the grounds of the Lake Owego Camp for Boys, which is one of the nation's longest-running overnight summer camps still under its original family ownership.
The camp offers full-summer and half-summer sessions, allowing campers time to fully immerse themselves in sports, aquatics, outdoor activities, the arts and similar areas, and this open-air steel building provides a dry, covered space for campers and counselors to continue to enjoy many of these activities, regardless of weather.
Affordable, Long-Lasting Construction Solutions 
Prefabricated steel buildings are common in summer camp environments and often undergo use as storage sheds, mess halls, or indoor tennis or basketball courts, among other applications. Easy to customize in terms of ceiling height, accessibility, energy efficiency and more, pre-engineered metal buildings are often faster and cheaper to raise than alternatives, resulting in significantly lower construction costs.
This particular steel athletic facility is an important part of the camp's athletic offerings, giving campers a safe place to recreate and get their energy out, rain or shine. Situated about halfway between Milford and Hawley, Pennsylvania, the town of Greeley is located in a rural area known for its numerous summer camps for children. Part of Pike County, the community sits roughly 5 miles south of Lackawaxen.
Considering purchasing a prefabricated metal building for athletic, recreational, storage or other use in Pennsylvania or another part of the United States? Click here for a price quote.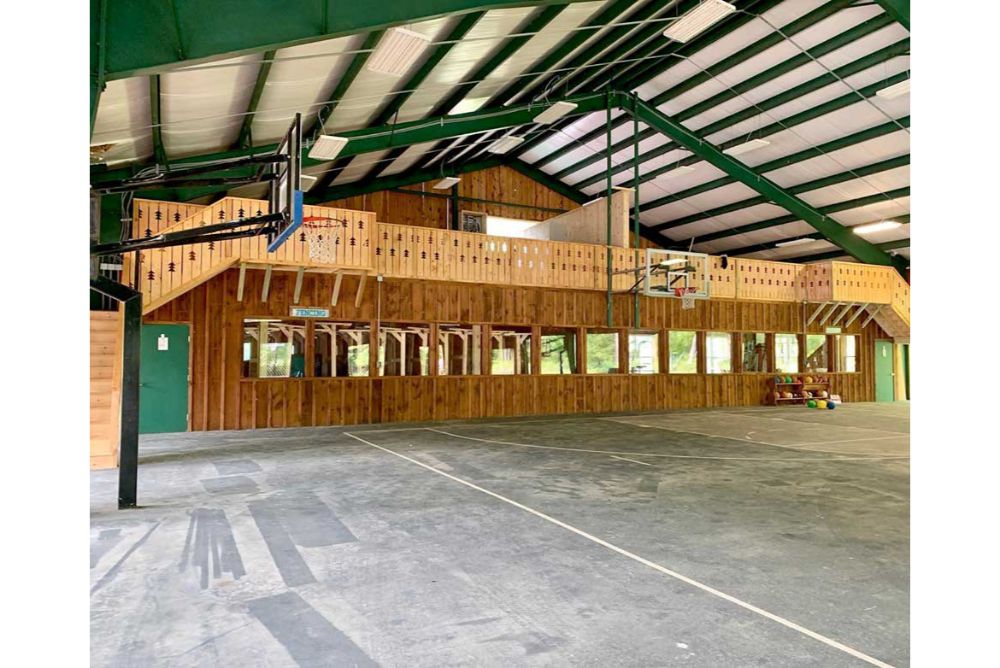 Building Specifications
Offering the durability and strength life in rural Pennsylvania demands, this steel athletic building is 80'x116'x16' when raised. It has a clear span that maximizes floor space and eliminates interior obstructions, and its high overhead clearance allows for the installation of basketball hoops and other athletic equipment.
The open-air metal building has a Dark Green roof with a 4:12 pitch and matching trim that blends seamlessly with the surrounding wooded landscape, and in that roof is a 4" layer of WMP-VR faced insulation. There are also 120 linear feet of Dark Green 5" downspouts spanning six locations and a 6" Dark Green eave gutter that together prevent rainwater or snow from collecting or causing damage.
The open-air building also boasts 232 linear feet of 3' structural eave extensions, which help the interior remain dry and safe for use in bad weather. In adherence to building code requirements dictating construction in Greeley, a 90-mph wind speed rating and a 40-psf snow load serve as additional project features.
Featured Sunward Steel Recreational Buildings