Mini Storage Building in Abbot, Maine
Sunward Steel Buildings, Inc., supplied this pre-engineered steel building for a customer in Abbot, Maine, in August of 2020.
Attractive, secure, and exceedingly durable, the building now serves as a self-storage facility, helping protect consumer goods from extreme temperatures, rain and snowfall, and other construction hazards.
Mini Storage Industry Strength 
Research shows that most modern self-storage businesses maintain occupancy rates that hover around 90%, meaning they produce reliable streams of revenue for their owners. Highly customizable when it comes to size, ceiling height, and climate control, among other areas, mini storage buildings can easily accommodate RVs, boats, or traditional storage needs, making them easy to customize based on geographic area and area demographics.
The town of Abbot is part of Piscataquis County, in central Maine. The community lies about 128 miles outside Portland, Maine, and about 49 miles outside Bangor.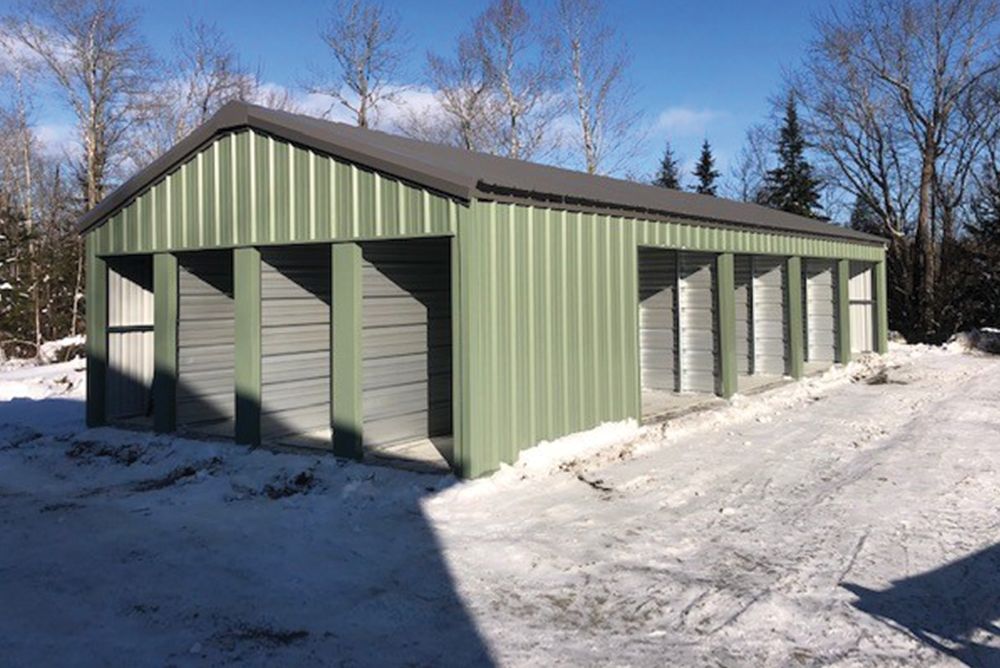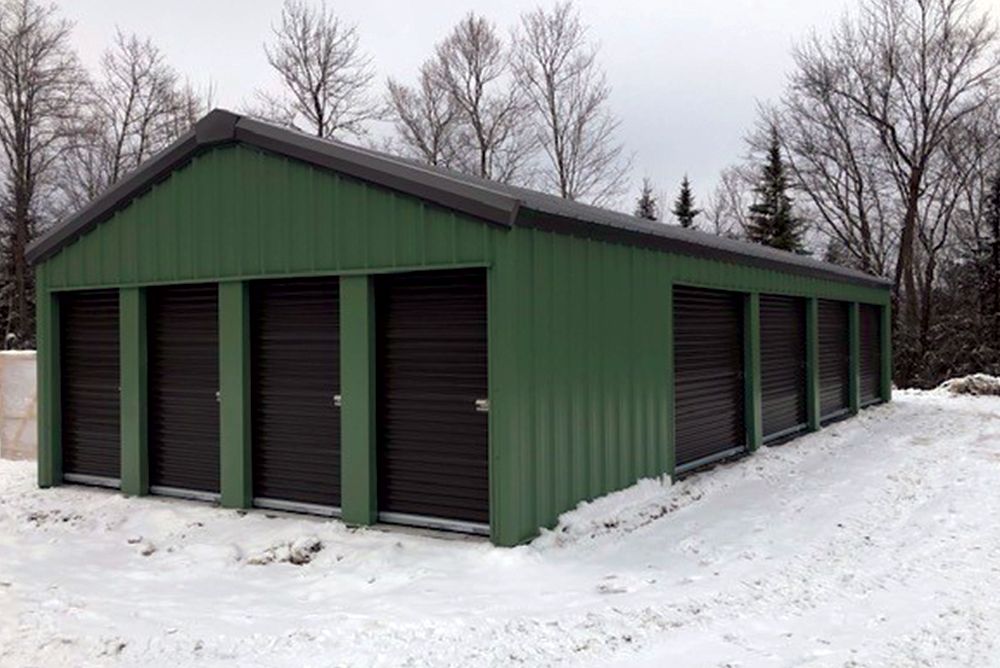 Building Specifications
Comprised of rugged, heavy-duty steel components, the mini storage building stands 20'x50'x8.5' following an easy erection process and meets all building code requirements currently in place at the business address.
Boasting a striking, Colony Green exterior and a Burnished Slate-colored roof, the metal mini-storage building draws the eye from the road and blends well with the rural landscape in the surrounding area. The roof of the building is comprised of rugged, corrosion-resistant Galvalume steel panels and has a 4:12 roof pitch, and inside the building are (12) storage units available for rent.
The self-storage building has heavy-duty 29-gauge partition panels separating each storage unit from the next, and each storage unit also has its own door that provides private access inside. In total, the steel mini storage building has (4) 4'x7' framed openings, each enclosing one of (4) 4'x7' mini storage doors, and (8) 9'x7' framed door openings, each of which encloses one of (8) 9'x7' mini storage doors.
The Abbot area is prone to considerable seasonal snowfall and variable weather patterns. In consideration of this, the mini storage building features a 115-mph wind speed rating and a high, 100-psf roof snow load to enhance durability.
Featured Sunward Steel Mini Storage Buildings