Direct Shipping To Montana
Sunward Steel has two large plants in North Dakota where we manufacture steel buildings. Our manufacturing plants supply and deliver steel buildings to Montana each month. With a direct route on I-94 W and MT-200 W to Montana from our manufacturing plant, known as Wedgcor, our steel building delivery process runs smoothly. We have proudly delivered all types of steel buildings to Montana and surrounding areas.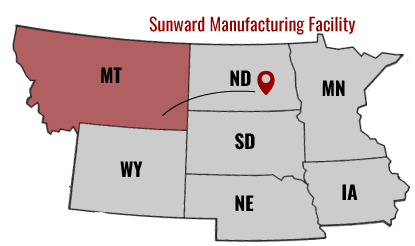 Sunward Steel Buildings, A Top Choice For Montana Buyers, Business Owners
It takes a special kind of strength and perseverance to battle Montana's long, sometimes-bitterly cold winters, and the state's metal buildings, too, must be cut from a different cloth. Heavy snow loads and subzero temperatures are only the beginning when it comes to potential hazards faced by Montana's building owners, but pre-engineered steel buildings provide the strength and durability you need to stand strong against these and other hazards.
At Sunward Steel Buildings, Inc., we have a nearly 50-year history of supplying steel building kits across Montana, the nation and the world, providing more than 75,000 metal buildings to satisfied customers spanning the globe. And in addition to offering supreme durability with minimal maintenance, steel buildings nowadays provide unique customization opportunities, meaning they no longer have to look like factories or skyscrapers.
Metal Building Types Common Across Montana
If you are seeking more storage, more room to work or more space to spread out, pre-engineered steel building kits offer affordable, dependable solutions. Metal buildings we commonly source in your area include:
Pole buildings
Farm and agricultural buildings
Self-storage facilities
Warehouses
Sheds and Workshops
Gyms, arenas and recreation areas
This is just a small sampling of the types of pre-engineered metal building kits we frequently supply across Montana. For a closer look at some of our recent work, check out our "Featured Projects" page.
Benefits Of Buying Factory-Direct
While you have options when it comes to where to buy your metal building, there are clear benefits to working directly with a steel building manufacturer such as Sunward Steel. First, you can rest assured knowing that one company will maintain control over your building throughout its creation, from the pre-planning and drafting stages all the way through to delivering your building kit to your job site.
You can also rest easy knowing that Sunward Steel relies exclusively on today's highest-quality steel components, maintaining our commitment to quality while providing you with friendly, top-notch customer service along the way.
Have questions? Have a vision for your building? Get it touch today to find out more about how to make your plan a reality.
Featured Sunward Steel Buildings in
Montana
Cities in
Montana

That We Have Supplied Steel Building Kits For