Mini Storage Buildings in Kennewick, Washington
Sunward Steel Buildings, Inc., supplied these (3) pre-engineered mini storage buildings in Kennewick, Washington, in late October of 2020.
Durable and built to last, the (3) metal mini storage buildings together undergo use as a self-storage facility. Comprised of rugged, high-quality steel components, they offer superior protection for goods stored inside and generate a steady stream of revenue for the property and business owner.
Affordable, Low-Maintenance Metal Mini Storage Buildings
Inherently easy to raise and maintain, metal mini storage buildings have the potential to create reliable, long-term sources of income. The self-storage industry is recession-resistant, because consumers need storage, not only during times of economic success, when many need space to house RVs, boats and other assets, but also during times of economic hardship, when many have to downsize into smaller homes.
Most self-storage facilities also maintain high occupancy rates, meaning the majority of their storage units are rented most of the time.
This particular self-storage facility serves consumers in and around greater Kennewick, Washington. Part of south-central Washington's Tri-Cities area alongside Richland and Pasco, the city of Kennewick is in Benton County. It sits about 140 miles southwest of Spokane and about 83 miles southeast of Yakima.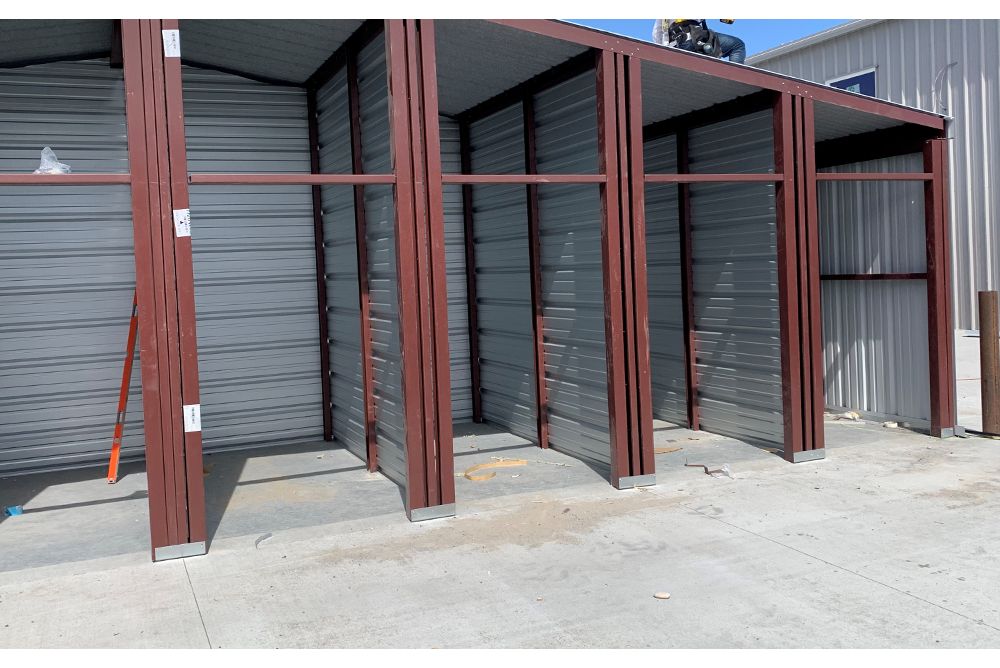 Building Specifications
The first mini storage building, Building A, is 40'x210'x8.5' once erect, while Building B stands 30'x200'x12.5'. The third metal mini storage building, Building C, is 30'x200'x8.5'. Distributed between the (3) steel self-storage buildings, offering each renter private access into his or her storage unit, are (109) framed door openings.
Found throughout the self-storage facility are (78) 9'x7' framed door openings, each of which encloses one of (78) 9'x7' mini storage doors. There are also (2) 9'x10' framed door openings, (15) 10'x10' framed door openings, and (14) 4'x7' framed door openings distributed among the (3) buildings in the complex.
Fabricated with the climate characteristics of Kennewick and the building codes in place in the region in mind, the mini storage buildings also feature 110-mph wind speed ratings and 21-psf snow loads that enhance durability.
Featured Sunward Steel Mini Storage Buildings