Prefabricated Steel Commercial Building in Rising Sun, Indiana
Sunward Steel Buildings, Inc., manufactured and supplied this pre-engineered commercial steel building in Rising Sun, Indiana, in April of 2006.
Ever since, the building has functioned as part of the Red Wolf Sanctuary, a Rising Sun-based nonprofit organization committed to preserving North American wildlife and educating the public about related efforts. Established in 1979, the animal sanctuary offers by-appointment tours for guests who can come check out a broad range of animal species including grey wolves, black bears, bobcats, elk, artic fox and more.
This steel building undergoes use as the sanctuary's wolf housing and treatment facility, providing a safe, secure and climate-controlled space to house wolves that are injured, orphaned or otherwise in need of assistance. Many of the animals living onsite were wild animals area residents initially intended to have as pets without fully understanding the risks or ramifications associated with doing so.
Thousands of Animals Saved 
Since its inception, Red Wolf Sanctuary has saved thousands of sick, injured or orphaned animals, rehabilitating them before ultimately re-releasing them into the wild. Some of the animals living onsite wound up there after their mothers abandoned them, while others, yet, arrived at the sanctuary after cars struck them, dogs attacked them or they otherwise showed signs of being unable to make it on their own.
This particular steel rehabilitation facility is an important part of the Red Wolf Sanctuary, providing a fully enclosed environment for animals to undergo rehabilitation and prepare to reintegrate into the wild. Located in southeastern Indiana, Rising Sun is a city set within Ohio County's Randolph Township. The community sits about 104 miles southeast of Indianapolis and about 40 miles outside Cincinnati, Ohio.
Considering purchasing a pre-engineered metal building for use as an animal sanctuary, veterinary office, commercial operation or something else in Indiana or another part of the United States? Click here for a price quote.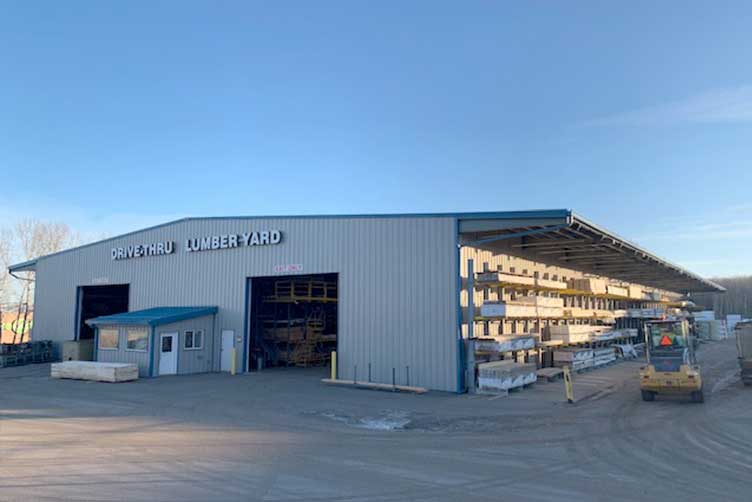 Building Specifications
Designed and engineered to provide a comfortable, functional rehabilitative environment for sick and injured animals, the metal animal sanctuary offers unmatched structural integrity, standing 60'x100'x14' in size. Stone Beige in color, it features a rugged, damage-resistant roof with a 4:12 pitch overhead, and it also features (4) framed openings with doors. Included are (2) 3070 walk door openings enclosing (2) 3070 walk doors and (2) additional overhead doors that make it easy for staff members to move animals in and out as needed.
The prefabricated metal animal sanctuary also features several customizations that further protect the animals and facility staff while keeping the structure in compliance with local building codes. Such enhancements include a wind speed rating of 90 mph and a snow load of 20 pounds.
Featured Sunward Steel Commercial Buildings