Factory Located in South Carolina
Sunward Steel Buildings began in the 1970's in Jamestown, North Dakota.  As the company's steel building business grew, Sunward's management saw a need for an Eastern shipping location. In the late 90's, they expanded their manufacturing operations into South Carolina. Located in Walterboro, SC, just outside of Charleston, Sunward's South Carolina manufacturing facility supplies steel buildings to the Eastern half of the United States. This facility is located on Interstate 95 which is the main interstate highway serving the entire East Coast. I-95 spans from southern Florida, up to the Northern point in the US with access into Canada. Shipping steel buildings to the Eastern portion of the United States is made very accessible via this major highway. International shipping is also very easy with access to the local ports in South Carolina. The Charleston ports are a quick one hour drive from Sunward's steel building manufacturing facility in Walterboro.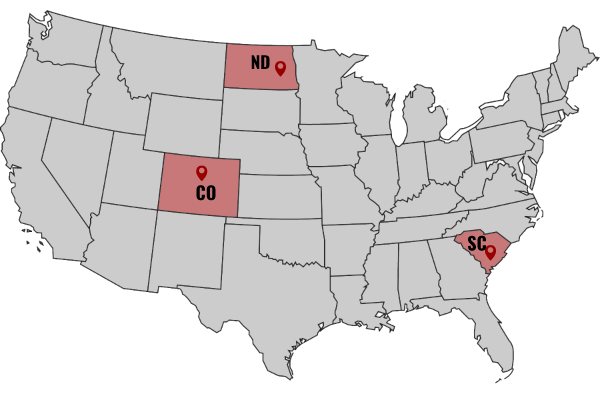 A Proud Supplier Of South Carolina's Pre-Engineered Metal Buildings
Looking for a reliable, exceedingly durable metal building you can trust to stand strong in the face of hurricane-strength winds and South Carolina's unpredictable storms and weather patterns? Increasingly, homeowners and business owners across the state are opting for pre-engineered steel building kits when they want to open a business, expand an existing one or add more storage or recreational space to a property. Why?
Affordability

. In comparison to erecting a wood building, putting up a pre-engineered steel one can save you a tremendous amount of money on labor. Prefabricated steel building kits arrive at your jobsite pre-cut and ready to raise, so you can have it up and operational in days, rather than weeks or more.

Durability

. Steel buildings are designed to last generations, standing tall in the face of fire, termites, moisture and other potential causes of damage.

Sustainability

. Rather than rely on wood from areas already feeling the effects of deforestation, those who opt for steel buildings invest in something that can be completely repurposed at the end of its lifespan.
In summary, steel buildings offer cost-effective building solutions for today's buyers and business owners, and Sunward Steel is a proud supplier of more than 75,000 of them to date. Buildings commonly supplied in the Carolinas and throughout the United States include:
Garages and carports

Gyms and equestrian arenas

Mini storage complexes

General storage

Warehouses

Manufacturing facilities
If you are in search of one of these or another metal building type, we can help you find one that meets your needs while complying with or exceeding any existing building code requirements in your area.
Industry Insiders
Have questions about premanufactured metal building kits, or need help finding someone to help erect your building upon delivery? With more than 45 years in the metal building industry, we not only have the knowledge you need to feel confident in your investment, but we also have the local contacts you need to get your building up, running and functional at your jobsite.
Featured Sunward Steel Buildings in
South Carolina
Cities in
South Carolina

That We Have Supplied Steel Building Kits For