Steel RV Storage Building in Eureka, Montana
Sunward Steel Buildings, Inc., manufactured and supplied this prefabricated metal building in Eureka, Montana, in December of 2018.
Durable, secure and engineered for Montana's variable climate, the steel building now houses RVs, golf carts and other toys, helping preserve their functionality and resale value by keeping them safe, dry and protected from the elements. The metal RV garage has an unobstructed clear span that creates plenty of space for large vehicles. It also has large door openings that make it easy to move campers in and out.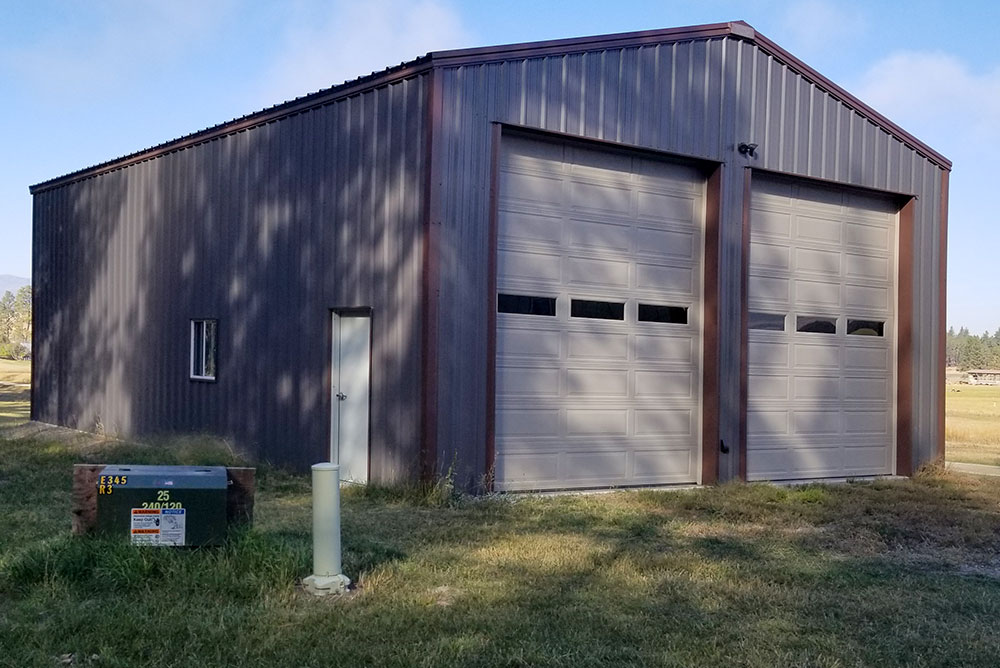 Building Specifications
Charcoal Gray in color with nicely complementing Rustic Red trim, the attractive, long-lasting metal garage arrived at the build site in pre-assembled pieces, helping speed up construction. When built, the building is 32'x48'x16' and has high ceilings that can easily accommodate oversize vehicles.
The metal RV garage has (2) 3'x3' window openings that let plenty of natural light inside and (4) framed door openings that allow vehicles and building users in and out. These include (1) 16'x8' overhead door opening, (2) 12'x14' overhead door openings and (2) 3070 walk door openings enclosing (2) 3070 walk doors.
A Galvalume Plus roof with a gable design and a 3:12 roof pitch helps guard against corrosion and the Montana elements. The steel RV storage building also features several customizations made with local building codes in mind, including a 33-psf roof snow load and a 115-mph wind load.
Reliable, Economical RV & Boat Storage Solutions
The number of RV and boat owners in America continues to grow, and so, too, does the number of people looking for places to house and protect their valuable investments. Steel garages make optimal RV and boat storage buildings due to their superior structural integrity and low-maintenance nature.
While metal garages like this one help RV and boat owners protect their assets from potential theft, the elements, intense sunlight and extreme heat or cold, among other potential hazards, they also provide covered indoor space home or business owners can use to service their vehicles or watercraft when the need arises.
A small town located near the U.S./Canada border, Eureka, Montana, is part of Lincoln County. The community sits roughly 50 miles northwest of Whitefish and about 66 miles from Kalispell.
Featured Sunward Steel RV Storage Buildings
See Some of Our Latest Projects