Steel Equestrian Riding Arena in Bucksport, Maine
Sunward Steel Buildings, Inc. had the honor of fabricating and supplying this premanufactured metal building on behalf of a customer in Bucksport, Maine, in August of 2004.
Now functioning as a riding arena on the grounds of Clover Leaf Farms, a 42-acre agricultural cooperative and equestrian facility, the pre-engineered steel building offers unmatched strength and durability, featuring premium-quality steel construction that holds its own in the face of wind, heavy snow and other common geographic construction hazards.
Used regularly for horse boarding services and riding lessons, the building also functions as a central meeting place for special events, 4H meetings and similar community gatherings, providing a safe, all-season space for equestrian and outdoor enthusiasts to recreate.
Rugged, Reliable Equestrian Facilities
 A common choice among those seeking economical, safe spaces to store and ride horses, pre-engineered steel riding arenas and storage facilities are easily customizable in terms of stall sizes, roof heights, feed storage areas and related considerations.
This particular building serves as an important resource for the surrounding equestrian community, giving enthusiasts an opportunity to board, train and ride year-round despite Maine's variable, often-unpredictable climate.
A small town of roughly 5,000 residents, Bucksport is a part of southern Maine's Hancock County. The community sits at the head of the Penobscot Bay, just north or Orrington and just outside Verona.
Considering purchasing a metal building for equestrian, recreational or other use in Maine or another part of the country? Click here for a price quote.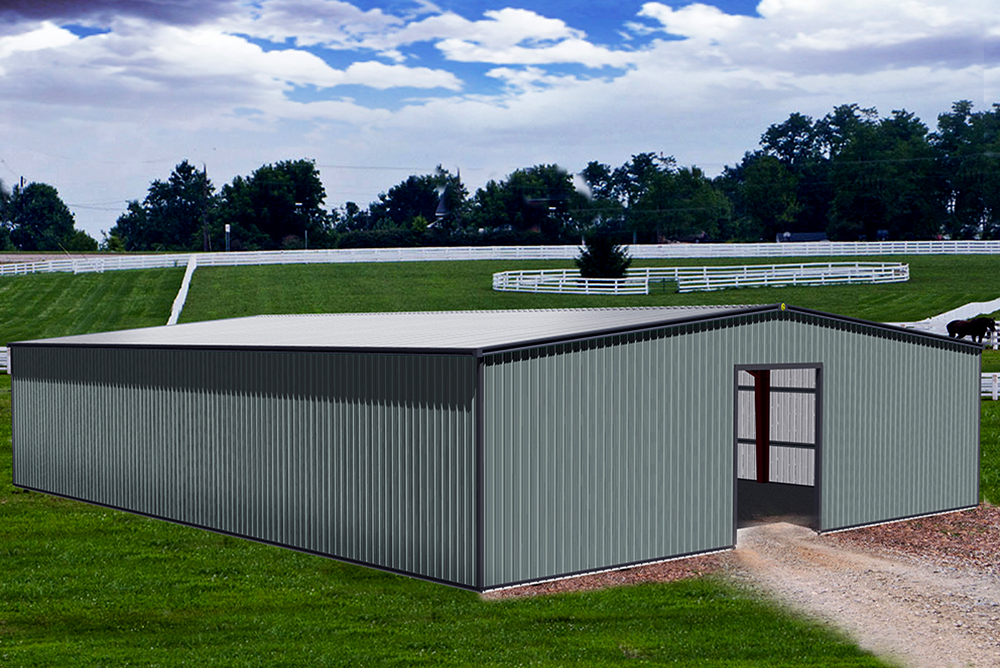 Building Specifications
Offering unrivaled strength and durability, this expansive steel riding arena stands 60'x180'x16' in size and boasts an open, clear-span design that eliminates interior obstructions while maximizing usable space.
In addition to providing ample room for riding and horse stalls, the metal arena also has a residential component for the building owner, with the 21,000 square-foot building boasting a "barndominimum"-style living quarters complete with three bedrooms and bathrooms.
White in color with a complementing Stone Beige roof with white trim and a 3:12 pitch, the building features an attractive, low-maintenance exterior that maintains its beauty easily with little more than an occasional power-wash.
Additional key features and characteristics include (4) 3070 openings enclosing (4) 3070 walk doors, (28) 17'1" wall lights that illuminate the space and enhance safety for riders, and (5) individual horse stalls, (2) of which serve as foaling areas.
A 90-mph wind speed rating and a 43-psf snow load serve as additional features added with regard for the climate patterns typical of Bucksport and the building code requirements in place in the region.
Featured Sunward Steel Equestrian Buildings