Steel Recycling Facility in New Boston, Michigan
Sunward Steel Buildings, Inc., had the honor of manufacturing and supplying this pre-engineered steel building on behalf of a client in New Boston, Michigan, in October of 2007.
Comprised of (8) smaller structures joined together, the prefabricated metal building now serves as an industrial center for GLR Recycling Solutions, a New Boston-based single-stream recycling facility that serves residents and businesses across the surrounding southern Michigan community. In addition to offering recycling services, this building also offers facility tours and has a conference room and classroom onsite so schools and other groups can learn more about the critical nature of recycling in America.
Simplifying the Recycling Process 
Established upon the belief that Michigan residents want to recycle, but would be more likely to do so if it were easier, this particular recycling center collects unsorted recyclables and then handles the recycling process from there. This particular state-of-the-art steel facility is also unique in that it serves as an educational resource for the surrounding area, teaching the community about the process and important of recycling.
An unincorporated community located within Wayne County's Huron Charter Township, New Boston is a part of southern Michigan's Lower Peninsula. The community sits just south of Romulus and just west of Flat Rock.
Considering purchasing a prefabricated industrial steel building for recycling, manufacturing or other use in Michigan or another part of the country? Click here for a price quote.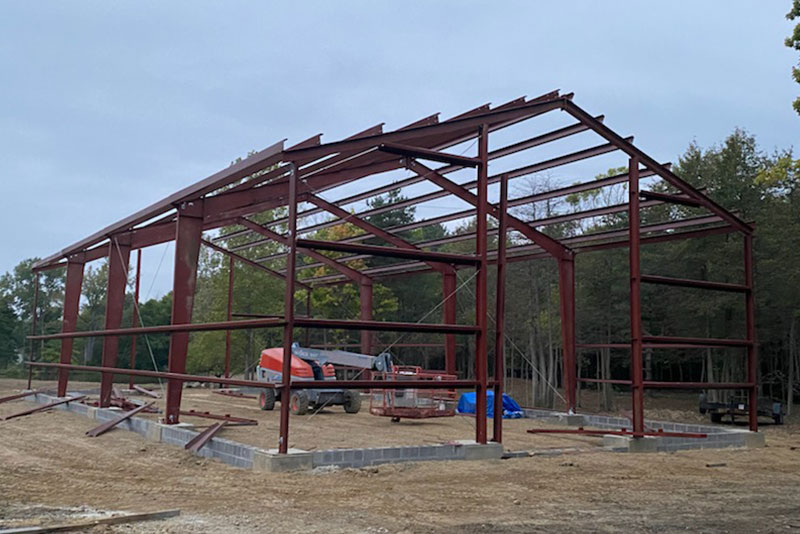 Building Specifications
Once erect, this insulated pre-engineered steel recycling center offers a finished size of 90'x99'x30', and it is comprised of premium-quality steel components, resulting in unmatched strength and durability. A Light Stone-colored roof with a 1:12 pitch sits overhead, guarding against the elements and corrosion, and a 7,700 square-foot mezzanine enclosing the classroom and conference room serves as an additional key feature, expanding the building's usable space.
To keep facility workers, tour participants and others warm in the winter and cool in the summer, the steel recycling facility features a high-performance insulation package comprised of 4" of WMP-VR fiberglass insulation in its roof and walls.  The insulation package also helps muffle noise coming from the facility while keeping energy bills associated with the building low and manageable. Additional steel building characteristics include (16) dome skylights, (11) overhead doors, (15) windows, (10) louver openings and (5) exhaust fans that enhance ventilation throughout.
Other inclusions made with regard for the climate characteristics of the area and the building codes currently in place across New Boston include a 90-mph wind speed rating and a 41-psf snow load.
Featured Sunward Steel Industrial Buildings