Horse Riding Arena in Bentonville, Arkansas
Sunward Steel Buildings, Inc. had the honor of fabricating and providing this pre-engineered steel building for a customer in Bentonville, Arkansas, in March of 2002.
These days, it functions as an equestrian arena on the grounds of the Bentonville Riding School, which provides horseback riding lessons for enthusiasts of all skill levels as well as birthday party, family reunion and similar recreational opportunities. Owned by a highly skilled equestrian with more than 20 years of experience, the Bentonville Riding School offers well-rounded instruction for equestrian enthusiasts from across northwestern Arkansas.
Reliable Construction Solutions for Horses & Riders
Riding lessons are available for children and adults at this prefabricated metal riding arena throughout the year, and this building also serves as an all-season space for children's birthday parties and similar special events. Pre-engineered metal buildings are a popular choice among equestrian enthusiasts and business owners, due in large part to their affordability and easy customizability. From multiple stalls and storage areas to soaring ceilings and similar accommodations, steel buildings can easily fit a broad range of needs for those in the business of riding, showing or raising horses.
Arguably best known as the birthplace of giant big-box retailer, Walmart, Bentonville is Arkansas' ninth-largest city and is a part of the Northwest Arkansas Metropolitan Statistical Area. Situated within Benton County, Bentonville sits just west of Rogers and just south of Bella Vista.
Considering purchasing a prefabricated steel building for equestrian or other use in Arkansas or another part of the country? Click here for a price quote.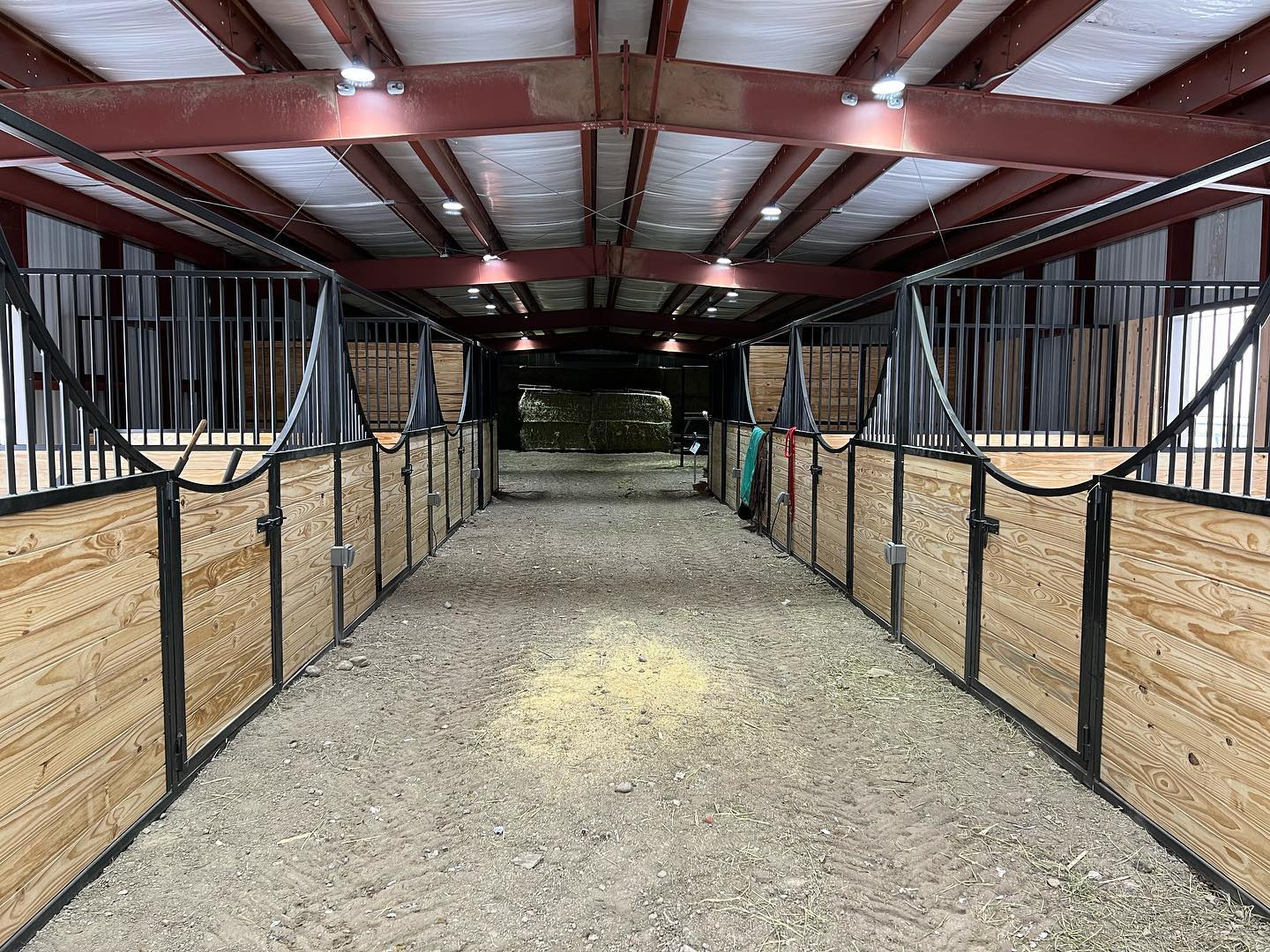 Building Specifications
Rugged, highly versatile and designed to last, this prefabricated metal horse arena is comprised of premium-grade steel components, and it offers a finished size of 80'x160'x16' once fully erect.  It features an open, clear-span design ideal for riding and a corrosion-resistant Galvalume roof with a 2:12 roof pitch sits overhead, protecting horses and riders from the Arkansas elements.
Stone Beige in color, the steel arena is aesthetically pleasing in appearance, and it offers a safe, covered alternative to the property's existing outdoor arena. The metal arena also features an 80-mph wind speed rating; an inclusion made in adherence to local building code requirements.
Featured Sunward Steel Equestrian Buildings