Prefabricated Steel Barndominium in Kula, Hawaii
Sunward Steel Buildings, Inc., was the proud manufacturer and supplier of this pre-engineered steel building in Kula, Hawaii, in May of 2007.
Spacious, rugged and designed to stand strong in the face of Hawaii's variable wind and weather patterns, the metal building now serves as a "Barndominium" on the grounds of Moemalie, a grand, 23-acre private estate that, in addition to the steel barndominium, features a mansion, an apartment, a three-car garage, a cottage, a two-story gate house, a nine-vehicle parking structure and a pool pavilion, among other accommodations.
Situated amidst the lush greenery of one of Kula's hidden enclaves, the estate boasts an abundance of upgrades, and the onsite metal barn provides ample room for storage, agricultural equipment and related maintenance needs.
It also features a mezzanine area complete with a bedroom, living room and fully-functioning bathroom, with residential components such as this one becoming increasingly popular customization options for buyers of today's prefabricated metal barns.
A Kula Crown Jewel  
One of Kula's most iconic properties, Moemalie and this barn sit along the edge of a scenic and peaceful Koa tree forest. The name "Moemalie" translates to, "A Place of Peaceful Rest," and this property provides just that. It also has a rich history in the region, and several well-known names have called it home through the years. Moemalie's metal barndominium serves double-duty as a storage and workspace and a residential area, effectively combining the architectural appeal of barn-style living quarters with the functionality and versatility of a pre-engineered steel building.
Considered a district of Maui, Kula, unlike much of the island, is a popular residential area for full-time residents. The community sits about 7 miles north of Keokea and about 21 miles, by car, from Kihei.
Interested in purchasing a pre-engineered metal barn, agricultural building or farm storage building or something else in Hawaii or another part of the country? Click here for a price quote.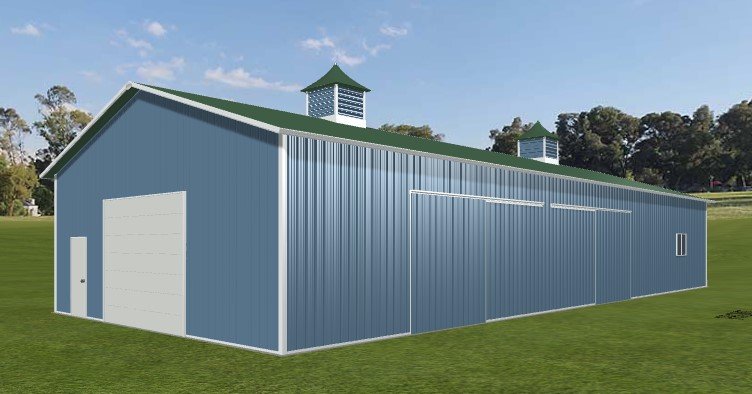 Building Specifications
In the spirit and style of the surrounding estate, this premanufactured metal barn boasts considerable curb appeal, and it stands 32'x84'x12.75' in size. It features a Royal Red exterior and a complementing, corrosion-resistant Dark Green roof with a 4:12 pitch, and distributed throughout it are (9) framed openings.
Featured are (1) 12'x10' overhead opening enclosing (1) 12'x10' overhead door, (2) 3'x7' openings, each housing one of (2) 3'x7' walk doors, (3) 10'x10' openings enclosing (3) 10'x10' sliding flat metal doors, and, finally, (3) 4'x42" sliding windows.
A high, 120-mph wind speed rating serves as a supplemental steel barn feature; an addition made in consideration of local building code requirements and the island's sometimes unpredictable climate characteristics.
Additional key features include (2) 48" cupolas with metal louvers, which enhance the barn's aesthetic appeal while improving ventilation. Strong, durable and highly versatile, this steel barn resists damage caused by sand, water, wind, heavy rains and other common hazards associated with life in the islands.
Featured Sunward Steel Barndominium Buildings