Commercial Steel Building in Grand Island, Nebraska
Sunward Steel Buildings, Inc. was pleased to manufacture and supply this pre-engineered steel building for a client in Grand Island, Nebraska, in 2018.
Featuring top-quality steel construction and an abundance of sustainable and other key features, the striking, energy-efficient steel building now serves as a dealership for Kubota, a leading, Japan-based manufacturer of tractors and other heavy farm equipment. Custom-designed down to the last detail, the metal building functions as Kubota's Grand Island sales and service center, and it serves a broad variety of purposes on behalf of the company, providing ample room to repair and maintain machinery while offering considerable storage and inventory space.
Green Building Considerations  
Designed with sustainability in mind, the building boasts a number of green building features in addition to its inherently sustainable steel composition. It features in-floor radiant heat, enhancing overall comfort for workers during the wintertime, and it also features a highly energy-efficient zoned air-conditioning system, which allows company executives to target the areas they want to be cooled. Vents and exhaust fans with louvers serve as supplemental accommodations, aiding with air circulation and allowing more clean air to permeate Kubota's work area.
Offering the Strength & Durability the Midwest Demands  
In addition to holding its own in the face of Nebraska's sometimes-harsh weather and other potential building hazards, such as fire and pests, the Kubota's steel sales and service center features a 120-mph wind speed rating and a 43-pound ground snow load, which adhere to local building code requirements while enhancing durability with respect for the surrounding climate.
A central Nebraska city set within Hall County, Grand Island is the annual site of the Nebraska State Fair. The community lies about 25 miles north of Hastings and about 8 miles outside Alda. Considering purchasing a pre-engineered metal building for commercial, industrial or other use in Nebraska or another part of the United States? Click here for a price quote.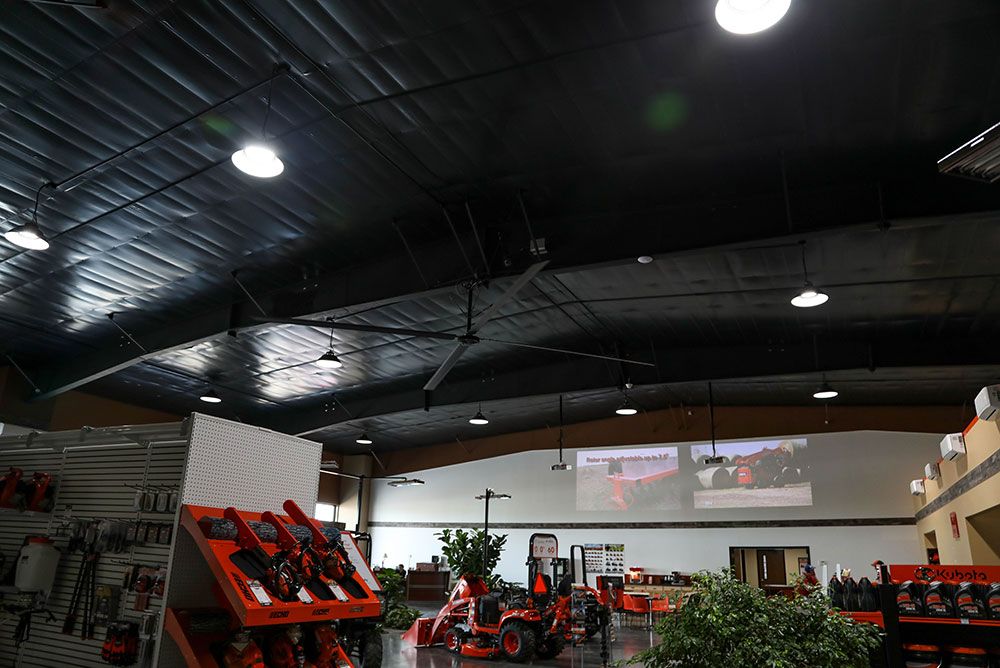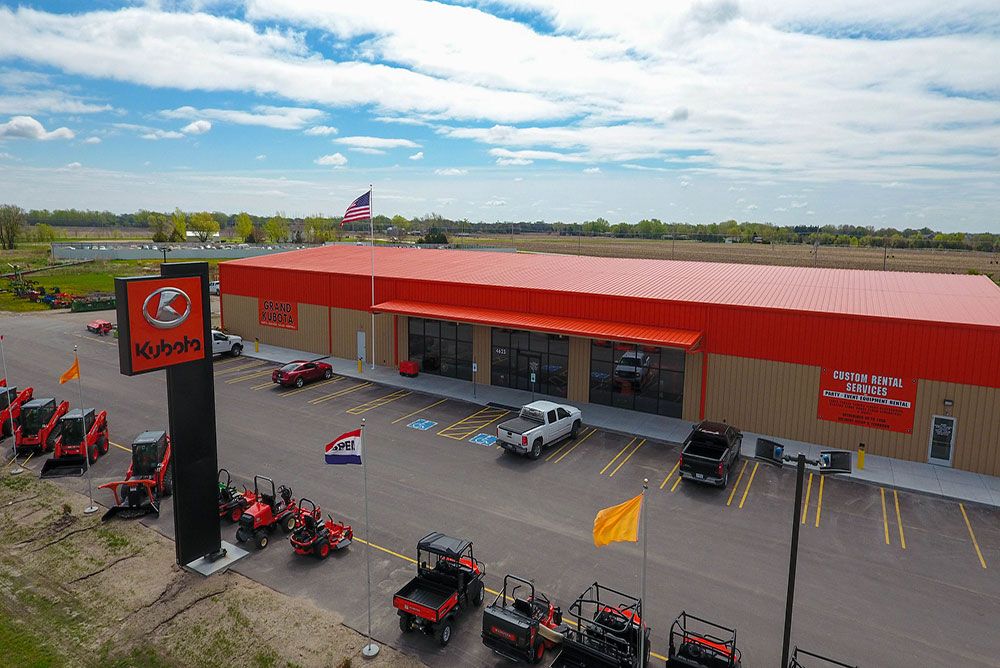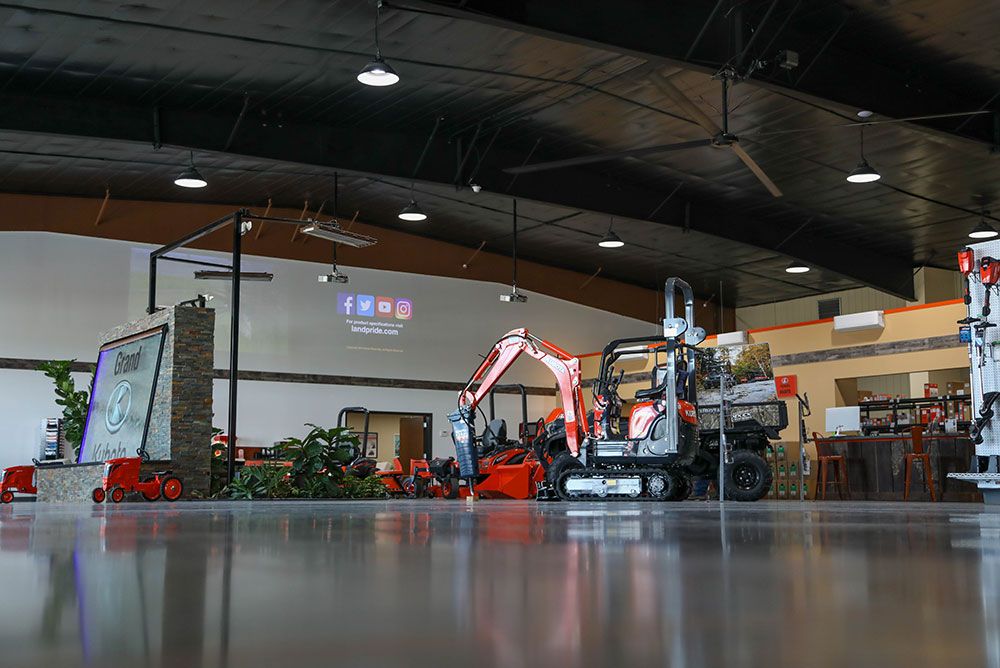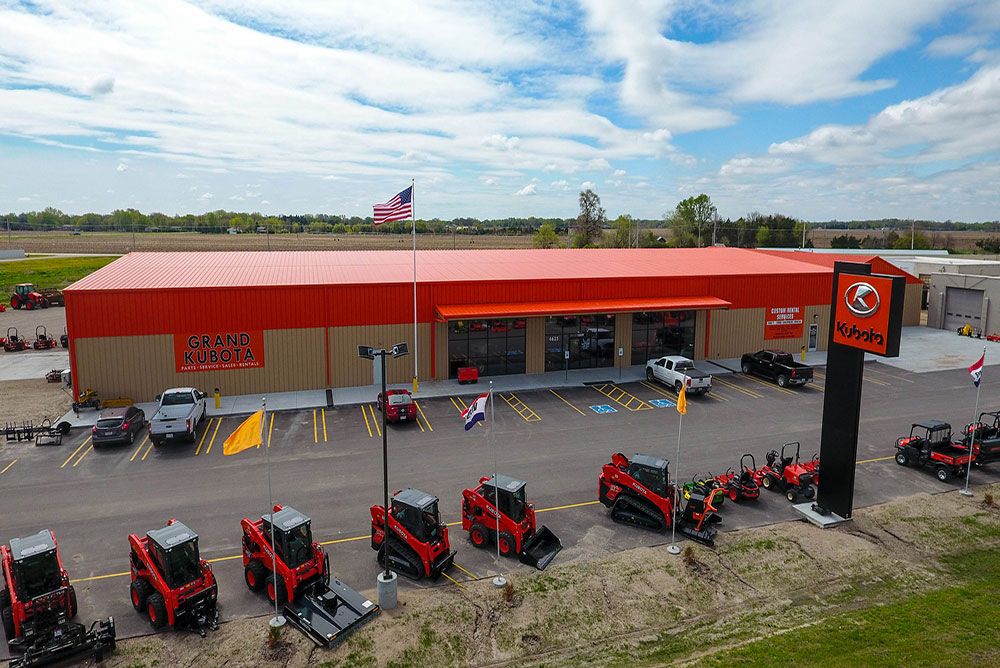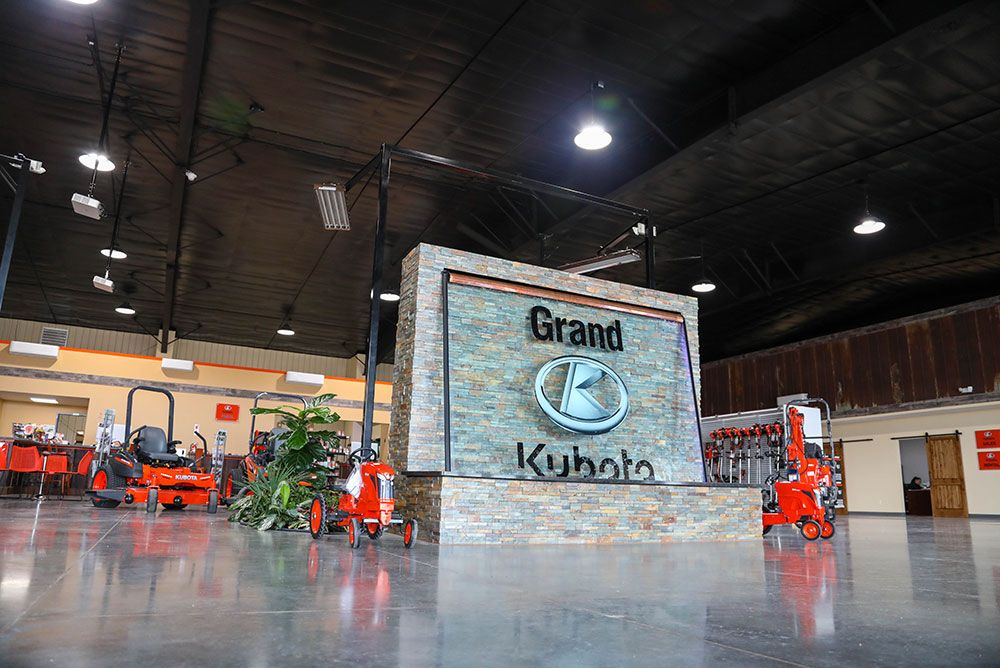 Building Specifications
Standing an expansive 100'x200'x20' in size, Grand Island's brand-new, state-of-the-art Kubota dealership and service center features an unobstructed, clear-span design that maximizes space and enhances versatility. It has an attractive Saddle Tan exterior and a custom-designed "Kubota Orange" roof with a 1:12 pitch, which precisely matches the company's existing branding and color scheme.
The prefabricated sales and service center also boasts other Kubota Orange custom finishes throughout, including its trim, gutters, wainscot and 10'x75' canopy, and the building also features a number of additional stylistic touches that enhance its aesthetic appeal. Included are 8' of wainscot along the top of the walls, as opposed to the more traditional space along the bottom of the walls, and the steel building also offers a reverse-rolled R panel within the walls, which adds 1 ¼" of depth to the wall cavity.
Filling that extra space is a high-performance insulation package that keeps Kubota employees comfortable year-round and energy bills associated with the business low. Within its roof and walls, the facility boasts a high R-value, R-38 double-layer Energy Saver insulation system, while the company showroom features black Energy Saver fabric, and the service shop area, white Energy Saver fabric.
Additional accommodations include (12) framed openings varying in terms of size and function, among them (1) 14'x20' opening enclosing (1) 14'x20' overhead door, (1) 22'x14' opening enclosing (1) 22'x14' overhead door, (1) 7'x10' opening harboring (1) 7'x10' door and (1) 20'x15' opening enclosing (1) 20'x15' glass storefront door with a 3' glass entry door. Also included are (5) 3' walk doors and (1) 4' walk door, while (2) 12'x3' windows help boost morale by allowing plenty of natural sunlight inside the dealership.
Featured Sunward Steel Commercial Buildings