Prefabricated Steel Catholic Church in Fairfield, Ohio
Sunward Steel Buildings, Inc., manufactured and supplied this pre-engineered metal building in Fairfield, Ohio, in October of 2002.
Now in use as Fairfield's St. Gertrude the Great Roman Catholic Church, which serves more than 600 parishioners from across the Tri-State area (southern Ohio, northern Kentucky and southeastern Indiana), the church is known for hosting traditional Latin masses and remaining faithful to the "old ways." In addition to spaces for mass, the Gothic-style church building has its own school, social hall/gym, administrative offices, a tower, a rectory, a convent and a covered cloister walkway, among other accommodations.
Affordable, Customizable Steel Religious Buildings  
Ideal for congregations of all sizes and faiths, metal religious buildings are completely customizable in terms of ceiling height, doors, windows and skylights, insulation, exterior façade and numerous other elements. Religious building buyers can also purchase buildings designed to accommodate future church growth, with expandable end walls and similar features making expansion relatively seamless.
St. Gertrude the Great Catholic Church has experienced steady growth over the years, and this metal church building has allowed the church to easily accommodate an increasing number of parishioners while requiring only minimal maintenance along the way. Situated along the east bank of the Great Miami River, the city of Fairfield has land in both Butler and Hamilton counties. The community sits about 25 miles north of Cincinnati and just west of West Chester.
Considering purchasing a pre-engineered metal building for religious, community, municipal or other use in Ohio or another part of the United States? Click here for a price quote.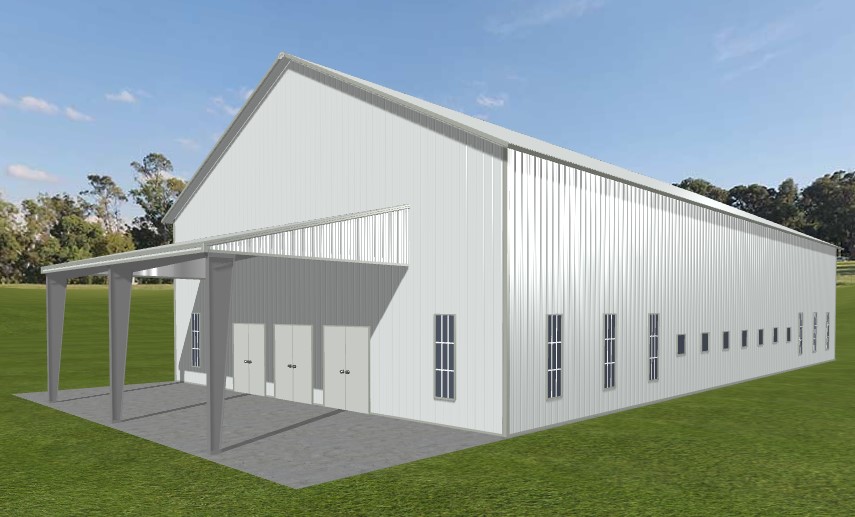 Building Specifications
Combining reliable steel construction with traditional gothic church stylistic elements, the metal building effectively merges fashion with functionality, resulting in a comfortable, accommodating space with considerable street appeal. The gothic church building, once raised, stands 48'x90.48'x19' in size, and it boasts high ceilings and plenty of floor space to accommodate future congregation growth.
Overhead, a rugged, corrosion-resistant steel roof with a steep, 6:12 pitch provides protection from the elements, and a 90-mph wind speed rating serves as an additional customization made in compliance with local building codes and out of respect for Fairfield's typical climate and weather patterns. The steel church building also features an attractive granite façade, which enhances its architectural appeal. Economical, sustainable and highly versatile, the metal church provides a comfortable, inviting place for Tri-State-area Catholics to come together, worship and celebrate special occasions.
Featured Sunward Steel Church Buildings