Metal Garage Building in Chardon, Ohio
Sunward Steel Buildings, Inc., supplied this pre-engineered metal garage building in Chardon, Ohio, in December of 2020.
Now undergoing use as a garage, the building features top-of-the-line steel construction and provides optimal protection for cars, trucks, toys and other items housed inside. Easy to erect and maintain and engineered and customized by Sunward Steel in line with the owner's wishes, the steel garage building offers optimal strength and durability while requiring very little from the owner in terms of upkeep.
Durable, Economical Storage Solutions
A top choice among those seeking long-term storage solutions for vehicles, RVs, boats and other valuable assets, pre-engineered steel garages feature column-free interiors that maximize space for storage. Easy to customize based on need and the climate characteristics of a given area, prefabricated metal garages are an economical, longer-lasting alternative to garages made from wood or other building materials.
Located in northeastern Ohio, the city of Chardon is part of Geauga County. It sits about 10 miles south of Lake Erie and about 15 miles east of Cleveland.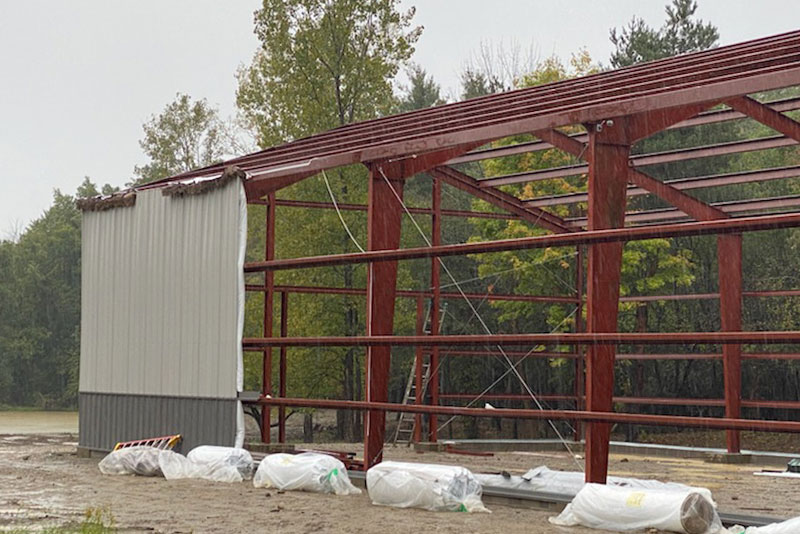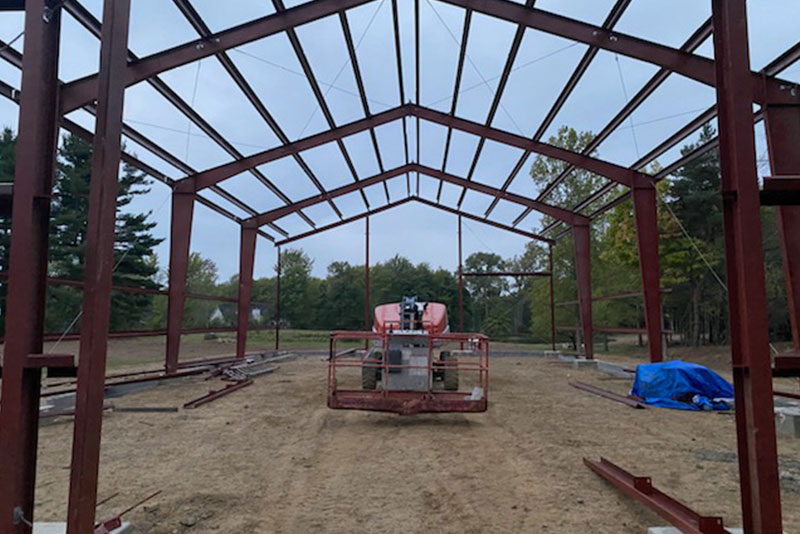 Building Specifications
Steel Garage Features & Specs
The steel garage arrived at the erection site in partially assembled pieces, making construction easier and faster than it would be through traditional building methods. Once raised, the metal garage stands an expansive 45'x85'x14' in size and has a wide clear span and high overhead clearance that create additional space for storing vehicles or other assets.
Light Stone in color with complementary wainscoting, the metal garage blends well with the surrounding property and landscape and offers ample curb appeal. It also has (8) framed door and window openings distributed throughout, which include (1) 4070 walk door opening housing (1) 4070 commercial structural man door, (1) 12'x14' overhead door opening and (1) 12'x12' overhead door opening. The garage also has (3) 3'x4' windows that let plenty of natural light inside.
A 25-psf snow load and a 115-mph wind speed rating are additional customizations made in adherence to local building and engineering code requirements.
Featured Sunward Steel Commercial Garage Buildings