Steel Indoor Equestrian Arena in Greeneville, Tennessee
Sunward Steel Buildings, Inc. was the fabricator and proud provider of this pre-engineered equestrian arena to our customer in Greeneville Tennessee, in December 2007.
Designed as an Equestrian center & riding arena for Blackberry Ridge Farm; a private, five-star, facility dedicated to the traditional Irish Draught and producing top quality sport horses.
The owners chose Sunward Steel to provide a building that would accommodate all regulations set forth by the American Horse Council, including all European competing guidelines. Manufactured with the horse and rider as top priority, we delivered a building that not only met state & local building codes, but exceeded all governing Equestrian statutes.
Sunward Steel took great pride in working with our customers, Tracy and Debbie Dobbs who own and operate Blackberry Ridge Farm.  From designing, fabricating & delivering, this arena brought their dream to life and they now call this Equestrian farm their home.
You can find this beautiful estate nestled in the heart of beautiful Greene County, spanning over 300 acres, with bountiful creek bottoms and panoramic vistas, located just an hour Northeast of Knoxville, Tennessee.
If you have any interest for a steel building in Tennessee or elsewhere, contact us for a quote on your next steel building project.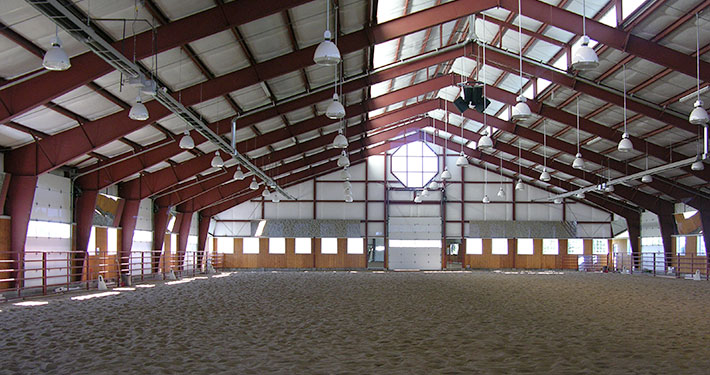 Building Specifications
Standing an expansive an 80 x 220 x 17 the indoor arena reached completion with professionally set full length mirrors and manicured footing.
Within its roof, the owners chose to implement the Solar Guard Insulation Package. Elected for its economical & energy efficient blueprint and insuring the interior a steady indoor temperature for years to come. This insulation system is easily installed within our 2:12 pitched steel canopy's and gable designs; proving to be a superb choice for Blackberry Ridge Farm.
Manufactured with exceedingly durable steel components, the building beams with an attractive Stone Beige exterior with 5′ high Wainscot with Transition Trim & Angle, all in Burnished Slate. A coordinating Burnished Slate roof formulated with a 10 pound snow load re-assures safety & security.
Additional elements include, 480 5" Downspouts, 448 Eave Extensions, 160 Gable Extensions, and 6" Eave Gutters provide a dry dwelling to horse and rider throughout the year.
Other notable features, (4) 3070 commercial walk door framed openings equipped with (4) 3070 walk doors, (1) 12'W x 12'H Double Sliding Barn Door, (1) 24'W x 12'H Double Sliding Barn Door, and (16) 16'x 6' window-framed openings with full accent trim.
Featured Sunward Steel Equestrian Buildings