Steel Agricultural Building in Owasso, Oklahoma
Sunward Steel Buildings, Inc., was the proud manufacturer and supplier of this pre-engineered metal building in Owasso, Oklahoma, in March of 2008.
Ever since, the rugged, hardwearing metal building has served as a hog barn for the Owasso FFA, a high school student-led agricultural education organization with more than 150 members. An addition to an existing barn already onsite, this steel building gives Owasso FFA members more room to house animals and adds another 35 hog pens to the space. In operation for more than 90 years, the Owasso FFA helps local students hone skills both inside and out of the classroom, and this particular steel barn houses hogs used in shows and related efforts and events.
Reliable, Affordable Farm Buildings & Barns 
Often the first construction choice among farmers, ranchers and others with agricultural interests, prefabricated metal farm buildings are easy to customize in terms of doors, windows, insulation, ridge vents and numerous other elements. In addition to adapting your metal farm building or animal barn to meet your specific needs, you can also customize it in line with your aesthetic preferences, adding cupolas, wainscoting and similar stylistic elements.
This steel hog barn has housed pigs used in Owasso FFA shows and educational endeavors for more than a decade, maintaining its good looks and structural integrity through the years despite ongoing heavy use. A northern suburb of Tulsa, Owasso has land in both Rogers and Tulsa counties. The community sits about 14 miles from Tulsa and about 10 miles from Sperry.
Considering purchasing a pre-engineered metal building for agricultural, storage or other use in Oklahoma or another part of the United States? Click here for a price quote.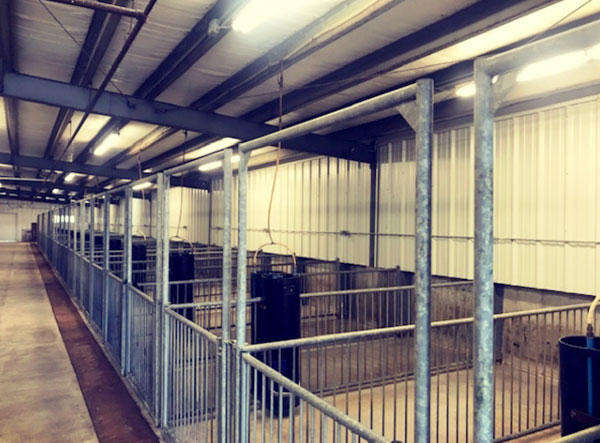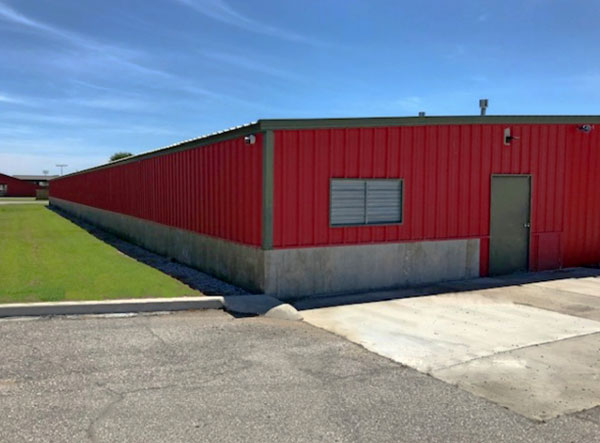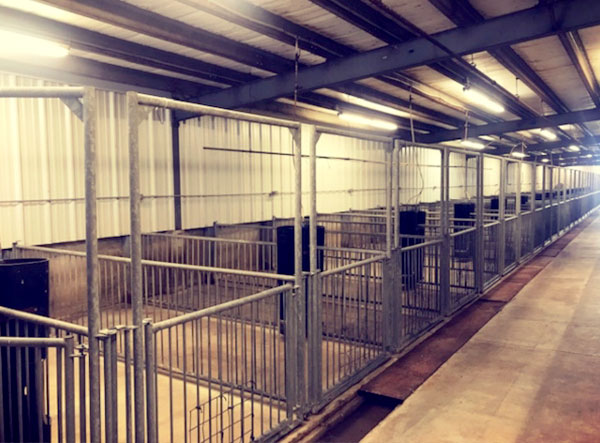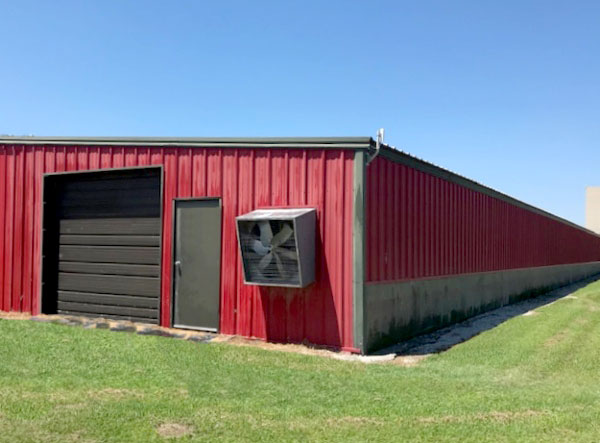 Building Specifications
Offering optimal protection for hogs, the steel animal barn stands an expansive 25'x200'x9.5'-11.58' in size, and it features top-quality steel construction, resulting in unparalleled durability. Protecting animals and Owasso FFA members from above is a heavy-duty, corrosion-resistant Galvalume roof with a 1:12 pitch, while (5) framed openings ranging in size make the metal barn easily accessible for animals and building users.
Framed openings include (1) 3'4"x7'2" walk door opening, (1) 6'4"x7'2" walk door opening, (1) 10'x9' overhead framed opening, (1) 3'-4.5"x3'-6" ventilation opening and (1) 5'1"-0.5"x2' 63/4" ventilation opening. Additional customizations made in compliance with the building code requirements currently in place across Owasso include a 16-pound snow load and a 90-mph wind speed rating.
Featured Sunward Steel Barn Buildings