Commercial Steel Building in Bowman, North Dakota
Sunward Steel Buildings manufactured and supplied this pre-engineered metal building for Coyle Electric in Bowman, North Dakota, in 2011.
Now a state-of-the-art commercial shop for this established electrical and construction contractor serving much of southwestern North Dakota, South Dakota, and Montana, the buildings sit just outside Theodore Roosevelt National Park and offer a finished size of 80'x160'x18'. Boasting an attractive, Misty Gray exterior and a complementing Burnished Slate metal roof with a 2:12 pitch, the spacious, accommodating commercial space features a clear-span design, providing an open, ideal work environment and ample room to store tools and other gear. Part of the structure also features an exterior stone façade, enhancing street appeal and aesthetics.
Supporting North Dakota's Industrial Needs
Coyle Electric's commercial shop building allows it to better accommodate a growing list of clients spanning the region while providing sufficient space for workers to store machinery, trucks, equipment and more. Tucked within southwestern North Dakota's Bowman County, the city of Bowman lies about 175 miles southwest of Bismarck and about 40 miles northwest of Bowman.
Considering purchasing a commercial building, workshop, or other type of steel building for use in North Dakota? Click here for a price quote.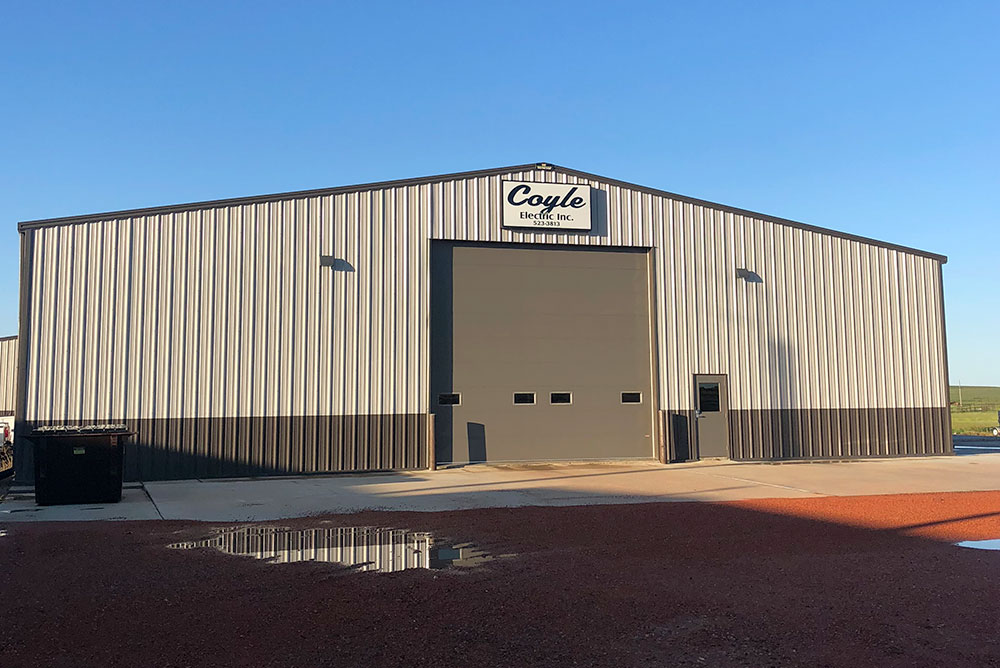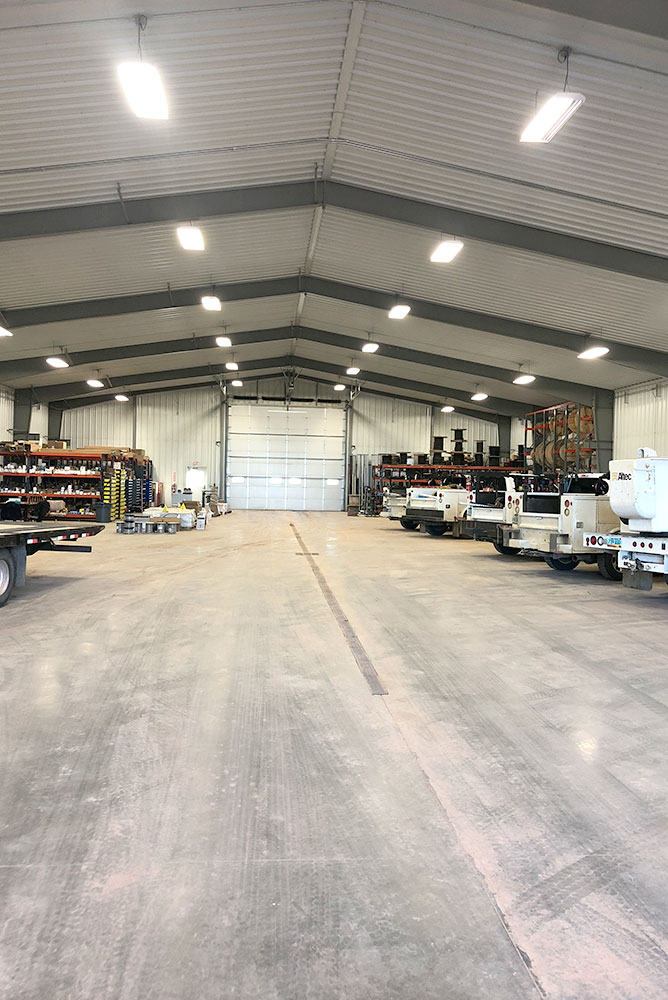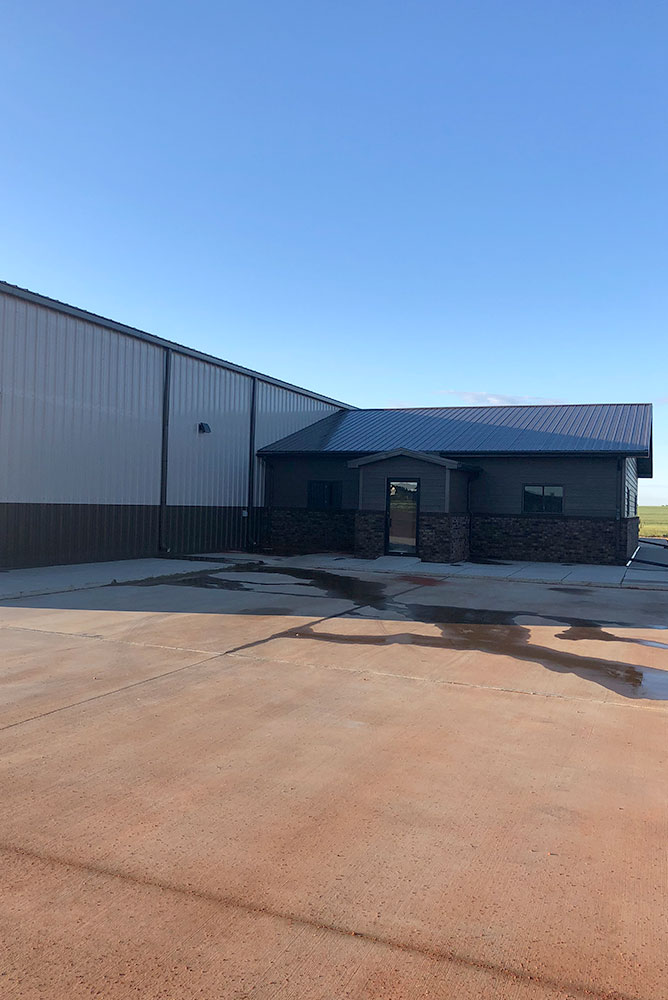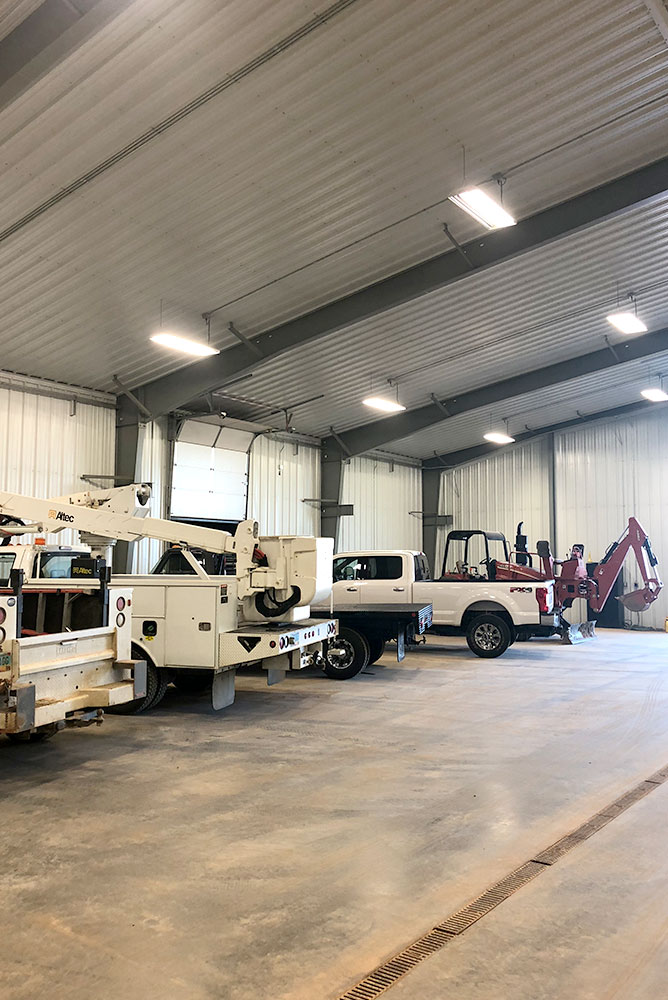 Building Specifications
The steel commercial contracting shop offers everything company owners and workers need to perform work throughout the Badlands and the Bakken Oil Field, among other service areas, and it features (19) framed openings varying in size that allow for easy access in and out.
Included are (7) 3070 openings enclosing (7) 3070 walk doors, (1) 16'x14' opening harboring (1) 16'x14' overhead door, (1) 16'x14' opening enclosing (1) 16'x1' overhead door, (1) 4'4"x7'2" opening equipped with (1) 4'4"x7'2" overhead door, and (1) 20'x'18' opening, also enclosing (1) 20'x18' overhead door. The commercial shop also features (7) 4'x3' windows and (1) 24'x30' window kit, which allow for plenty of natural sunlight inside the workspace. Additional accommodations added with regard for North Dakota's unpredictable, sometimes-harsh climate include a 90-mph wind speed rating and a 20-psf snow load.
Featured Sunward Steel Commercial Buildings