Prefabricated Metal Church Building in Norwich, Connecticut
Sunward Steel Buildings, Inc., was pleased to fabricate and supply this preconstructed metal church building on behalf of a customer in Norwich, Connecticut.
Currently, the building is in use as the Christian Lifestyle Center of the Norwich Christian Church, and it sits directly next to the church's original brick building, constructed in 1909. Attractive and multifunctional, the building is an integral part of the surrounding community, and parishioners and community member use it for a wide range of functions and purposes in addition to church services, including weddings, garage sales, holiday get-togethers and more.
Affordable, Multifunctional Steel Religious Buildings
Often preferred among congregations and religious groups seeking long-lasting, low-maintenance places to come together and worship, prefabricated steel churches, synagogues, mosques and other religious buildings offer affordable, easy-to-erect construction solutions for buyers with limited budgets.
Highly customizable when it comes to ceiling height, roof type, insulation, acoustics, exterior features and more, metal churches and religious buildings often boast choir rooms, gymnasiums, Sunday school areas, sanctuaries and similar common elements. This particular metal church building has been a fixture in the surrounding community for more than 15 years, giving parishioners and others in the area a comfortable, all-season place to attend religious services or otherwise come together.
Affectionately known as the "Rose of New England," Norwich, Connecticut is located in New London County, in the southeastern part of the state. It sits about 40 miles southeast of Hartford and about 69 miles east of Waterbury.
Considering purchasing a pre-engineered metal building for use as a church, synagogue, mosque or something else in Connecticut or another part of the United States? Click here for a price quote.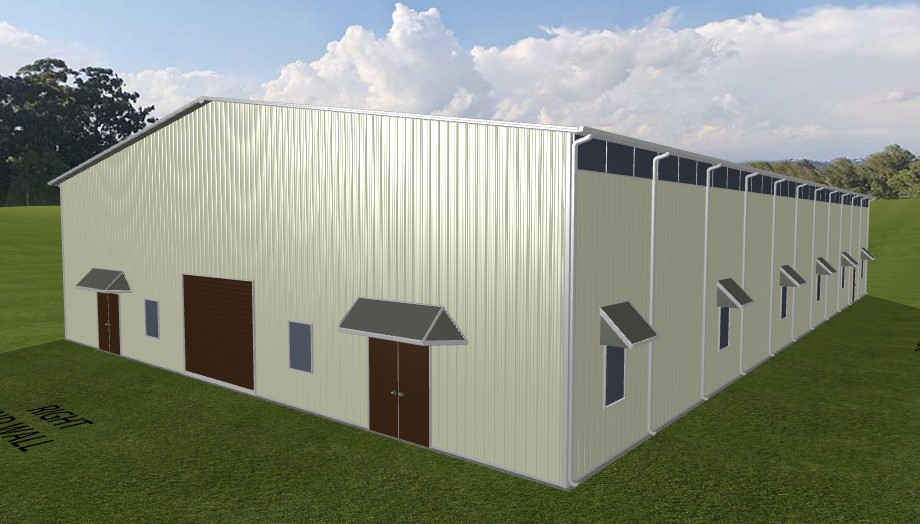 Building Specifications
Constructed using rugged, reliable steel components, the metal church offers unparalleled structural integrity, standing strong when faced with inclement weather, pests, heavy winds and similar construction dangers. Once erect, the church stands 72'x125'20' in size, and it features a striking, Stone Beige exterior that draws the eye from the road and enhances overall curb appeal.
The nicely complementing, Charcoal-colored roof of the steel church is comprised of durable, corrosion-resistant Galvalume metal and has matching trim and a 2:12 pitch, and the church's exterior features brick wainscoting with Charcoal elbows. It also boasts a number of customizations throughout that keep water from pooling up on the roof or near the church's foundation, among them a 6" Charcoal-colored eave gutter along two sides, a 6" Charcoal-colored eave gutter along one side of the church's canopy, 240 linear feet of 5" Charcoal-colored downspouts across 12 locations and 10 linear feet of 5" downspouts in one location.
Additional accommodations made in compliance with local building codes and with respect for the climate characteristics of Norwich and the surrounding area include a 90-mph wind speed rating and a 15-psf snow load.
Featured Sunward Steel Church Buildings