Steel Farm Building in Wood Lake, Nebraska
Sunward Steel Buildings, Inc. was honored to manufacture and supply this pre-engineered metal building for a family in Wood Lake, Nebraska, in late July of 2014.
Now part of TK Angus, a farm and cattle ranch with a nearly 35-year history in the Sandhills of Nebraska, the building serves a variety of purposes at the family-owned-and-operated business run by father, Tim, Mother, Kim, Daughter, Sara, and son, Rick and his wife, Jennifer.+
Longtime Leaders in Livestock
This prefabricated steel farm building is an essential part of TK Angus' operations, with the cattle farm catering to an ever-growing list of commercial bull customers. Currently, the farm is home to about 600 fall calving cows and bred heifers and another 200 spring calving cows and bred heifers, all of whom feed on native range, meadow hay, alfalfa and salt, among other available resources.
The basis of the herd dates back to the 1970s, when the family showed five Grand and Reserve Grand Champion females at the Nebraska State Fair.
A small village located within northern Nebraska's Cherry County, Wood Lake lies about 24 miles southeast of Valentine and about 42 miles outside Sparks, Nebraska.
Considering purchasing a pre-engineered metal building for agricultural or other use in Nebraska or another part of the country? Click here for a price quote.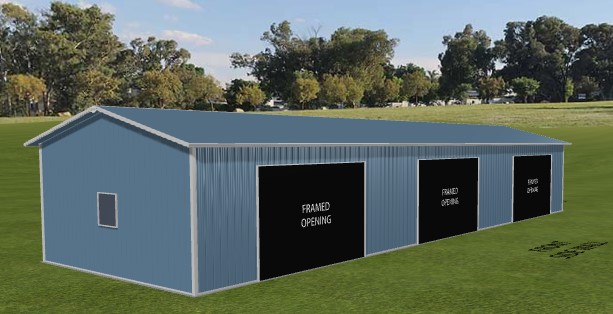 Building Specifications
Boasting a Burnished Slate-colored exterior, the metal farm building is comprised of rugged, high-end steel components, ensuring strength, durability and a safe, secure place to house animals and store related gear and equipment. Once fully erect, the steel structure offers a finished size of 24'x78'x12', while overhead, it features a hardwearing metal roof that resists corrosion and offers a 3:12 pitch.
Sustainable, low maintenance and easily adaptable, the building's additional accommodations include (3) framed openings, among them (1) 3070 framed opening enclosing (1) 3070 commercial walk door, (1) 15'x10' framed opening enclosing (1) 15'x0' overhead door and (1) 3'x3' window opening. The farm building also features translucent paneling, which allows for solar heat gain while controlling glare.
Featured Sunward Steel Agricultural Buildings