Proudly Headquartered In Colorado
Although Sunward was founded in North Dakota, they soon moved their headquarters to Denver, Colorado. Being headquartered in Denver since 1976 has allowed us to manufacture and supply thousands of steel buildings in Colorado. Our American made steel buildings ship out of one of our 3 US factories. Steel buildings purchased in the Western half of the United States are shipped from our manufacturing facility in Jamestown, North Dakota, while our Charleston, South Carolina factory supplies the Eastern half of the US. We have shipped to virtually every county in Colorado, supplying every building type. Our local Colorado project managers are able to help you every step of the way!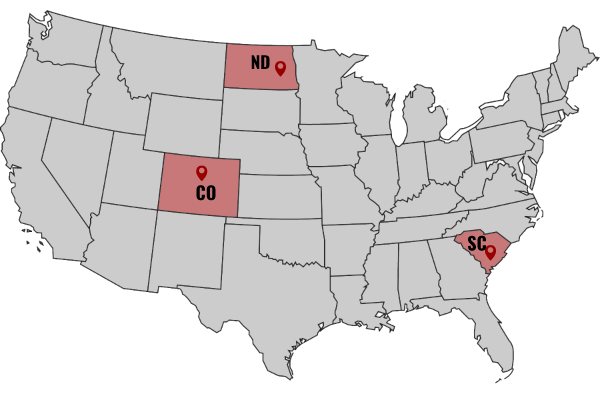 Quality Colorado Steel Building Solutions
Sunward Steel Buildings, Inc. has provided durable, economical steel buildings to customers across Colorado for over 45 years, supplying more than 75,000 pre-engineered structures worldwide. Based in Denver, CO, we manufacture every building we source, overseeing every aspect of the fabrication process, ensuring consistent, reliable results. From working with you on the planning process to drafting your building plans and delivering the finished product directly to your job site, we'll assist you every step of the way.
Why Sunward Steel?
While we've grown considerably in our more than 45 years in the industry, we're still family-owned-and-operated, and we've maintained the same value system since day one. Additionally, we:
Rely exclusively on premium-quality building components, such as G-90 galvanized steel.
Fabricate bracing systems that far exceed industry standards, meeting a 50 ksi minimum.
Manufacture our buildings exclusively within our state-of-the-art U.S. factories, where we've invested millions of dollars into machinery and technology that ensures consistent, cutting-edge results and design innovations.
Have vast experience supplying virtually all types of metal buildings, among them agricultural buildings, airplane hangars, garages, offices, gymnasiums, barns and schools, among multiple others.
Furthermore, since we're based here and have been for decades, we have considerable knowledge about local building codes, so we can assist you in making sure that your steel structure is compliant with any in place in your area.
Need Help Constructing Your Building?
While Sunward Steel can assist you through every step of the fabrication process, we can also help you, if need be, find a contractor or building erector who can help raise your building once you receive it at your build site. We can provide you with the names of contractors and erectors within our network who can help erect your building, but we do recommend speaking with several options before making your final decision to ensure you are comfortable and happy with your choice.
Featured Sunward Steel Buildings in
Colorado
Cities in
Colorado

That We Have Supplied Steel Building Kits For