Direct Shipping To North Carolina
Sunward Steel Buildings owns a full functioning steel building manufacturing plant, known as our sister company, Rockford Manufacturing, in South Carolina. Our SC plant supplies steel buildings to North Carolina each week. A direct route to North Carolina via US-1 N from our SC manufacturing plant ensures our steel buildings deliver quickly. We have proudly supplied many buildings to North Carolina and surrounding areas for over four decades.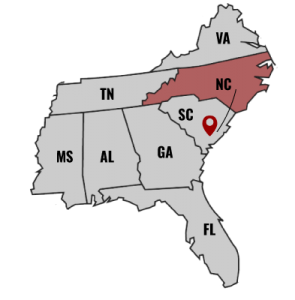 Rugged, Competitively Priced North Carolina Steel Building Kits
Looking to slash labor costs, construction time and a lifetime of maintenance? Consider steel construction, which offers a bevy of benefits for North Carolina's builders, homeowners and business owners. Sure; you have options when it comes to what you choose to use for building materials, but pre-engineered metal building kits offer ample benefits that more traditional, wooden structures simply can't.
For example, when compared with wood, steel construction is:
Fire resistant. Steel building systems have high fire safety ratings. Wood, meanwhile, is far more likely to go up in flames, costing you, at best, considerable money and stress.
Easy to maintain. Steel buildings typically last for generations, and they require only minimal upkeep along the way. Steel won't warp or rot like wood, and it also won't accrue termite-related damage, which can become a major expense.
Cheaper in terms of labor. Prefabricated metal building kits are pre-cut and ready to erect upon delivery, cutting time considerably and thus, associated labor expenses.
Faster to erect. Rather than have to wait weeks or months to utilize your building, as you might with typical, wood construction, steel buildings can often be raised in a few days or less.
Regardless of if you are on the market for a:
Airplane hangar
Recreational facility
Auto storage or workshop
Storage shed
Manufacturing facility
…or another type of building, Sunward Steel can help you find one that not only fits your needs, but complies with all local building codes. We also have existing relationships with a growing number of contractors and building erectors across the Carolinas, so we can help connect you with a professional who can help raise your building, if you desire.
Uncompromising Quality & Service
Sunward Steel is a longtime supplier of top-quality pre-manufactured steel building kits, sourcing more than 75,000 buildings for customers across the nation and around the world. With satisfied customers spanning the globe and more than 45 years at the top of the industry, you can rest assured we have a name you can trust.
Featured Sunward Steel Buildings in
North Carolina
Cities in
North Carolina

That We Have Supplied Steel Building Kits For