Shop And Commercial Office in Whitecourt, Alberta
Sunward Steel Buildings, Inc. was pleased to manufacture and supply this preconstructed steel building for a client in Whitecourt, Alberta, Canada, in late April of 2012.
Nowadays, the durable, easy-to-maintain metal building functions as a combination shop and office for AECOM, a respected, Calgary-based construction engineering company that acquired the structure from its original buyer, Flint Energy Services. Instrumental in erecting skyscrapers, restoring damaged environments, planning new cities and delivering clean water and energy resources to them, AECOM employs a global network of experts, many of whom rely on this building for storage, administrative and other needs.
Dubbed one of Fortune magazine's "World's Most Admired Companies" for four consecutive years, AECOM is an undeniable leader in its industry, and it continues to serve a broad range of government, business and other clients spanning more than 150 countries across the globe.
A Key Player in Canada's Energy & Resource Industries 
In addition to providing general construction, engineering and consulting services, AECOM assists clients with environmental compliance monitoring, hydrology and surface water quality investigations, among related efforts. This facility gives AECOM employees in the Whitecourt area a reliable place to store and repair equipment and conduct additional administrative tasks as needed.
A town set within central Alberta's Woodlands County, Whitecourt is a popular recreational area among fans of winter sports. The community lies about 279 kilometers outside Grande Prairie and about 177 kilometers from Edmonton.
Considering purchasing a pre-engineered metal building for use in Canada or the United States? Click here for a price quote.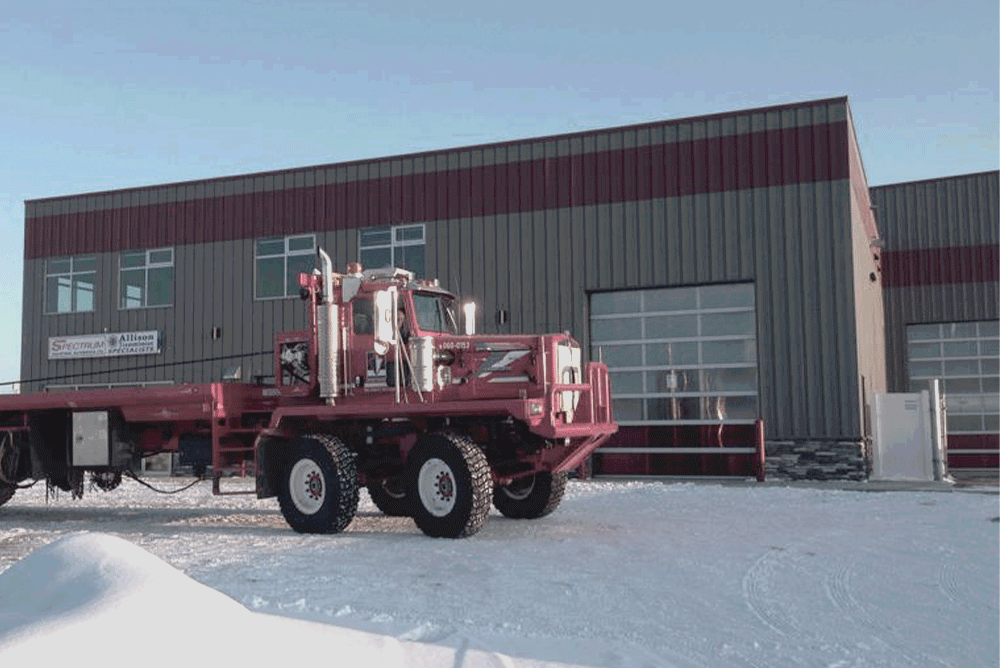 Building Specifications
AECOM's steel Whitecourt shop and office boasts an attractive, painted exterior, and it stands 36.85'x70.21'x16' in size once completely erect. Comprised of top-quality steel components, the building features a broad, clear-span design that provides plenty of room for work and equipment storage, and it also boasts a rugged metal roof with a 1:12 pitch overhead, which helps protect against corrosion and moisture-related damage.
Rugged, economical and designed to last the long haul, the building gives AECOM workers a highly functional, low-maintenance headquarters that holds its own despite Whitecourt's unpredictable, sometimes-harsh weather and climate patterns. Meanwhile, the metal shop and office's unmatched strength and durability deliver a safe, secure work environment for company employees.
Featured Sunward Steel Office Buildings