Steel Recreational Building in Equinunk, Pennsylvania
Sunward Steel Buildings, Inc., fabricated and provided this pre-engineered metal building on behalf of a customer in Equinunk, Pennsylvania, in August of 2015.
Currently, the steel recreational building undergoes use as a tennis facility on the grounds of Camp IHC, which offers a wide variety of traditional and innovative summer sleepaway camp programs targeted toward kids in grades two through 11. In addition to honing athletic, performance, artistic and other skills, campers can try tubing, hiking, waterskiing and any number of other activities in the great outdoors.
This steel tennis facility gives camp administrators, counselors and campers a safe, dry place to play the sport, regardless of outside weather, and the camp also uses the building for special events and other purposes throughout the summer season.
Rugged, Reliable Recreational Buildings
Perfect for use as indoor tennis facilities as well as equestrian arenas, gymnastics centers, gyms and similar recreational buildings, prefabricated metal buildings combine versatility, affordability and sustainability, saving owners time, money and stress. Faster to raise than alternative building types and typically much easier to maintain, steel recreational facilities can typically undergo erection in a matter of days or weeks, rather than months, making them popular choices for those facing tight timelines.
A small village with land in both Buckingham and Manchester townships, in northeastern Pennsylvania, Equinunk falls within Wayne County. The community lies about 55 miles northeast of Scranton and roughly 100 miles outside Poughkeepsie, New York.
Considering purchasing a pre-engineered metal building for athletic, recreational or other use in Pennsylvania or another part of the country? Click here for a price quote.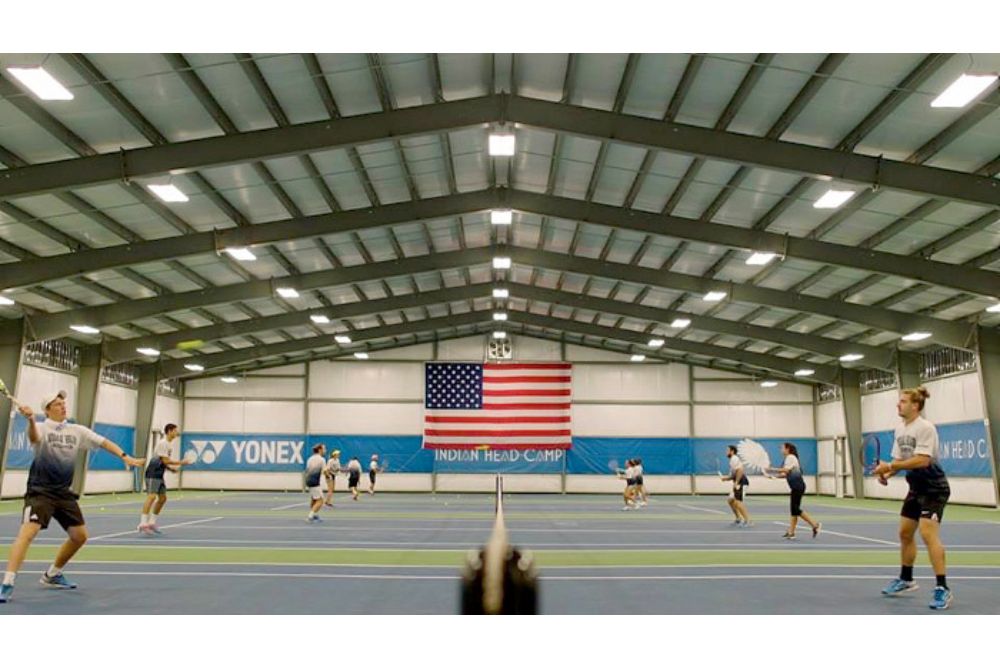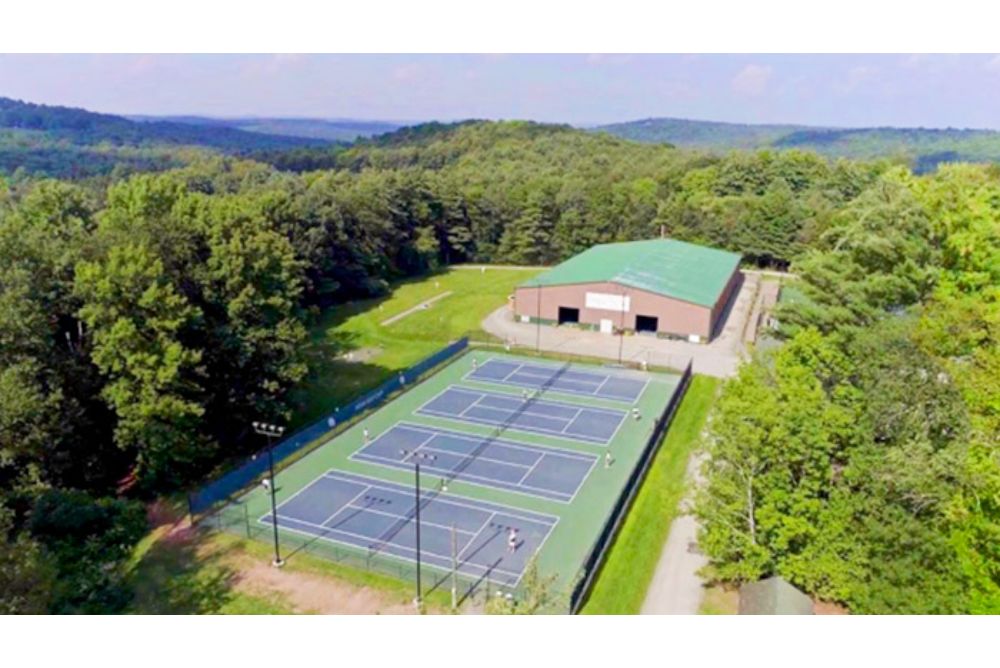 Building Specifications
Versatile, climate-controlled and built to last the long haul without needing much maintenance, the building boasts premium-quality steel construction and stands an expansive 110'x184'x20' in size. Coco Brown in color, the indoor tennis facility's exterior complements its Dark Green roof, trim and wainscot, and the roof, itself, has a 2:12 pitch.
Installed in the roof and walls of the metal tennis facility, which boasts four separate covered courts, is WMP-VR-backed fiberglass insulation, which makes the building suitable for year-round use while simultaneously lowering energy bills and limiting outside noise.  The building also features (7) framed openings throughout, among them (5) 6070 commercial walk door systems and (2) 12'x12' overhead doors with full trim.
Other accommodations include a 6" snow gutter, which helps prevent moisture from collecting on the roof or along the building's foundation, and several customizations made in consideration of the climate of the area and the building code requirements in place across the region. These enhancements include a 90-mph wind speed rating and a 28-pound snow load.
Featured Sunward Steel Recreational Buildings