Prefabricated Steel Equestrian Arena in Durham, Connecticut
Sunward Steel Buildings, Inc., manufactured and provided this pre-engineered equestrian arena for a customer in Durham, Connecticut, in November of 2001.
Rugged, reliable and multifunctional, the building features premium-quality steel construction, and it now functions as an equestrian building. Attractive and accommodating, the metal equestrian building provides a covered, year-round place for Connecticut horse enthusiasts to hone their skills and enjoy the sport while avoiding extreme temperatures, rain and snowfall and other New England environmental hazards that would otherwise prevent them from riding.
Economical, Reliable Equestrian Construction Solutions 
Commonly used as stables, horse barns or riding arenas or as feed, hay or tack storage areas, prefabricated metal equestrian buildings provide sound protection for horses and riders while requiring only minimal upkeep over the years. Sunward Steel's preconstructed metal equestrian buildings can have clear spans as big as 200' wide, making for ideal riding or boarding facilities that eliminate unnecessary interior obstructions.
This particular steel riding arena has changed hands several times since its initial purchase in 2001, with each new owner adapting the space based on his or her specific needs. It continues to serve the needs of equestrian enthusiasts throughout south-central Connecticut, as it has done for nearly two decades.
A small agricultural community set within southern Connecticut's Middlesex County, the town of Durham is known for hosting the Durham Fair, which is the largest volunteer agricultural fair in New England. The community sits about 23 miles south of Hartford and about 24 miles outside Waterbury.
Considering purchasing a pre-engineered metal building for use as a horse barn, riding arena or equine housing in Connecticut or another part of the United States? Click here for a price quote.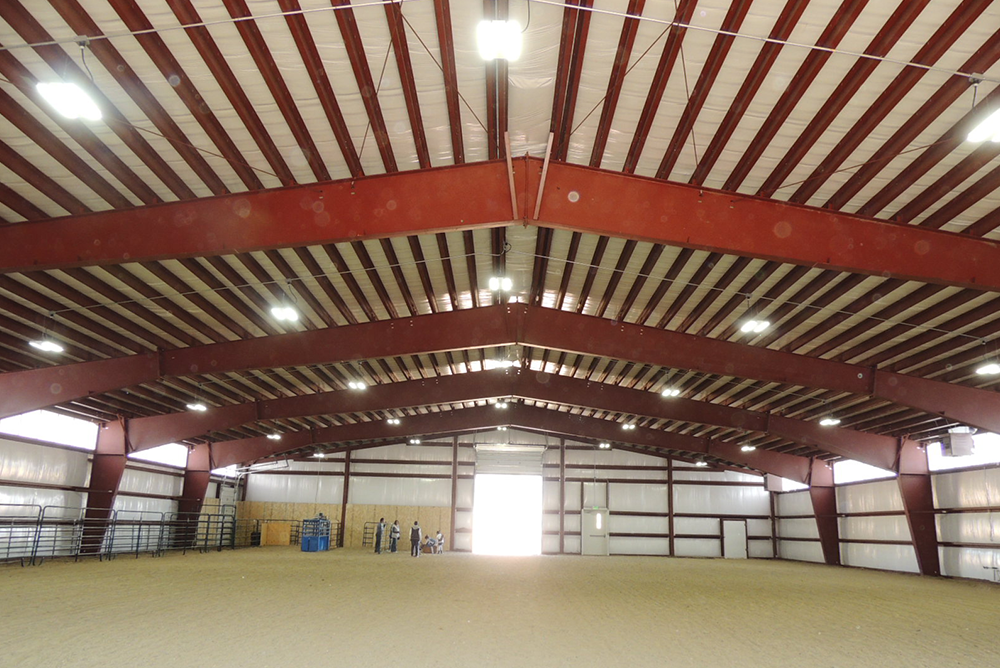 Building Specifications
Offering unparalleled protection for horses and riders, the indoor riding arena stands an expansive 70'x160'x14' in size, and it features high ceilings that enhance functionality as well as viewing opportunities for visitors. Comprised of rugged, sustainable steel parts, the equestrian arena boasts a striking, Autumn Gold-colored exterior, while a rugged, hardwearing and corrosion-resistant Galvalume roof with White trim and a 1:12 pitch sits overhead, providing a solid layer of protection from the elements.
Notable equestrian building features and customizations include an accompanying 22'x160'12'/13' lean-to, (16) ridge vents with a damper and chain that improve the facility's ventilation, and (7) framed openings ranging in size. Featured are (3) 3070 openings enclosing (3) 3070 walk doors, (3) 10'x10' openings enclosing (3) 10'x10' double-sided doors, and (1) 18'x10'9" opening enclosing (1) 18'x10'9" double-sliding door. Other accommodations made with respect for local building codes and the climate characteristics typical of the Durham area include a 35-psf snow load and an 80-mph wind speed rating.
Featured Sunward Steel Equestrian Buildings