Prefabricated Metal Corporate Office Building in New Castle, Delaware
Sunward Steel Buildings, Inc., manufactured and provided this pre-engineered steel office building for a buyer in New Castle, Delaware, in May of 1997.
While it has changed hands since its construction, the large, multifunctional metal building now serves as the primary headquarters for Electrical Integrity, a family-operated & top-ranked electric services provider.  This leading company offers available 'round-the-clock care for client emergencies with their 24/7 emergency customer service guarantee. Thomas Gargalas and his team provide services to a wide range of residential, commercial, and industrial clients throughout Delaware, Maryland, and parts of Pennsylvania.
Endless Design Possibilities
Economical, sustainable, and easy to configure based on a buyer's unique needs, pre-engineered metal corporate buildings have become increasingly popular over the years as entrepreneurs and business owners search for places they can call their own. This particular building offers evidence of just how versatile and adaptable prefabricated buildings are, as each new buyer has reconfigured the space to adapt it to his or her own needs.
Located along the Delaware River, the city of New Castle falls within northeastern Delaware's New Castle County. It sits about 6 miles south of Wilmington and about 44 miles outside Dover, Delaware's capital city.
Considering purchasing a pre-engineered metal building for corporate, manufacturing, industrial, or other use in Delaware or another part of the United States? Click here for a price quote.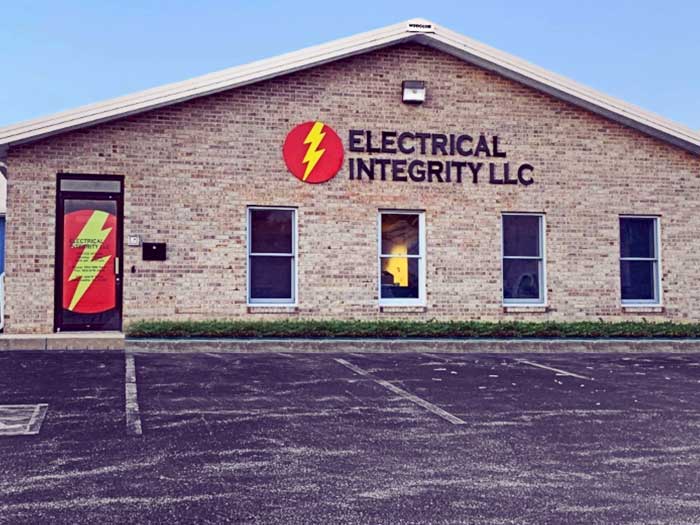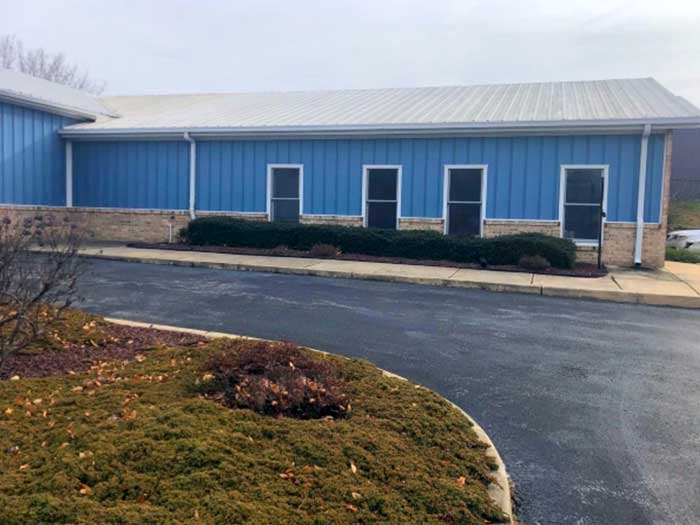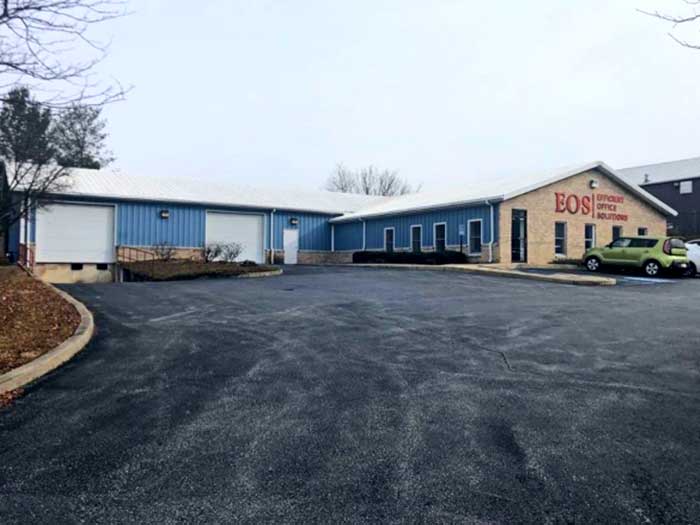 Building Specifications
Constructed using heavy-duty steel parts, the corporate headquarters has unmatched strength and durability, and once raised, it offers a finished size of 42'x100'x12'. Attractive and functional at the same time, it boasts a striking, Royal Blue exterior with an accompanying brick facade, while a corrosion- and damage-resistant Galvalume metal roof with complementing White trim sits overhead, offering a 4:12 pitch.
Throughout the spacious steel corporate building are a 4,200 square foot warehouse area with its own entrance and a manager's office, (2) full-size delivery bays, and a separate office area complete with an office, a lunch room and two full bathrooms. The building's open floor plan makes it particularly versatile and suitable for numerous uses, and the property also features 14 parking spaces, including one handicapped space.
Other notable features and customizations include (3) 3070 framed openings equipped with (3) 3070 walk doors and several enhancements intended to prevent moisture-related damage, among them a 270 linear-foot eave gutter and 150 linear feet of downspouts. Additional configurations made in compliance with building code requirements and out of respect for Delaware's distinct seasonal climate patterns include an 80-mph wind load and a 35-psf snow load.
Featured Sunward Steel Office Buildings