Corporate Cabinet Shop Building in Auburn, Kentucky
Sunward Steel Buildings, Inc., fabricated and supplied this pre-engineered metal building for a customer in Auburn, Kentucky, in May of 2004.
These days, it functions as a corporate shop for Davenport Custom Cabinets, which designs and manufactures functional, custom-designed cabinetry for residents across Auburn and throughout southern Kentucky. A third-generation, family-owned cabinet and vanity shop in business since 1969, Davenport Custom Cabinets opened this Auburn shop in 2004, and three Davenport brothers have managed the location in the time since.
Affordable, Reliable Commercial Construction Solutions
Often preferred by buyers and business owners with commercial, industrial, manufacturing or other interests, today's steel building merges supreme functionality with eye-catching aesthetics. Available with wide clear spans and high clearances, steel shops and warehouses can house any number of different items, and buyers can customize theirs to include cranes, insulation packages, mezzanines, and other features based on their specific business or personal needs.
This particular metal corporate shop building has housed Davenport Custom Cabinets operations for more than 15 years, maintaining its functionality and structural integrity every step of the way. Part of southern Kentucky's Logan County, the city of Auburn covers just under 2 square miles. The community lies about 135 miles from Louisville and about 60 miles north of Nashville, Tennessee.
Considering purchasing a metal building for commercial, industrial, manufacturing or other use in Kentucky or another part of the country? Click here for a price quote.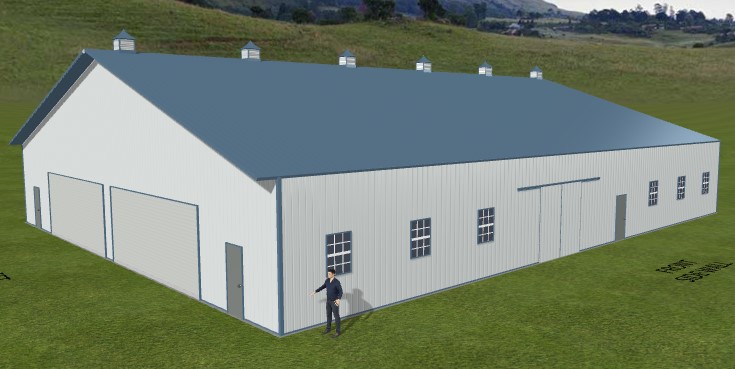 Building Specifications
Offering unrivaled strength and durability, the corporate shop is comprised of premium-grade steel components, and once raised, it stands 80'x101'x14' in size. It features a broad clear-span that maximizes interior space by eliminating supporting obstructions, and it also boasts a bright White exterior with a matching White roof with Cinnamon Brown trim and a 2:12 pitch.
The building also features several enhancements made with respect for regional climate characteristics, and in compliance with local building code requirements. Such customizations include a 90-mph wind speed rating and a 15-psf snow load. Rugged, sustainable and designed to last for generations with only nominal maintenance, the building provides a safe, year-round space for company owners and workers to manufacture products, conduct business and store inventory.
Featured Sunward Steel Garage & Shop Buildings