Horse Building in Parker, Colorado
Sunward Steel Buildings, Inc., fabricated this pre-engineered metal farm building for a customer in Parker, Colorado, in March of 2019.
Versatile and built to last, the steel barn is ideal for housing horses or livestock and features a combination of indoor and covered outdoor space for animals. The covered outdoor space opens into outdoor pens, allowing animals to roam or seek shade as conditions warrant, and the inside of the building has plenty of room for storing feed, equipment or the animals themselves in inclement weather.
The outside of the metal farm building has a traditional barn-style look, featuring Light Stone paint, 6" of Polar White accent trim and a cross buck design on its doors.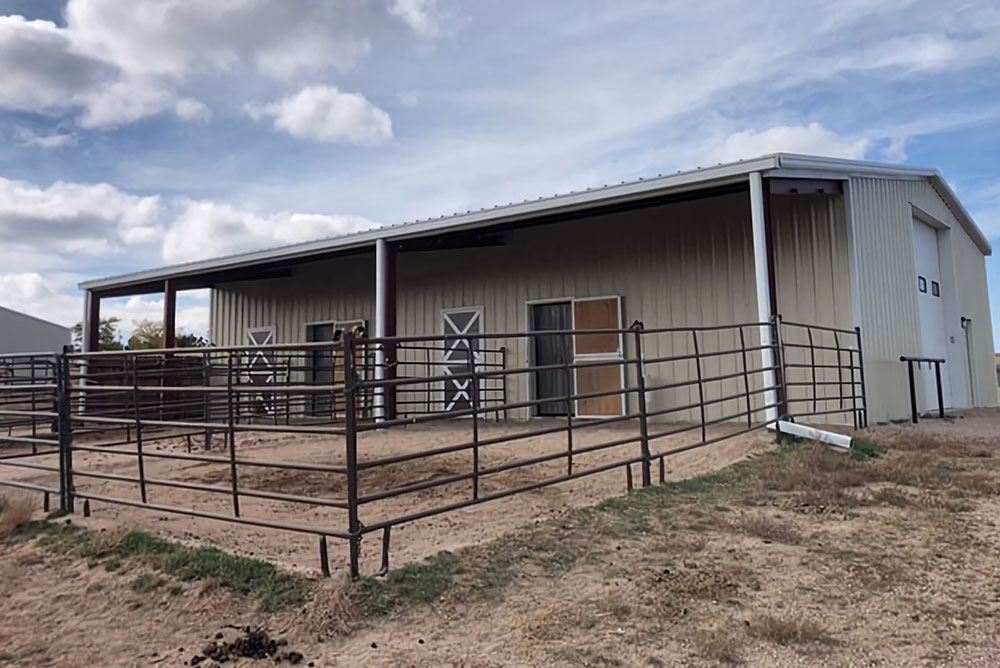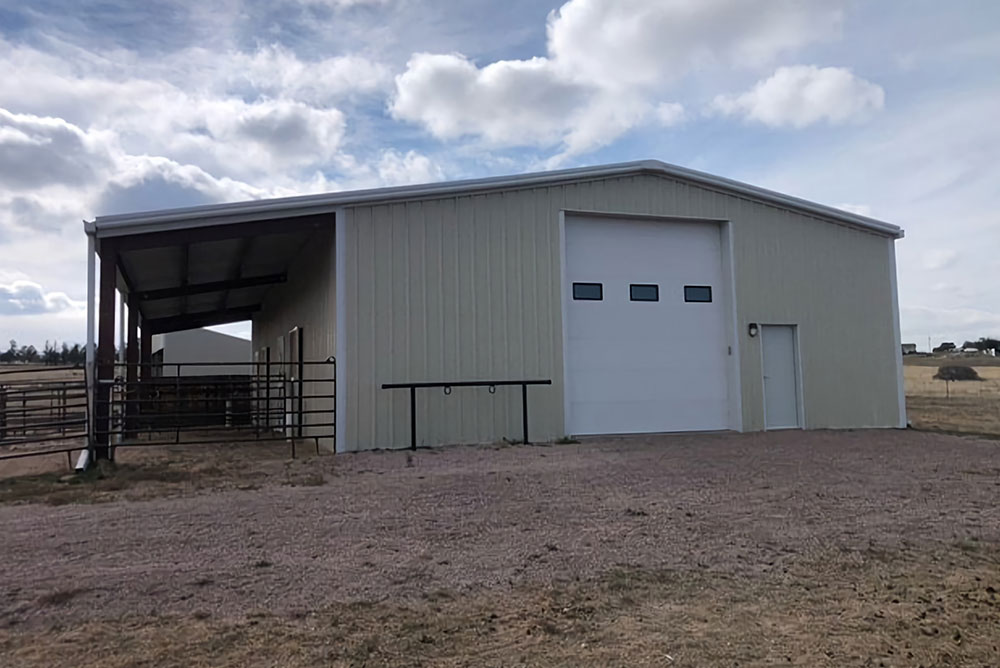 Building Specifications
The main metal farm building is 40'x60'x14' and features a clear span and high ceilings that easily accommodate animals or large equipment. The attached metal lean-to is 12'x60'x12'/14', creating plenty of shade and protection for animals, and overhead, a heavy-duty steel roof with a 2:12 pitch provides protection from the Colorado elements.
The metal animal barn has (7) door and window openings, including (2) 3070 walk door openings enclosing (2) 3070 commercial doors. It also has (1) 12'x12' and (1) 4'x8' overhead door opening that allow animals in and out.
Parker's winters are often long and snowy, and the metal farm building has 6" snow gutters that help prevent snow from collecting and condensation from forming. A 35-psf snow load and a 115-mph wind rating keep the steel barn building code-compliant.
Economical Animal Storage Solutions
Often the first choice among those seeking solutions for horse or livestock storage, metal farm buildings are easy to customize and protect animals from the elements, predators and other hazards. This steel farm building offers the same aesthetics as a traditional wood bar, but the strength and durability only steel can provide.
Located in Douglas County, Parker sits in the southeast corner of the Denver metro area. The town sits about 23 miles from Downtown Denver and about 15 miles northeast of Castle Rock.
Featured Sunward Steel Metal Horse Barn Buildings
See Some of Our Latest Projects