Workshop Garage in Fountain, Colorado
Sunward Steel Buildings manufactured and supplied this metal building for a client in Fountain, Colorado, in December 2020.
The owner's personal shop and garage, the metal building serves as a dry, all-season space to store personal vehicles and other goods while shielding them from extreme temperatures, theft, and the region's heavy seasonal snowfall. Comprised of durable, quality steel components, the building stands strong in the face of heavy winds and snow loads and has an attractive, Ash Gray exterior with complementing Polar White trim. It also features several entry doors for easy access.
Affordable Car, Boat & RV Storage Solutions 
Highly customizable in terms of building size, entry door size, interior features, insulation, and many other areas, pre-engineered shops and garages accommodate a wide range of commercial and residential construction needs. Because they arrive at a job site partially assembled, they are also typically faster and easier to construct than wood alternatives. This metal shop and garage building helps the owner protect his cars, trucks, and other valuable possessions while helping them maintain their beauty, functionality, and resale value.
Located in El Paso County, the city of Fountain is part of the Colorado Springs metro area. It sits about 14 miles southeast of Colorado Springs and roughly 75 miles from Denver.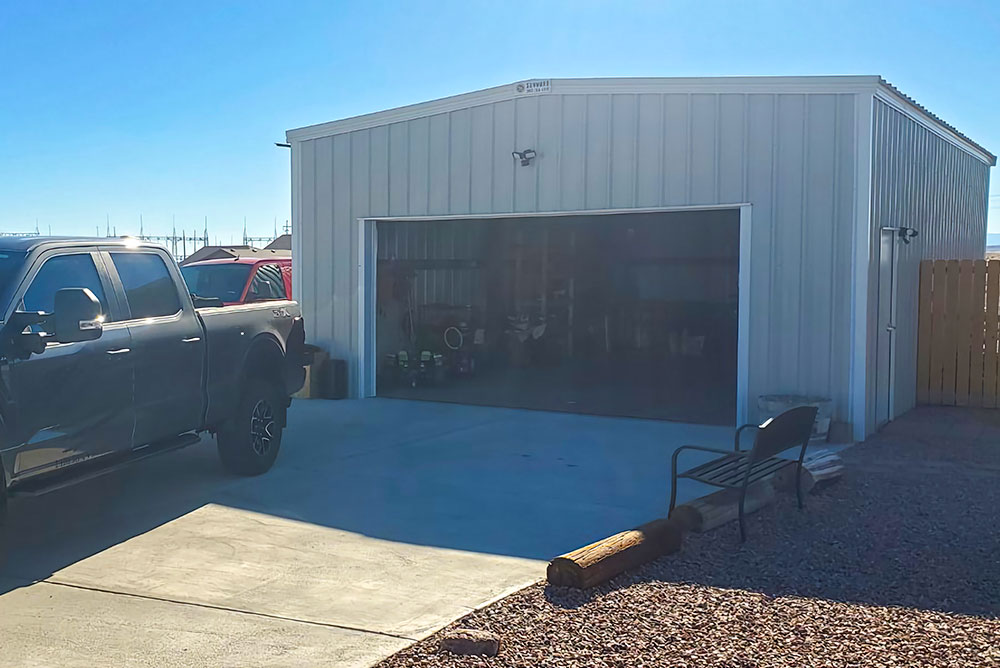 Building Specifications
The metal shop and garage building is comprised of heavy-duty 26-gauge hi-rib panels, making it resistant to damage caused by fire, water and other hazards. Standing 24'x36'x12', it's an ideal size for a personal shop and garage and has high ceilings that make it ideal for storing and working on cars.
The building's rugged, corrosion-resistant steel roof has a slight 1:12 pitch, and there are (2) framed door openings that offer access inside. The metal garage has (1) 3070 walk door opening with (1) 3070 commercial walk door and (1) 16'x8' opening for cars and trucks.
Engineered in line with local building and engineering codes, the personal shop and garage has a 130-mph wind load and a 30-psf roof snow load.
Featured Sunward Steel Garage & Shop Buildings