Commercial Steel Building in Aurora, Colorado
Sunward Steel Buildings, Inc., supplied these (4) prefabricated metal buildings that make up a large commercial steel building in Aurora, Colorado, in December of 2019.
All (4) steel buildings are attached to one another, and together, they serve as the headquarters for a leading Colorado home builder. Insulated to enhance comfort and energy-efficiency, the (4) buildings offer unmatched strength and durability and create a comfortable, all-season space for employees to conduct business and house supplies.
Economical, Customizable Steel Commercial Buildings
Steel buildings offer unmatched structural integrity and are easy to customize in terms of size, aesthetics, insulation, mezzanines, and wind, snow and seismic requirement, among other areas. This four-building commercial complex serves as a prime example of both the easy adaptability of pre-engineered steel construction and the impressive aesthetics this type of construction can create.
Colorado's third-largest community in terms of population, the city of Aurora lies east of Denver and extends into Arapahoe, Adams and Douglas counties. Part of the Denver – Aurora – Lakewood metro area, Aurora lies about 15 miles from Denver and roughly 28 miles south of Brighton.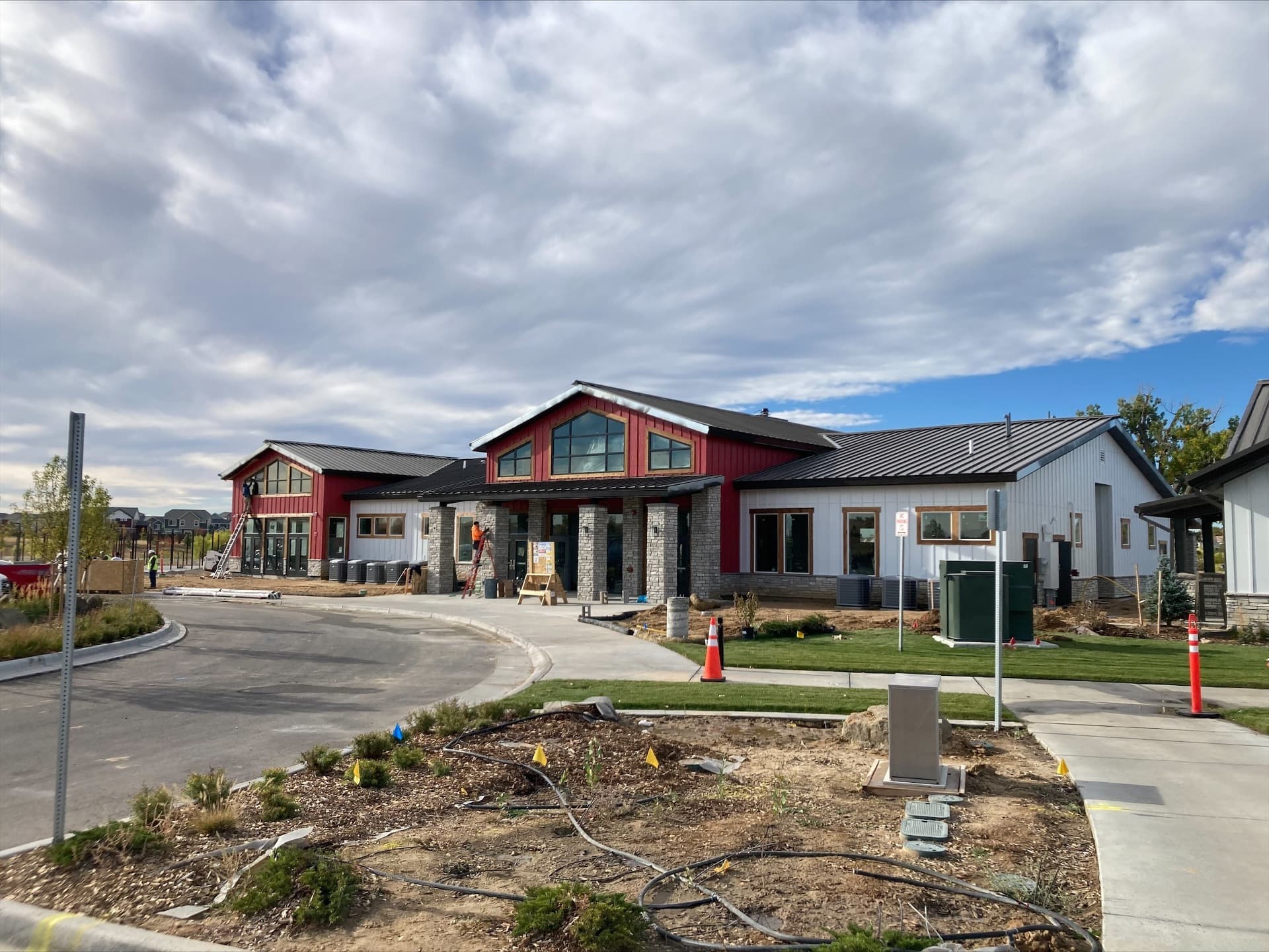 Building Specifications
All (4) buildings that together create the homebuilder's headquarters differ in size, with the first building, Building A, standing 31.33'x80.25'x15.29'/16.63', the second, Building B, standing 69.58'x41.29'x13.38' and the third, Building C, 36'x76.08'x18'. The fourth and final steel building, Building D, is 69.58'x30.79'x13.38' once erect.
Overhead, each metal commercial building features a heavy-duty Galvalume roof overhead. The roofs of Buildings A and C have 4:12 pitches, while the roofs of Buildings B and D have 3:12 roof pitches. Installed in the roof of each building are 12" of R-38 WMP-VRR-faced fiberglass insulation, while the walls of each building contain 8" of WMP-VRR-faced insulation. The Energy Saver insulation systems lead to lower energy bills and more comfortable interiors, while the heavy-duty facing material helps protect the insulation blankets against condensation and damage.
Other notable features and customizations include gutters and downspouts, which help prolong the life of the metal commercial buildings by keeping moisture away from their roofs and foundations. All (4) steel commercial buildings also boast 120-mph wind speed ratings and 30-psf snow loads to enhance durability and ensure compliance with local building codes.
Explore our options for metal buildings in Colorado.
Featured Sunward Steel Commercial Buildings