Office And Warehouse Buildings in Denver, Colorado
Sunward Steel Buildings, Inc., manufactured and provided this pair of prefabricated steel buildings for a client in Denver, Colorado, in 2008.
Durable, long-lasting and designed to accommodate the client's unique needs, the highly energy-efficient steel buildings now serve as an office and warehouse for the client's Colorado-based import business. Used for industrial, administrative, and storage purposes, the buildings provide all-season spaces for company employees to work and conduct operations while protecting business assets from potential damage caused by heavy snow, strong winds and other Colorado construction hazards.
Economical, Low-Maintenance Steel Construction  
Pre-engineered steel buildings such as this one have become increasingly desirable among business owners and entrepreneurs with industrial, storage, administrative and similar needs, as they are easy to maintain and typically cheaper and easier to erect than wooden alternatives. Buyers can also customize them fully in terms of doors, windows, ventilation and insulation, among other areas, to make sure they meet their needs as well as any building code requirements that are in place at their build sites.
The most populated city in Colorado, the city and county of Denver lies just east of the Front Range of the Rocky Mountains. Often lauded as one of the nation's best places to live, Denver lies about 8 miles northeast of Lakewood and about 10 miles west of Aurora.
Considering purchasing a prefabricated commercial steel building for commercial, industrial, storage, administrative or other use in Colorado or another part of the United States or Canada? Click here for a price quote.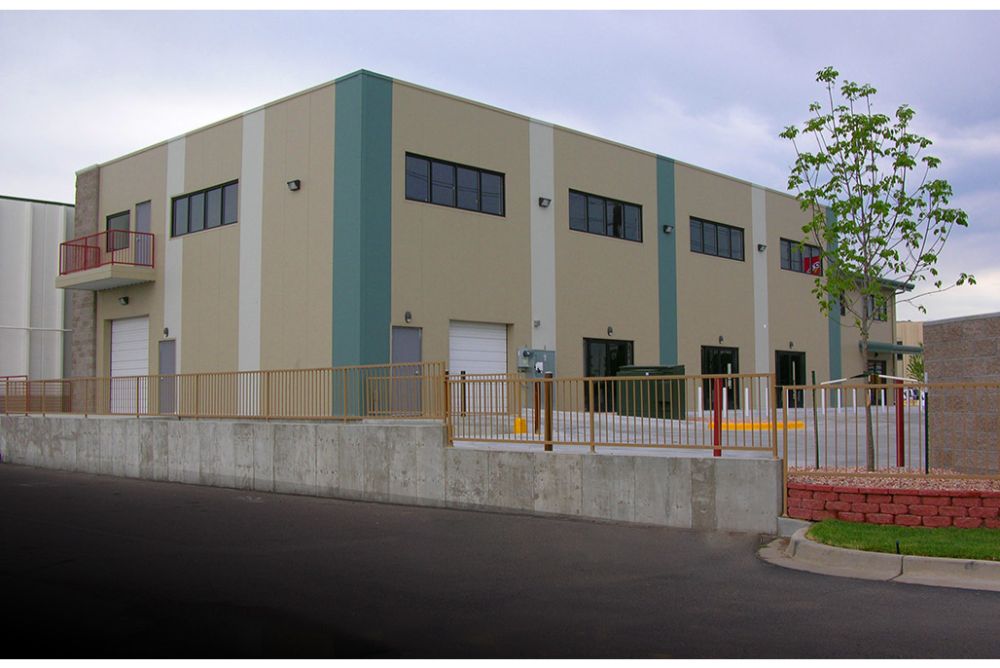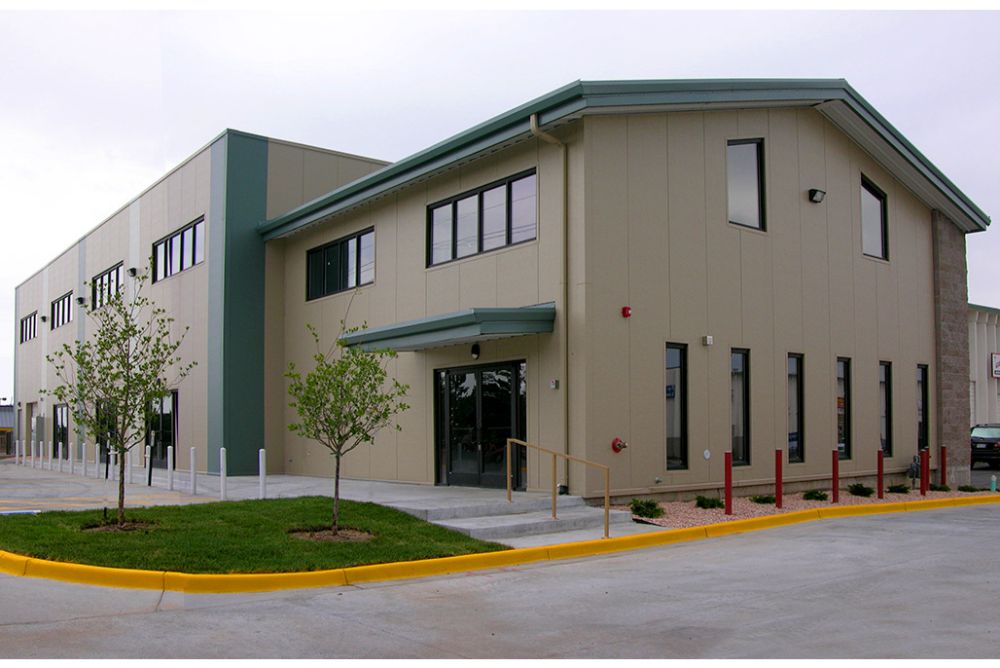 Building Specifications
Urban-Industrial in looks, the insulated steel office and warehouse buildings boast impressive street appeal, while complementing White roofs offer protection and guard against corrosion from above. The first building stands 50'x83'x24' in size and features a single-slope design and a 0.5:12 roof pitch, while the second attached building a smaller of the two steel structures stands 44'x33'x20' in size, while its roof offers a 3:12 pitch.
Designed to offer optimum energy efficiency, the buildings feature high R-value R-38 insulated roof and wall panels. The roofs offer a customized high collateral load of 3 to accommodate the water stored within the roof sprinkler systems. Additional key features include a flush parapet wall, a 2" overhang and a mezzanine, while gutters and downspouts help divert snow and rain water away from the metal buildings' foundation, preventing corrosion and moisture-related damage.
Distributed between the (2) metal buildings are 8'x8', 10'x10' and 12'x12' overhead doors, while (4) double steel walk doors serve as additional property characteristics. Both buildings also offer 90-mph wind speed ratings and 30-pound snow loads; additions made with respect for the climate of central Colorado as well as the building code restrictions currently in place in Denver.
Featured Sunward Steel Office Buildings