Auto Body Shop Building in Leesburg, Florida
Sunward Steel Buildings, Inc., had the honor of manufacturing and supplying this pre-engineered steel auto body shop building for a customer in Leesburg, Florida, in January of 2007.
Ever since, the durable, rugged steel building has served as the headquarters of Dom's Auto Body, a trusted local provider of premium-quality auto body, paint, and collision repair services for residents spanning central Florida and beyond. The Dom's team brings more than 35 years of professional automotive experience to the table, and this steel building has provided a safe, reliable place to service vehicles and conduct business operations for more than 12 of them.
Affordable Long-Term Automotive Construction Solutions
Economical, versatile, and easy to maintain, premanufactured metal buildings have long been a top choice among home and business owners as well as automotive collectors and hobbyists. In addition to offering unmatched durability, they can undergo customization in any number of different areas to accommodate buyer needs, from doors, bays, and windows to ventilation, insulation, and related features.
This particular prefabricated metal auto body shop provides a safe, all-season space for Dom's Auto Body mechanics and employees to conduct operations. Many buyers with automotive interests rely on steel buildings for use as garages or storage or service areas because they protect valuable assets and help preserve their resale value.
Part of the Orlando-Kissimmee-Sanford Metropolitan Statistical Area, the city of Leesburg is a part of Lake County. The community lies roughly 80 miles outside Tampa and about 50 miles outside Winter Park, Florida.
Considering purchasing a prefabricated steel building for automotive, commercial, storage, or other use in Florida or another part of the country? Click here for a price quote.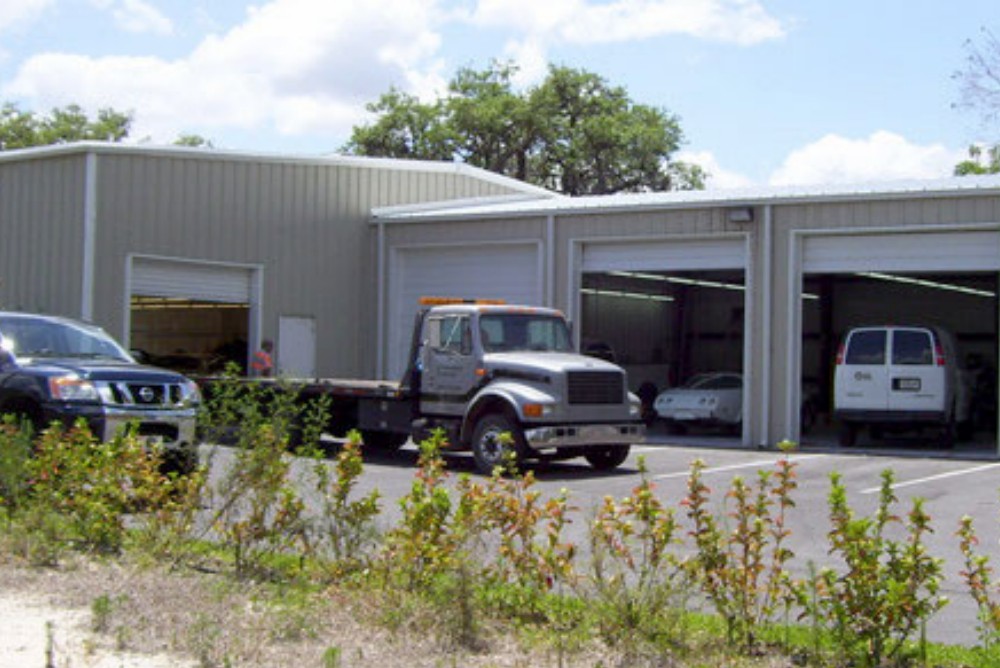 Building Specifications
Comprised of the strongest, most durable steel available on the market, this pre-engineered metal auto body shop stands 40'x60'x14' in size once fully erect. It boasts a striking Stone Beige exterior and a hardwearing, corrosion-resistant Galvalume steel roof with a 2:12 pitch and complementing White trim that helps protect customer cars and trucks from the elements and other potential sources of damage.
The body shop features an open, clear-span design free from interior obstructions, and it also features a white eave gutter and 150 linear feet of white downspouts, which further prevent water from collecting around the building's foundation, where it could potentially cause moisture-related damage. A 110-mph wind speed rating serves as an additional customization made in adherence to local building code requirements and with respect for regional weather patterns.
Featured Sunward Steel Garage & Shop Buildings