Metal Carports With Storage in Aurora, Colorado
Sunward Steel Buildings. Inc. was proud to manufacture and supply these pre-engineered steel parking structures for a customer in Aurora, Colorado.
Uniquely designed and engineered to last, the building features premium-quality steel construction, and it now functions as a covered parking and storage area for an adjacent apartment complex. In addition to giving residents and visitors a safe place to store vehicles away from the Colorado elements, the building offers additional onsite storage for renters, giving them a safe, secure place to house bikes, skis, and other gear.
Highly Customizable Parking & Storage Solutions
 In addition to providing a safe and covered place to store vehicles and other assets, prefabricated steel carports can be easily customizable in terms of size, layout, functionality, and climate control, among other areas. They are also fundamentally sustainable by nature, meaning the materials used to make them can be easily repurposed at the end of the garage or storage building's lifespan.
Part of the Denver-Arvada-Lakewood metropolitan area, Aurora is a home-rule municipality.
Considering purchasing a pre-engineered metal building for use as a garage, storage space, or something else in Colorado or another part of the United States? Click here for a price quote.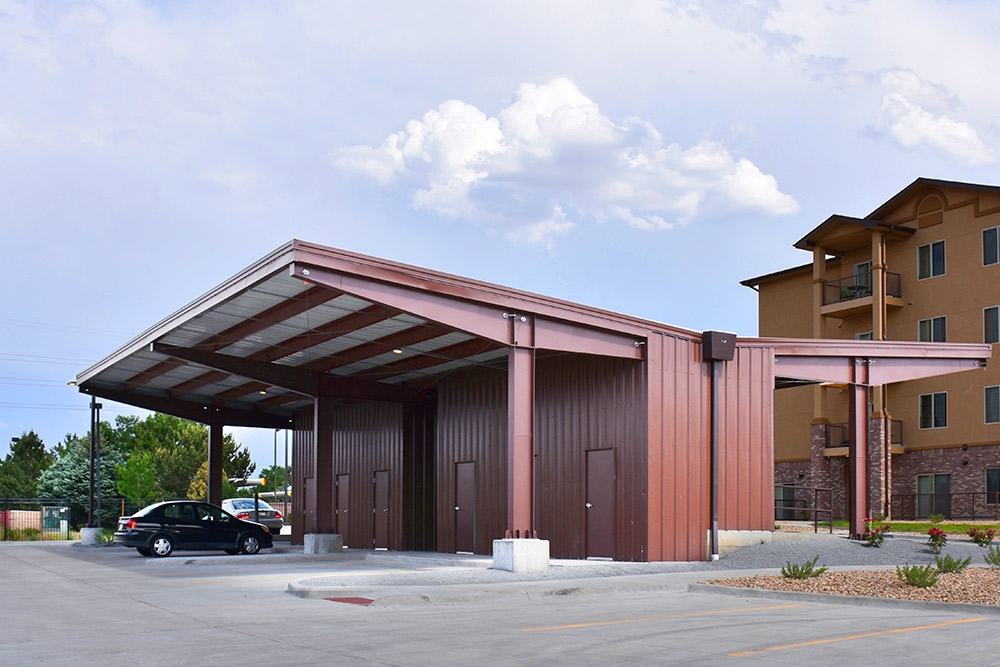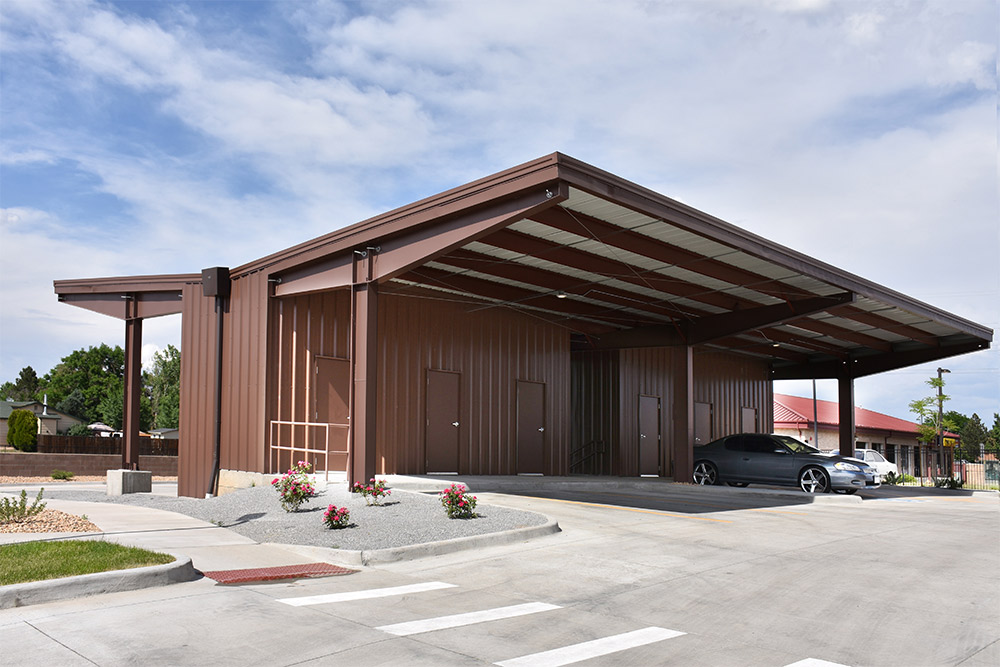 Building Specifications
The owner of this steel-covered parking and storage structure contacted Sunward Steel when he wanted to accomplish two main goals: first, he wanted to purchase a structure that would provide 12 separate parking spots, each of which would have its own accompanying storage area. Second, he wanted an uninhibited parking area, meaning he wanted one that would be free from interior obstructions that often ding and dent car doors.
This particular pre-engineered metal structure accomplishes both objectives, and it features a unique, Y-shaped design with T-Cantilever framing and post columns. Koko Brown in color with a matching roof with a 1:12 pitch, the steel garage and storage building stands 27'x62'x15' in size once erect, while (12) 3070 openings enclosing (12) 3070 walk doors serve as additional metal building characteristics.
In adherence to local building codes and in consideration of the region's typical climate patterns, a wind speed rating of 115 mph and a snow load of 35 pounds serve as additional features.
Featured Sunward Steel Carport Buildings
See Some of Our Latest Projects