Steel Airplane Hangar in Park Rapids, Minnesota
Sunward Steel Buildings, Inc. had the honor of manufacturing and supplying this prefabricated steel building on behalf of a client in Park Rapids, Minnesota, in April of 2016.
Currently, it functions as an airplane hangar for Park Rapids Aviation, a leading, Minnesota-based aircraft sales and service provider specializing in paint, avionics, interior features and aircraft maintenance. As one of the only facilities of its kind that handles aircraft maintenance as well as float plane modifications, Park Rapids Aviation has cemented itself an industry leader, partnering with the Aerocet Float Company to become the world's largest float plane sales and installation center.
A Standout in the Piston Engine Seaplane Industry
An established leader in the piston engine seaplane sales and modification market, Park Rapids Aviation stores and services numerous different types of aircraft in this steel hangar, among them Cessna 182, 180, 185, and 206 models. A top choice among aviation-related business owners due to their unmatched strength and security, steel airplane hangers deliver economical, functional building solutions for those with aviation industry interests.
Situated within Minnesota's Heartland Lakes Region, Park Rapids falls within the borders of Hubbard County. The community lies about 35 miles southwest of LaPorte and roughly 12 miles outside Emmaville.
Considering purchasing a pre-engineered metal airplane hangar for use in Minnesota or another part of the country? Click here for a price quote.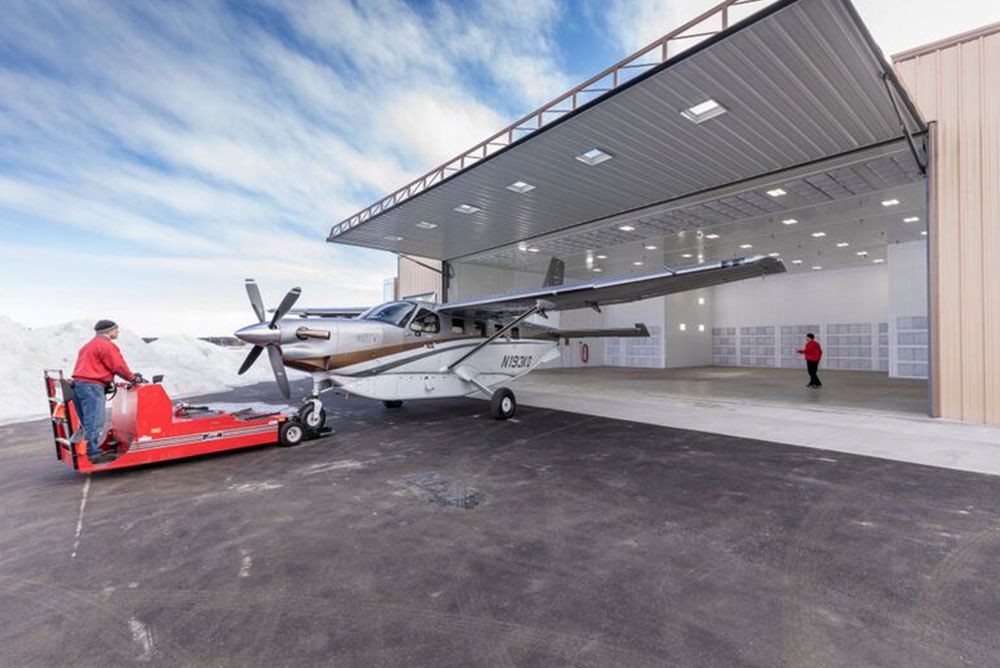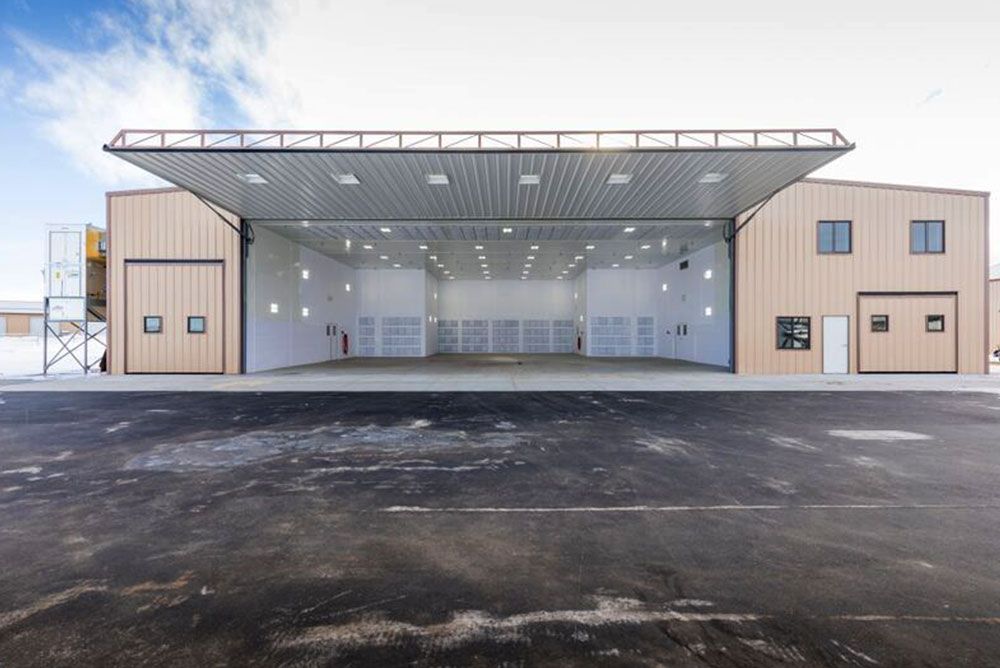 Building Specifications
 Rugged, secure and contemporary, the metal hangar is comprised of top-of-the-line steel components, and it stands 80'x80'x20' in size once fully erect. Overhead, a robust, corrosion-resistant Galvalume roof with a 1:12 pitch protects stored aircraft and related gear from the Minnesota elements, while a state-of-the-art, 60'x18.5' hydraulic door serves as an additional key feature.
Sunward Steel designed, engineered and manufactured the building itself around the hydraulic door, which serves as an entryway for aircraft, providing ample space to move float planes in and out. The steel hangar also features (3) additional framed openings, among them (2) 3070 openings enclosing (2) 3070 commercial walk door systems and (1) 12'x14' opening enclosing (1) 12'x14' overhead door.
Supplemental hangar characteristics include several accommodations made with Minnesota's four distinct seasons and sometimes variable precipitation patterns in mind, among them a 135-mph wind load and a 45-pound snow load.
Featured Sunward Steel Aircraft Hangar Buildings