Industrial Steel Building in Milliken, Colorado
Sunward Steel Buildings was the proud manufacturer and supplier of this prefabricated industrial steel building in Milliken, Colorado, in November of 2014.
Now serving double-duty as a commercial/office space for Pete Martin Drilling, a drilling contractor, the striking, insulated steel building stands 80'x122'x22' in size and offers considerable curb appeal, thanks to a Beige exterior and natural stone veneer siding. Red trim and a rugged Red metal roof with a 2:12 pitch further enhance the building's aesthetic appeal, with the latter offering considerable protection against corrosion and the Colorado elements.
The crane-ready commercial steel building also boasts several accommodations made in consideration of the climate patterns typical of the Milliken area, which is prone to distinct seasonal temperature differences and sometimes-substantial wintertime snowfall. These include a 20-pound snow load and a 115-mph wind speed rating. Part of northern Colorado's Weld County, the town of Milliken sits about 28 miles southeast of Fort Collins and about 65 miles south of Cheyenne, Wyoming.
Considering purchasing a metal building for use in Colorado? Click here for a price quote.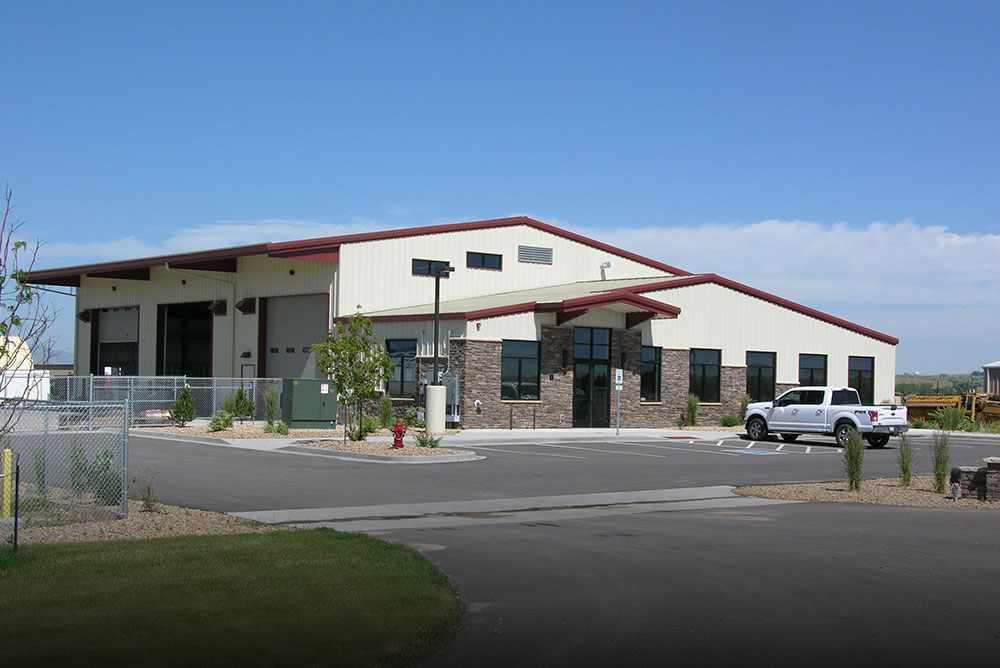 Building Specifications
The commercial and office space features premium-quality steel construction, complete with liner panels within the walls that protect the property's insulation package. Within its roof, the building contains R19 insulation, while high R-value, R-38 insulation sits within the structure's walls. In addition to maximizing interior comfort for workers, regardless of season, the insulation package keeps energy bills associated with the business low while providing an additional level of sound protection.
Additional project attributes include a 10-foot unsupported extension that covers some of the building's main entryways and (20) framed openings varying by size and purpose. Featured are (1) 6'x2' louver opening and (3) 3'x2' louver openings, which improve ventilation throughout the space, (1) 8'x8' opening enclosing (1) 8'x8' door, and (3) 16'x16' openings enclosing (3) 16'x16' overhead doors that allow easy access to the commercial and office space. Additional framed openings include (1) 3'4"x10'2" opening enclosing (1) 3'4"x10'2" door, (1) 6'x7' window and (10) 6'x2' windows that allow natural sunlight inside.
Featured Sunward Steel Industrial Buildings