Steel Warehouse And Office Buildings in Denver, Colorado
Global Machinery has grown and expanded since it began 20 years ago. They have broadened their equipment rental fleet and lines of dealer representation of major underground utility equipment and have recently expanded into the tree care industry. They have two locations, one in the Mid-West one in Denver, CO and one in Sacramento, CA.
Global's Services Include Equipment Rental and Sales for:
Telecom
Power – Gas and Electric
Water and Sewer
Tree Care and Environmental
They also service the equipment and store parts for repairs done in house
Due to their continued growth, Global Machinery decided to invest in a larger office building and a warehouse building / repair shop. The building they had been using was just not large enough to meet the growing demands of the company.
Global Machinery contacted Sunward Steel for a professional, economical design that would enhance the companies day-to-day operations. The entire project took a year from start to finish. Strategic planning and consideration went into the design of these two buildings. Both buildings were built around the existing office structure to avoid any downtime.The original structure was removed upon completion.
Global is extremely pleased with the outcome of their new business space and plans to use Sunward for all of their building needs in the future.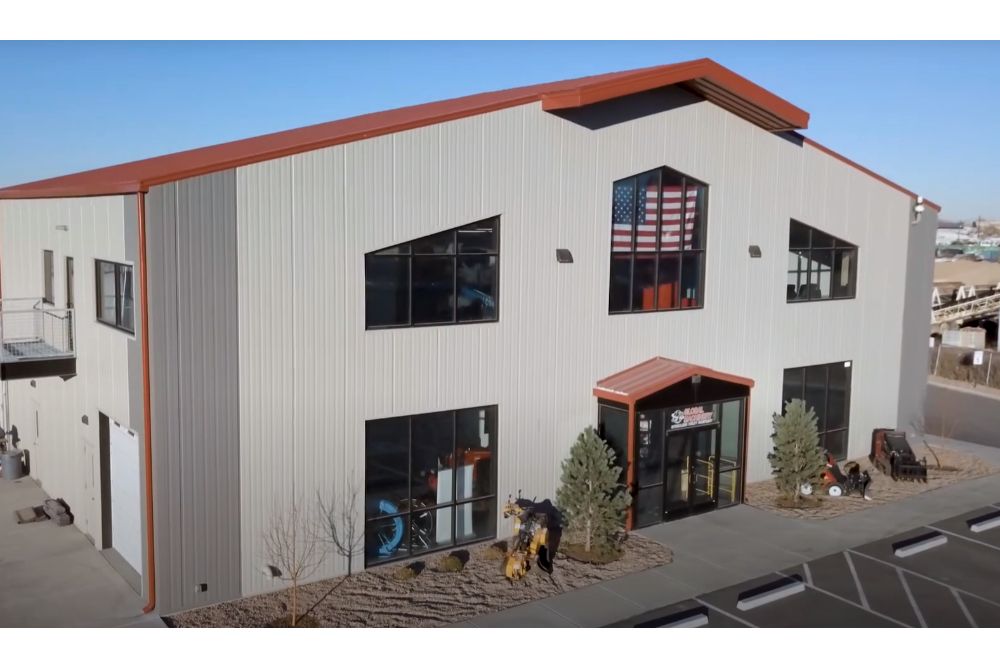 Building Specifications
The warehouse building is 50'x100'x18′ in size and was designed with a crane mechanism that will aid in the repair and maintenance of the heavy equipment. A repair shop and wash bay were included in this building design for an all in one solution. The office building is 80'x48'x25′ and features a mezzanine and a second story atrium. Both buildings feature Kingspan Insulated Panels. The panels were added to ensure the maximum energy efficiency and maintain a comfortable interior environment for the employees.
Featured Sunward Steel Office Buildings