Pair of Metal Municipal Buildings in Hudson, Colorado
When a client in Hudson, Colorado, needed several large municipal buildings to house road construction equipment and commercial trucks, he turned to Sunward Steel, which supplied (2) building kits in September 2020.
Open and airy, both metal municipal buildings have wide clear spans and high ceilings, maximizing storage space for vehicles, construction supplies and other goods. Both have attractive, Light Stone exteriors with complementing Burnished Slate trim, and both buildings also feature roof and wall insulation, making them comfortable and well-suited for use during all four seasons in Colorado. The 3" of fiberglass insulation in the buildings' roofs and walls has WMP-VR facing on the side facing inward, giving the buildings' interiors a clean, finished look while protecting the insulation blankets from moisture and condensation.
Rugged, versatile and secure, these buildings protect trucks and construction equipment from the elements and other hazards while helping everything stored inside maintain its functionality and resale value.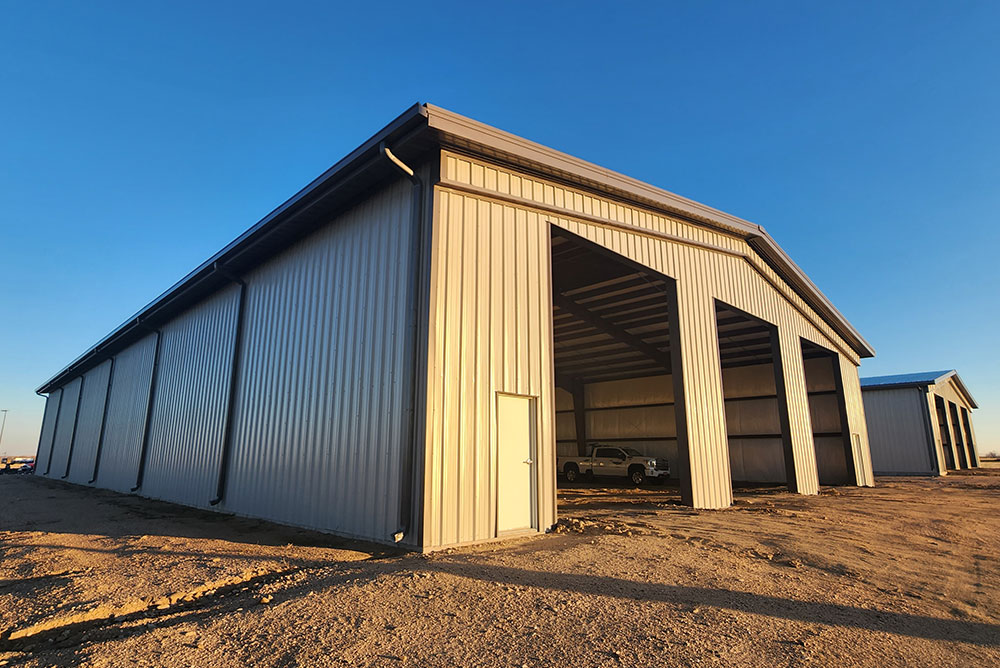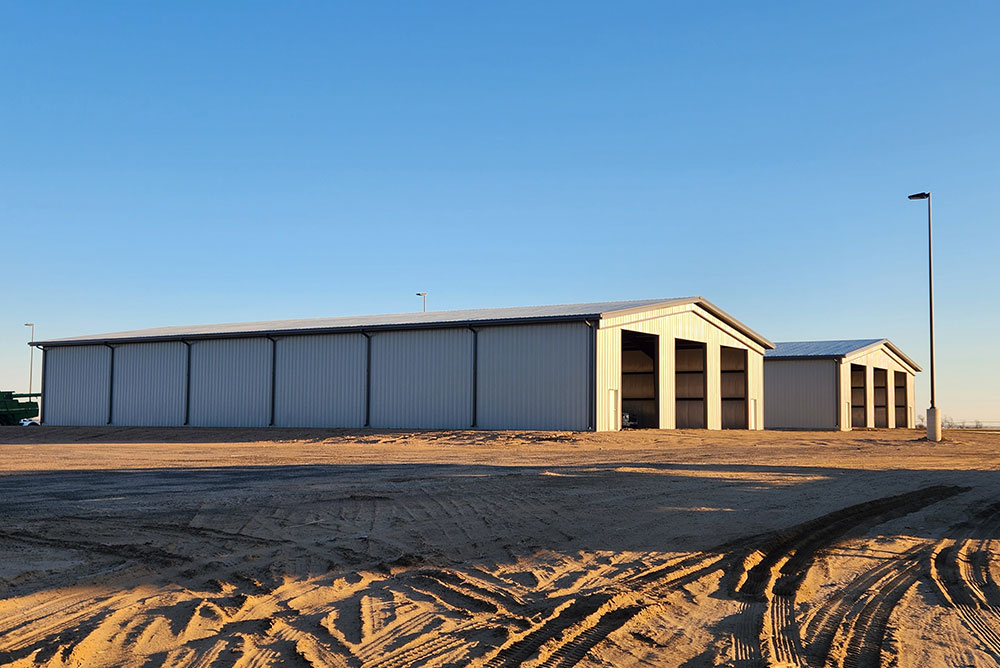 Building Specifications
Sunward Steel delivered the building kits for both structures, supplying components that were partially assembled to speed up the erection process. Both buildings are the same size, standing 80'x150'x20', and both have open, unobstructed interiors thanks to clear-span floor plans.
Both buildings have traditional gable roofs with 2:12 pitches, and there are (16) doors distributed between them, which include (4) 3070 walk doors and (12) 16'x18' overhead doors big enough to accommodate semi-trucks and plows. Engineered to meet or exceed the building codes in place at the erection site, both steel municipal buildings also have 30-psf roof snow loads and 115-mph wind loads.
Economical, easy-to-erect steel municipal buildings
Sunward Steel supplies metal municipal buildings for communities and public works departments throughout the United States, fabricating firehouses, city centers, police departments and storage buildings for various types of government or community use. Easy to customize in terms of size, scope, aesthetic elements, insulation and more, pre-engineered metal government and municipal buildings are more durable and damage-resistant than wooden alternatives. They are also easier and faster to raise, making them a popular choice among cities and towns with tight budgets.
Located in north-central Colorado, Hudson is part of Weld County. The community sits about 30 miles from Longmont and about a 60-mile drive from Fort Collins.
Featured Sunward Steel Commercial Garage Buildings